May, 2, 2016
May 2
2:30
PM ET
Former Chicago Bears safety Antrel Rolle blames unsatisfactory field conditions at Halas Hall for the season-ending knee injury he suffered last November.
"The surfaces in the Chicago facilities are the worst I've ever been around, I'm just gonna be honest with you," Rolle told the New York Post. "I slipped on the surface, I wasn't even running -- I was just kind of shuffling and slipped."
The Bears released Rolle, 33, on Sunday after he played in just seven games in 2015.
On the final play of Friday's practice leading up to Chicago's Nov. 22 game against the Denver Broncos, Rolle tore the MCL in his right knee. Rolle missed the next two weeks before the Bears placed him on injured reserve. The 33-year old safety also missed two games in October with a high right ankle sprain.
At the time, Bears coach John Fox provided few details on Rolle's practice-field injury other than to say Rolle was hurt in a non-contact workout.
Rolle told the New York Post he is fully healthy and that he participated in Chicago's voluntary offseason program without restrictions prior to being released.
Before joining Chicago, Rolle had been extremely durable since he entered the league as a first-round pick in 2005. He missed only one game while a member of the Cardinals and Giants from 2006 to 2016.
May, 2, 2016
May 2
12:38
PM ET
May, 2, 2016
May 2
7:00
AM ET
LAKE FOREST, Ill. -- Chicago Bears general manager Ryan Pace said he placed a premium on athleticism, toughness and instincts in the recently completed 2016 NFL draft.
On the heels of adding key contributors such as Eddie Goldman, Jeremy Langford and Adrian Amos last year, Pace hopes the new class can provide depth, and spark competition on both sides of the football.
"Some of these guys are three- or four-year starters," Pace said. "I think it talks about the caliber of players that they are."
Here is Pace's breakdown of each of the nine players he selected:
Leonard Floyd, outside linebacker, Georgia (first-round): "This guy lines up all over the field for Georgia. We see him as an outside linebacker on our defense. He brings great athleticism for a guy that tall with that kind of length. He brings some juice to our defense that we need and will definitely help our pass-rush. You know when you watch the tape, they move him all over. He's such a versatile athlete, so he's playing inside linebacker one snap and the next snap he's in nickel running down the field with a slot receiver. And then he's rushing. You see him at all these different positions. I think with him playing more of a pass-rush position, he'll have more production."
Cody Whitehair, guard, Kansas State (second-round): "Cody Whitehair is a guy we really liked throughout this whole process. We brought him in, interviewed him at the Senior Bowl and brought him in on a top-30 visit here to meet with us. He's a four-year starter. He's played multiple positions. We see him as a guard. He played some tackle and I think he can play center too. This is what you're looking for in an offensive lineman. He's smart. He's tough. He's instinctive. He loves the weight room. Those are all things that I like."
Jonathan Bullard, defensive end, Florida (third-round): "Bullard, we see him more as a 3-4 defensive end for us. He played defensive end at Florida and bulked up a little bit more this past season, added weight to play more of a 3-technique position for them. Had his best season with 6.5 sacks. When you watch the tape on him, there's one thing that you can't coach with these guys is get-off. His get-off is excellent."
Nick Kwiatkoski, linebacker, West Virginia (fourth-round): "We traded up to get him. We had a lot of conviction in him. It's a guy we liked -- three-year starter, a team captain, very instinctive, tough hard-nosed player who plays downhill. He was very productive."
Deon Bush safety, Miami (fourth-round): "A really good athlete who is also a very physical player. We like the fact that he throws his body around and plays with toughness."
Deiondre' Hall, cornerback, Northern Iowa (fourth-round): "Can play corner, nickel, can play safety. He has rare length for the position when you look at it."
Jordan Howard, running back, Indiana (fifth-round): "This guy is a downhill, physical north-south runner. I just like the style and physicality that he plays with as well. I think he complements our other backs."
Deandre Houston-Carson, safety, William & Mary (sixth-round): "We see him as a safety right now. Very physical player, hits with explosiveness, and a very good special-teams player as well. This is a guy special-teams coach Jeff Rodgers is fired up about, He blocked nine kicks in his career."
Daniel Braverman, wide receiver, Western Michigan (seventh-round): "This is a guy our scouts liked a lot. He's real nifty, a sudden slot receiver. He's real instinctive in that area of the field and knows how to get open. He finds holes in zones."
April, 30, 2016
Apr 30
7:32
PM ET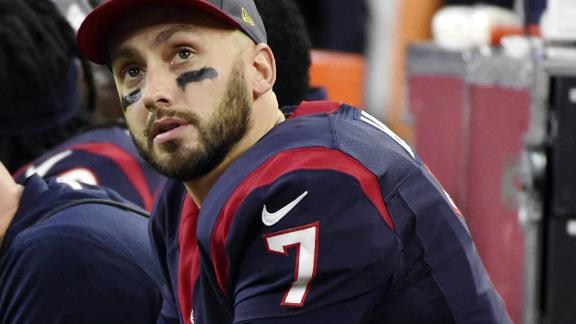 LAKE FOREST, Ill. -- The Chicago Bears have agreed to terms with veteran quarterback Brian Hoyer on a one-year deal.
The deal is worth $2 million, a source told ESPN's Adam Caplan.
Six teams expressed interest in Hoyer, who played one season in Cleveland under Bears offensive coordinator Dowell Loggains. The Bears pursued Hoyer because of the experience and leadership he brings to the backup quarterback spot behind incumbent starter Jay Cutler.
"I like that Dowell has been with him, has a lot of comfort with him," Bears general manager Ryan Pace said. "I've watched him play over the years. A very intelligent player. I know he's got a strong work ethic because we've got coaches that have been with him. I think he's a really good piece to add to the mix."
Chicago's other reserve quarterbacks, David Fales and Matt Blanchard, have yet to appear in a regular-season game. Since 2011, Cutler has missed 14 games due to injury.
"I like the idea of having an experienced backup there," Pace said. "It's important for that position, and it just gives us security going forward."
A veteran of eight NFL seasons, Hoyer played in 11 regular-season games for the Houston Texans last year and passed for 2,606 yards, 19 touchdowns and seven interceptions. In the Texans' playoff loss to Kansas City, Hoyer struggled, with four interceptions, and that paved the way for his release two weeks ago.
April, 30, 2016
Apr 30
6:30
PM ET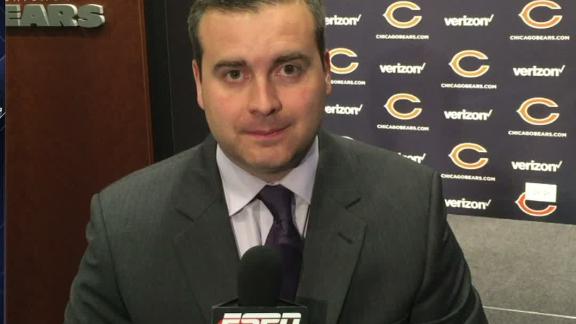 Here's a wrap-up of the Chicago Bears' draft.
Best move: Emphasizing defense. Chicago spent five picks in the opening four rounds on defense. They addressed outside linebacker/pass-rusher (Leonard Floyd), defensive end (Jonathan Bullard), inside linebacker (Nick Kwiatkoski), safety (Deon Bush) and cornerback (Deiondre' Hall). Coordinator Vic Fangio and the coaches used smoke and mirrors on defense last year. Factually speaking, Chicago's defense was much more competitive than most expected. But the unit had terrible depth. This draft should help address that. Last year, the Bears found two starters via the draft -- Eddie Goldman and Adrian Amos. The hope is that history repeats itself in 2016. After Floyd (who has to play as the ninth overall pick), the Bears need one or two of the other rookies to step up and contribute.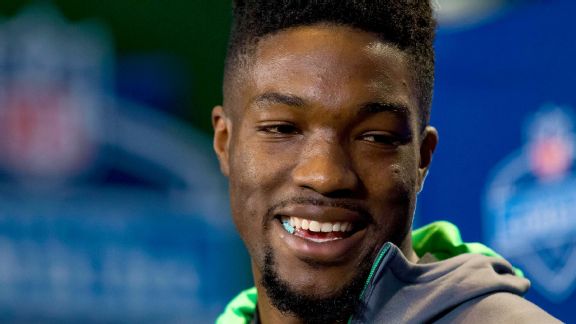 Trevor Ruszkowski/USA TODAY SportsLeonard Floyd has the right measurables and attitude, but he didn't dominate at Georgia, and that has to be a concern.
Riskiest move: Floyd. The Bears drafted him to apply pressure. The problem is that Floyd sacked the quarterback only 17 times at Georgia. He had just 4.5 sacks in 2015. Look, Floyd is an incredible athlete with impressive length. The traits are there. And he seems to be a terrific kid with a great, upbeat attitude. But this requires a leap of faith. Floyd never dominated in college. How will he dominate in the NFL? Supporters argue that Floyd's numbers were a reflection of how Georgia used him on defense. I understand, but most great college players stay at one spot and destroy the competition. That didn't happen here. And remember, Floyd is the ninth overall pick. He has to be excellent. That's just how it goes. And the playing weight is an issue. Can he put on/keep on the necessary pounds to compete and get off the blocks at this level? Only time will tell.
Most surprising move: Cody Whitehair in the second round. And not because Whitehair isn't worthy of going that high. He's a solid pick who played left right, right tackle and left guard at Kansas State. The dilemma here is that the Bears spent money in free agency to create competition at left guard between Matt Slauson and Ted Larsen, and at center between Hroniss Grasu (2015 third-round pick) and Manny Ramirez. Whitehair, who is expected to play guard, further clouds the situation. At the time of the choice, it felt a tad redundant. But it probably means Slauson is in trouble, and by training camp, Whitehair and Larsen could be the ones battling for a starting job. It's only a matter of time until Whitehair is on the first team. You don't draft a guard in the second round and have him sit the bench.
File it away: Don't rule out fifth-round pick Jordan Howard. There is no reason that Howard, who rushed for 2,800 yards the last two years, cannot be part of Chicago's game-day rotation in the backfield. The Bears like the running back-by-committee approach, and Howard figures to receive a legitimate shot to wrestle playing time away from Ka'Deem Carey or Jacquizz Rodgers. Jeremy Langford went in the fourth round in 2015, and now he's atop the depth chart. The one issue for Howard is special teams. He's never played them before. He better learn.
Thumbs-up: Top pick Floyd is a roll of the dice. That makes me nervous. In general, however, the Bears played it safe but still created competition at left guard, defensive end, safety and running back. Not a bad haul. Floyd has to play. That's a no-brainer. But there is a legitimate chance that Whitehair, Bullard, Howard and Bush will contribute in 2016. On top of that, defensive backs Hall and DeAndre Houston-Carson are athletic prospects who have the potential to one day help the secondary. I don't expect guys from Northern Iowa and William & Mary to make an immediate impact, but the secondary is fluid. Who knows? Hey, Western Michigan wideout Daniel Braverman (seventh round) has been compared to Julian Edelman and Wes Welker. And West Virginia linebacker Nick Kwiatkoski is a sturdy reserve behind Danny Trevathan and Jerrell Freeman. Overall, Chicago prioritized athleticism, production and character. That's usually a good recipe for success.
April, 30, 2016
Apr 30
6:12
PM ET
With their final pick, the Chicago Bears went with their best available player, selecting Western Michigan wide receiver Daniel Braverman in the seventh round (No. 230). Even though receiver is not a need, per se, Braverman's college statistics will make you do a double take.
My take: Why not? On paper, the choice is a no-brainer. Believe it or not, Braverman has been compared to Wes Welker, Danny Amendola and Julian Edelman by draft analysts, such as ESPN's Mel Kiper Jr. A 5-foot-10 slot receiver, Braverman put up phenomenal numbers for Western Michigan in 2015: 108 catches for 1,371 yards and 13 touchdowns. That is serious production for someone at the collegiate level. And against elite combination, Braverman had 23 combined receptions for 231 yards versus Michigan State and Ohio State. Ryan Pace is a genius if Braverman becomes Welker or Edelman 2.0. If for whatever reason it doesn't work, the Bears only spent a seventh-rounder. No big deal. There is no risk. What's not to like about this?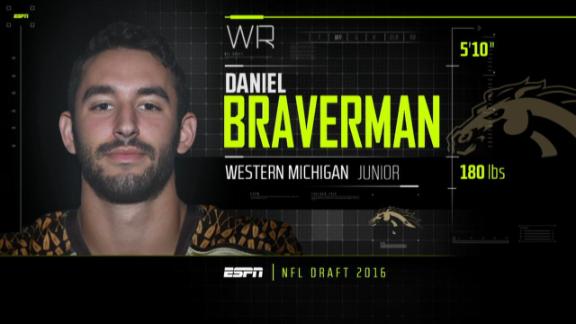 April, 30, 2016
Apr 30
4:23
PM ET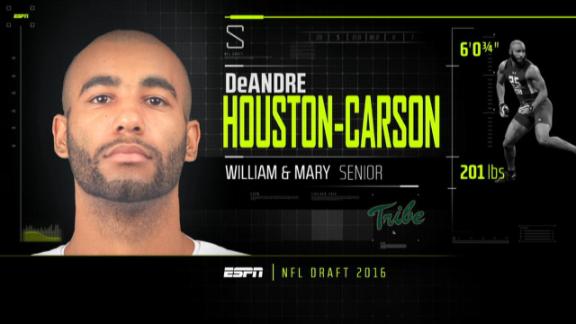 The Chicago Bears invested another pick in the secondary, drafting William & Mary safety DeAndre Houston-Carson in the sixth round (No. 185). Houston-Carson is the second safety taken by Chicago on Day 3, joining Miami's Deon Bush (fourth round).
My take: The Bears love safeties that have hyphenated last names. In a humorous twist, Houston-Carson will compete directly against Harold Jones-Quartey for a roster spot. But seriously, Houston-Carson had a nice college career. The William & Mary product tallied 293 tackles, 10 interceptions and nine blocked kicks on special teams. Nine blocks! That's kind of amazing. He started at both free safety and cornerback, becoming just the third player in school history to earn consensus first-team All-America honors. Bottom line: you block nine kicks in college and you have my attention.
April, 30, 2016
Apr 30
2:53
PM ET
Coach John Fox prefers the running back-by-committee approach; a philosophy that dates back all the way to Carolina. When Chicago allowed veteran Matt Forte to leave via free agency, the Bears had a hole to fill. After failing to sign C.J. Anderson to an offer sheet, the Bears tuned their attention to the draft, selecting Indiana running back Jordan Howard in the fifth round (No. 150).
My take: I love it. The more tailbacks the better. And you can find them in the middle rounds. Jeremy Langford is the perfect example -- Chicago took Langford in the fourth round last year. Howard rushed for 2,800 yards and 22 touchdowns over the last two seasons at Indiana and UAB. Durability is a concern. But despite missing 18 quarters due to injury, Howard rushed for 134.8 yards per game (second in the Big Ten). Bottom line: Jay Cutler is a better quarterback when the Bears run the football. Between Langford, Howard, Ka'Deem Carey and Jacquizz Rodgers, the Bears are in good shape.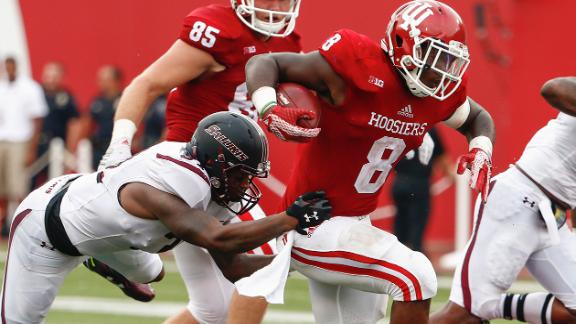 April, 30, 2016
Apr 30
2:16
PM ET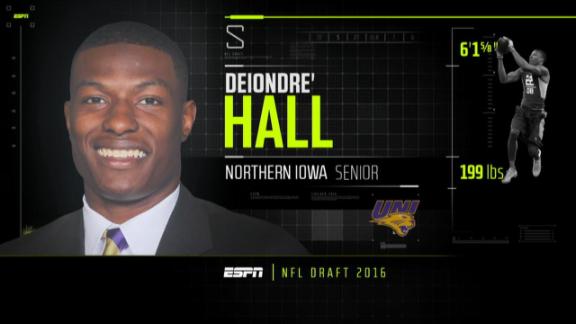 A few thoughts on the last of the Chicago Bears' three fourth-round selections. Chicago took Northern Iowa defensive back Deiondre' Hall at No. 127.
My take: Defensive coordinator Vic Fangio prefers taller cornerbacks. Hall is big enough at 6-foot-2 and 190 pounds to also potentially line up at cornerback or free safety. Hall had 13 career interceptions in college. Again, the pick here is a practical one. Former first-rounder Kyle Fuller underwhelmed the coaching staff in 2015. Fuller is expected to start next season, but his long-term future is far from secure. Veteran Tracy Porter (29 years old) just received $4.250 million guaranteed, but all of that guaranteed cash is due in 2016. So beyond next year, the Bears' cornerback situation is wide open. Plus, the Bears need defensive backs who take the ball away.
Hall probably needs time to adjust to NFL life after facing average competition at Northern Iowa, but perhaps Hall can grow into a bigger role down the road. He certainly seems to possess the intangibles to do so.
April, 30, 2016
Apr 30
1:54
PM ET
A few thoughts on the second of the Bears' three fourth-round selections. Chicago took Miami safety Deon Bush at No. 124.
My take: This pick makes sense. In a perfect world, the Bears pair a young strong safety with 2015 fifth-round pick Adrian Amos, who made 16 starts as a rookie. Veteran Antrel Rolle (another Miami product) is 34 years old and dealt with a bunch of injuries last year. Rolle wants to play in 2016, but Chicago has to be ready in case Rolle falters again. Bush is a hard hitter. He is built to play in the box -- 168 tackles and nine forced fumbles at Miami. Can he cover? That's another story. But you can understand the thought process here. The Bears need safeties. At a bare minimum, Bush has the body (6-foot, 200 pounds) to contribute on special teams. But as we all know in Chicago, mid-round safeties often find their way onto the field sooner rather than later.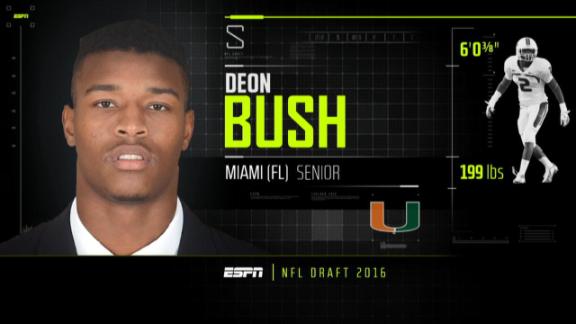 April, 30, 2016
Apr 30
1:40
PM ET
While the 2016 NFL draft has come to an end, there's still unfinished business as undrafted free agents will be available for teams to sign.
April, 30, 2016
Apr 30
1:14
PM ET
A few thoughts on the first of the Chicago Bears' three fourth-round selections. Chicago moved up four spots to select West Virginia linebacker Nick Kwiatkoski at No. 113.
My take: Kwiatkoski played three different linebacker spots at West Virginia. He could develop into a top reserve behind veteran inside linebackers Danny Trevathan and Jerrell Freeman, but plenty of competition already exists at those backup spots (Christian Jones, John Timu and Jonathan Anderson). Kwiatkoski had 303 tackles and 28 tackles for loss over four seasons with the Mountaineers. A team captain and WVU's defensive player of the year in 2015, Kwiatkoski (6-foot-2 and 238 pounds) is plays with an aggressive style, which should help him carve out a role on special teams if he makes the final 53-man roster.