September, 30, 2014
Sep 30
11:00
AM ET
A weekly look at what the
Chicago Bears
must fix:
The Bears eviscerated the progress shown recently by the defense in Sunday's loss to the
Green Bay Packers
with their glaring lack of a pass rush against
Aaron Rodgers
. If the club conducts business this way again against
Cam Newton
and the
Carolina Panthers
on Sunday, the Bears can expect similar results.
Rodgers shredded the Bears for 302 yards and four touchdowns and finished with a passer rating of 151.2.
Ego Ferguson
tallied Chicago's only sack, and the Bears failed to force a turnover, as Rodgers basically played pitch and catch with Green Bay's receivers all day with plenty of time to do it.
Here's why: The Bears opted against trying to manufacture pressure and instead relied on the front four to disrupt Rodgers.
Bad move.
"We didn't blitz a lot," linebacker
Lance Briggs
said. "It was very simple. We thought we could get a four-man pass rush on a lot of occasions. But whether [Rodgers] was able to escape the pocket or whether he was standing there inside the pocket, he was able to pat the ball and look a couple of different ways and find somebody."
The Bears made the curious decision to rely on the front four despite being short two contributors in defensive end
Jared Allen
(pneumonia) and defensive tackle
Jeremiah Ratliff
(concussion).
What's more is the Bears were willing to take risks to get another possession on offense by trying an onside kick in the second quarter. Yet they weren't willing to try to dial up pressure via the blitz to get something going on defense?
I get it that there are risks in putting the secondary in man-to-man situations when trying to manufacture pressure by bringing linebackers or defensive backs. And I understand Rodgers had been sacked nine times heading into Sunday's matchup due to suspect play from his offensive line. But to simply sit back and let Rodgers pick the defense apart for four quarters seems a curious decision at best.
September, 30, 2014
Sep 30
10:31
AM ET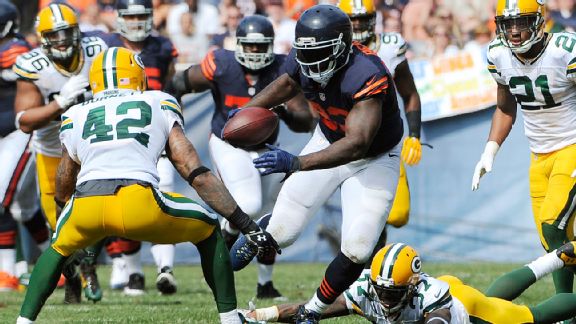 David Banks/Getty ImagesTight end Martellus Bennett leads the Bears with 29 catches for 295 yards to go along with four touchdowns.
RISING
Martellus Bennett

1. Martellus Bennett, TE:
While injuries have slowed certain wide receivers (more on that later), the
Jay Cutler
-to-Bennett connection has thrived in the first quarter of the season. Bennett leads the team with 29 catches for 295 yards and is second with four touchdown receptions. Green Bay had no answer for Bennett on Sunday, as the tight end set career-highs in catches (nine) and receiving yards (134) on 11 targets. Bennett said after the loss he expects to have numerous 100-yard receiving games in the future. Hard to argue with that bold prediction. The 6-foot-6, 265-pound Bennett gives maximum effort on the field, at all times. He is one of the toughest players to tackle on the team.
Forte
2. Matt Forte/offensive line:
Week 4 proved the Bears' ground attack is alive and well. The Bears zeroed in on a mismatch (Green Bay ranked 30th in rushing defense) and exploited it. As a team, the Bears ran for 235 yards on 41 attempts (5.7 yards per carry). Forte led the way with 122 yards on 23 carries (5.3 yards per carry), but even rookie Ka'Deem Carey had success against the Packers with 72 yards on 14 carries. Under normal circumstances, the Bears win games in which they dominate on the ground. But two costly turnovers, not to mention a red-hot
Aaron Rodgers
, ultimately sunk the Bears. But the line came to play on Sunday. So did Forte, who reached a career milestone by topping 10,000 all-purpose yards.
Gould
3. Robbie Gould, K:
Special teams have been hit or miss, but Gould is steady as usual. The veteran surprised the Packers in the second quarter with a well-executed onside kick, although the Bears were unable to recover. Gould is 5-for-5 on field-goal attempts with two his kicks occurring in the 40-49 yard range. Par for the course. Gould is the most accurate kicker in team history, hitting 239-of-277 career field goals. Even working with a new long snapper (
Jeremy Cain
) and holder (
Pat O'Donnell
), Gould remains close to automatic.
FALLING
Marshall

1. Brandon Marshall, WR:
Either Marshall's ankle injury is more serious than we realize, or the lack of practice time is more of an issue. Regardless of the specific reason, Marshall has not been the same player since he caught three touchdown passes against the 49ers. Three combined catches over the past two games is very un-Marshall-like. Marshall had only two receptions for 19 yards against Green Bay, and apparently failed to adjust his route on Cutler's second interception after halftime. The duo was clearly not on the same page. If Marshall can't practice on Wednesday or Thursday, should he play in Week 5 at Carolina? That's a tough decision for the Bears to make. Before the Green Bay defeat, I would have said to let Marshall play, practice or not practice. Now, I'm not so sure.
2. Defensive line:
Failing to pressure Rodgers is a recipe for disaster. The Bears leaned on their front four to generate a pass rush on Sunday, and the group came up short. The Bears sacked Rodgers one time in 29 pass attempts (Rodgers had one rush for 8 yards), and according to the official NFL statistics distributed to players and media after the game, the defense failed to record a single quarterback hit. Whenever the Bears managed to push Rodgers outside the pocket, nobody on the defense line finished the play. Rodgers ended the game with 302 passing yards, four touchdowns and a quarterback rating of 151.2. Even without
Jared Allen
(illness) and
Jeremiah Ratliff
(concussion), the Bears need better results from its revamped defensive line.
Bostic
3. Jon Bostic, LB:
Bostic is arguably one of the best athletes on the team. His speed is incredible. One day, I predict Bostic develops into an upper-echelon linebacker in the NFL. However, at this very moment, the best way to describe the second-year linebacker is all over the place. There are moments of brilliance, followed by not-so-great moments. And Bostic commits some really bad penalties. Case in point: a defensive holding call on a fourth-quarter 23-yard field-goal attempt. How does that happen? Maybe the officials got it wrong (they did that often on Sunday), but that Bostic penalty officially put the game out of reach. The Packers got a fresh set of downs inside the Bears' 5-yard line, and Rodgers hit
Randall Cobb
on a 3-yard touchdown on the very next play to push the lead to 38-17. Ballgame.
September, 29, 2014
Sep 29
6:32
PM ET
[+] Enlarge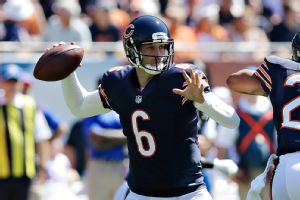 AP Photo/Nam Y. HuhJay Cutler said he thought a trade to the Redskins was 'a done deal' back in 2009.
Chicago Bears quarterback Jay Cutler on Monday confirmed a recent report he was nearly a member of the Washington Redskins in 2009, shortly before a trade with the Denver Broncos brought him to his current team.
In a piece explaining some of the behind-the-scenes maneuvers that ultimately led to the Bears landing Cutler, the quarterback -- fueled by speculation about former head coach Josh McDaniels' preference of Matt Cassell, and the belief former coach Mike Shanhan would be joining Washington -- reportedly wanted to join the Redskins.
"There were a few teams we got calls about that it was kind of coming down to the wire," Cutler explained Monday during ESPN 1000's "The Jay Cutler Show". "I thought Washington was a done deal."
Former Redskins vice president of football operations Vinny Cerrato thought so, too. In the CBS Sports report, Cerrato is quoted as saying, "Jay Cutler wanted to come ... because he figured Shanahan was coming anyhow, and so he wanted to come, too. And for the agent (Bus Cook) and everybody, it would have been a very smooth transition."
September, 29, 2014
Sep 29
5:27
PM ET
Last week, Green Bay quarterback
Aaron Rodgers
told fans to relax after his team's 1-2 start, but Chicago's
Jay Cutler
stutter stepped that approach and opted for reality on the heels of the Bears' falling to 2-2 Sunday after a 38-17 loss to the Packers.
"I'm not gonna tell them anything," Cutler said Monday during the "Jay Cutler Show" on ESPN 100. "We've got to win games at home. Green Bay, a divisional opponent … we've just got to play better. There is a lot of football left. [Rodgers] does have a point. It's a long season. We've had a rough stretch."
[+] Enlarge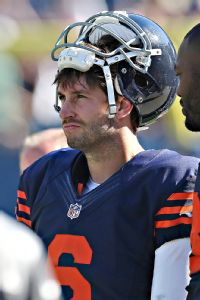 Jonathan Daniel/Getty ImagesJay Cutler dropped to 1-9 against the Packers, but his season numbers are promising.
After back-to-back victories on the road at San Francisco and against the
New York Jets
, the Bears returned to Soldier Field on Sunday for the first time since the opener. The Bears sprinted out of the gate and marched 80 yards on 15 plays to start the game, only to sputter down the stretch as a result of two turnovers, shoddy play in the secondary and a pass rush that barely made Rodgers flinch as he tossed four touchdown passes.
Starting with a matchup Sunday at Carolina, the Bears play three of the next four on the road before their Nov. 2 bye. Cutler offered no assurances the club would bounce back. The club's three upcoming road opponents (Carolina, Atlanta and New England) currently hold a combined record of 6-5.
"We've had a rough stretch," Cutler said. "We're gonna go through a pretty rough stretch, like you guys were talking about earlier, the next four games. So we've just got to take it one game at a time."
The Bears rolled up 496 yards of offense and converted 64 percent of third downs. But a couple of Cutler interceptions, combined with the defense's allowing Rodgers to throw for 302 yards and a passer rating of 151.2, doomed Chicago's prospects. In 28 pass attempts, Rodgers suffered only one sack, and Bears coach Marc Trestman said Monday that the club blitzed very little in the loss.
Asked whether he remained confident about future meetings with the Packers, Cutler said, "Yeah, you saw the stats. I think we've got a really good bead on them now, with Trest[man] and this group. So hopefully we can start improving on that."
Cutler finished with a passer rating of 82.5 and two touchdown passes to go with the interceptions.
Matt Forte
was one of the club's few bright spots on offense. He rushed for 122 yards on 23 attempts.
Despite the shaky outing against the Packers, Cutler has completed 65.8 percent of his throws for 10 touchdowns, four interceptions and a passer rating of 94.7, which is promising, considering he entered the season with a career passer rating of 84.6.
Cutler owns a 1-9 record against the Packers, and he's 41-22 against the rest of the NFL. In games against Chicago's division rival, Cutler has completed 55.6 percent of his throws with a touchdown-to-interception differential of minus-8. Against the rest of the NFL, Cutler's completion percentage rises to 61.1 and his touchdown-to-interception ratio to plus-41.
Does the record against the Packers bother Cutler?
"Obviously, you want it to be better," Cutler said. "But there's not much I can do about it."
In evaluating his own play after the first month of the season, Cutler said, "You'd like to cut down some of those turnovers. A couple of them are pretty stupid. The last one was unfortunate. You clean some of that up, and I'd be happy."
September, 29, 2014
Sep 29
4:35
PM ET
LAKE FOREST, Ill. -- Veteran
Chicago Bears
defensive end
Jared Allen
worked out and attended meetings at Halas Hall on Monday after being inactive in Week 4 due to a reported case of pneumonia.
Allen's absence on Sunday in the Bears' 38-17 defeat to the
Green Bay Packers
snapped a streak of 113 consecutive starts. The five-time Pro Bowl defensive end hadn't missed a game since Week 2 of the 2007 regular season.
"He was working out," Bears head coach Marc Trestman said. "It's going to be day-to-day and we'll see where he is on Wednesday. It was good to see him in the building, good to see him in all the meetings. He got some work in the weight room. That's encouraging."
Trestman declined to elaborate the amount of weight Allen lost since he contracted the illness.
"He always looks skinny to me," Trestman smiled.
The Bears' next practice is scheduled for Wednesday in advance of Sunday's road matchup versus the
Carolina Panthers
.
September, 29, 2014
Sep 29
4:25
PM ET
LAKE FOREST, Ill. -- Initially,
Chicago Bears
head coach Marc Trestman described
Jay Cutler
's second interception in Week 4's
38-17 home loss
to the
Green Bay Packers
as a miscommunication between Cutler and wide receiver
Brandon Marshall
, where Marshall "was supposed to run a hook route deep at 18 yards and he turned it into a go route."
Cutler
Marshall
On Monday, Trestman offered a slightly different explanation of the late third-quarter play where Packers cornerback
Sam Shields
picked off a Cutler deep ball intended for Marshall on the right side of the field.
"I want to be really specific on that," Trestman said. "No. 1 is, we give Brandon and Jay opportunities -- and we've done this throughout the last two years -- where they're communicating verbally or visually during the course of a game on changing routes. They had a communication error there. You can't put it on any one person, and that wasn't the case. What I said yesterday clearly was, the called play to Jay was a deep hook route, but they do have the flexibility to change that. Brandon ran a very good hook and go off a corner who was squatting on him. They just had a miscommunication -- the signal -- and they've done this countless times in the last couple years. This is one where there was a communication error between the two of them."
Marshall has been dealing with an ankle injury he originally sustained in the regular-season opener versus the
Buffalo Bills
. Marshall overcame the sore ankle in Week 2, catching three touchdown passes in a road victory against San Francisco, but he had only three combined receptions versus the
New York Jets
and Green Bay the last two games.
The Bears have understandably rested Marshall at practice. The wide receiver sat out the entire week of practice leading up the Packers game but still played 68 of the offense's 78 total snaps.
Is the lack of practice time hurting Cutler and Marshall's communication?
"Honestly, that would be reading way too far into it," Trestman said. "This is something they've been doing not only the last year and a half here that I've observed but throughout their careers together. Actually, before the game this week [Marshall's ankle] probably looked better and felt better than it had the last two weeks. We were certainly optimistic, and then walking through all the plays on Saturday, not only with the team but afterwards with [wide receiver coach] Mike [Groh], he seemed to be right on top of the game plan. So we knew he had been doing some work as well in that regard.
"That process has been going on. Brandon was ready to play. We're going to take a good look at him this week to make sure he's continuing to progress and he's not getting any worse."
September, 28, 2014
Sep 28
9:07
PM ET
By
Michael Bonzagni
| ESPNChicago.com
How good was
Green Bay Packers
quarterback Aaron Rodgers' against the
Chicago Bears
on Sunday?
On the day in which the Packers got their 700th win and Rodgers became the quarterback with the fewest pass attempts to reach 25,000 passing yards, he was almost perfect.
Consider this:
The lowest that Rodgers'
Total QBR
(which goes from 0 to 100) dipped to at any point during the game was 98.8 (after one incompletion on an overthrow in the second quarter and one on an underthrown ball in the third quarter).
Rodgers had a Total QBR of 99 or better after 32 of his 35 action plays in this game. He finished with a career-best 99.0 rating, the third-best by a quarterback in any game this season.
What were the keys to attaining such a number?
One was that Rodgers started strong. On the first drive of the game, Rodgers completed his first four passes, netting the Packers their first 79 yards on offense.
Rodgers was 6-of-6 overall when passing at least 15 yards downfield (quarterbacks get more credit for longer throws). He was 10-of-10 targeting
Jordy Nelson
in situations in which the Bears rushed four men or fewer at him.
Two of Rodgers' four touchdown passes were thrown more than 10 yards downfield. He had only one such touchdown pass in his first three games of the season.
He was also perfect on third down. Rodgers was 7 for 7 for 79 yards and four first downs (including two touchdowns) in third-down situations.
It helped that the Bears defense made things relatively easy for him. Rodgers was 18 for 20 when the Bears sent four or fewer pass rushers, with completions on each of his first 11 pass attempts.
Rodgers and the Packers offense scored on 6-of-7 offensive drives (86 percent). Only once since Rodgers became starter have the Packers scored on a higher rate of their drives (88 percent Week 8 last season against Vikings).
The performance continued a pattern of excellence for Rodgers in Chicago. His Total QBR there is 84.0. When he plays the Bears elsewhere, it's 56.4.
September, 29, 2014
Sep 29
3:49
PM ET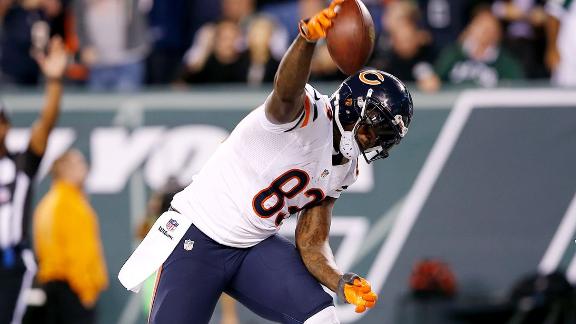 LAKE FOREST, Ill. -- Chicago Bears tight end Martellus Bennett said Monday that, despite managing to appear in all 16 games, he played the bulk of the 2013 season with a torn medial collateral ligament and a separated shoulder.
In fact, Bennett's first season in Chicago (he signed a four-year, $20.4 million contract in March 2013) proved to be the most productive of his career. Despite the injuries, Bennett set career bests in receptions (65) and receiving yards (759) while also catching five touchdown passes.
"Last year I tore my MCL and separated my shoulder in the first three weeks of games," he said. "I played most of the year with a torn MCL and separated shoulder, so I was banged up the whole year."
Did the tight end undergo surgery to correct either problem?
"I don't do surgeries," Bennett said. "I'm like Wolverine."
The 6-foot-6, 265-pound tight end has emerged as the Bears' most reliable threat in the passing game in the first quarter of the regular season. While Pro Bowl wide receivers Brandon Marshall and Alshon Jeffery have dealt with ankle and hamstring injuries, respectively, Bennett leads the team with 29 catches for 295 yards. His four touchdown receptions are second only to Marshall's five.
Bennett had the best game of his seven-year career in the Bears' Week 4 loss to the Green Bay Packers, catching nine passes for 134 yards.
September, 29, 2014
Sep 29
12:26
PM ET
September, 28, 2014
Sep 28
7:30
PM ET
CHICAGO –
Chicago Bears
defensive coordinator Mel Tucker rolled the dice.
Instead of dialing up a variety of blitzes to disrupt
Green Bay Packers
quarterback
Aaron Rodgers
' rhythm in the pocket, the Bears opted to drop the back seven into coverage and relied on the front-four to generate the pass-rush.
The results: Rodgers torched the Bears for 302 passing yards and four touchdowns and had a 151.2 passer rating.
[+] Enlarge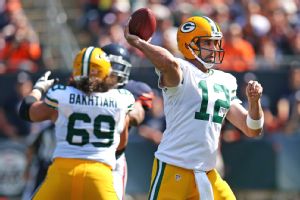 Jonathan Daniel/Getty ImagesWithout pressure from a pass rush, Aaron Rodgers picked apart the Bears defense.
"We didn't blitz a lot," Bears linebacker
Lance Briggs
said. "It was very simple. We thought we could get a four-man rush on a lot of occasions. But whether [Rodgers] was able to escape the pocket, or whether he was standing there inside the pocket, he was able to pat the ball and look a couple of different ways and find somebody.
"Rodgers, to me, is the best quarterback in the league. It was his day today. You give a guy like that time to find somebody, and he'll make them open."
The Bears' game plan to lean on the defensive line is understandable, even with veteran defensive end
Jared Allen
ruled out because of a bout of pneumonia. Heading into Week 4, the defensive line accounted for seven of the team's eight sacks (
Willie Young
4,
Stephen Paea
2, and
Ego Ferguson
1). On the Green Bay side, Rodgers had been sacked nine times in the first three weeks behind a suspect offensive line. Clearly, this resembled a matchup the Bears felt confident they could win.
They guessed wrong.
The Bears managed to sack Rodgers only one time (by Ferguson) in 28 pass attempts, and the defense as a whole was credited with zero quarterback hits in the official statistics kept by the NFL.
Did the Bears ask too much of its defensive line? Young balked at the suggestion after the game.
"Whether we were thinking that or not, we have to do better to try and get that guy off that spot," Young said. "I talked about that all week – getting him off that spot. But even when we got him off that spot a few times, he's still good. I mean, it's Aaron Rodgers, you know? It's just an opportunity for us to get better, to figure out how we can stop this guy. This is adversity for us. Obviously, we've got those guys again. We'll be looking forward to that. It's always a challenge, trying to figure out ways to win the game. That's absolutely going to be one of them.
"I'm motivated. That's what we're about. Yeah, we lost, but that's in the past. So, at this moment, it's time to start putting it behind us, recover, and get ready for our next week."
September, 28, 2014
Sep 28
7:39
PM ET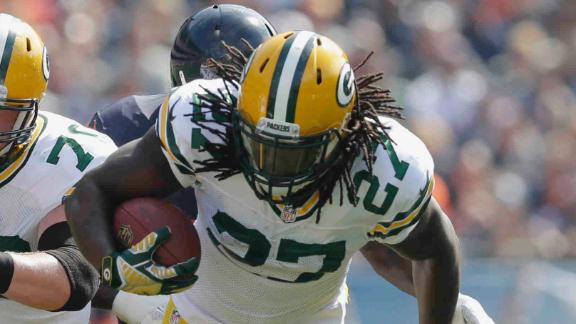 CHICAGO -- There are many myths, myriad untruths, about the Chicago Bears' controversial quarterback Jay Cutler.
Here's what I know about Cutler: He is very, very tough. He is very, very smart. His hair contains multitudes. He can't beat the Green Bay Packers.
Just look at the numbers.
Facing his nemesis once again, Cutler threw two costly second-half picks on consecutive possessions that the Packers turned into touchdowns as the Bears dropped a squeaker, 38-17, at Soldier Field.
Yes, the NFC North still goes through Green Bay. The Bears will play there in a prime-time game on Nov. 9.
Cutler is now 1-9 against Green Bay in his roller-coaster Chicago career, including that 2010 NFC Championship Game defeat. He's thrown 20 interceptions in those games.
Run the spread-blame formation all you want, Cutler fans, but turnovers and losses are connected.
Yes, the Bears' defense was putrid, with no pass rush up front and no chance for the secondary to cover Jordy Nelson and Randall Cobb.
It's not like Green Bay's defense was particularly good. It just took advantage of the Bears' mistakes.
The past two weeks, the Bears' defense had been feeding off takeaways from sloppy quarterbacks, and the offense had been turning those plays into points. Coming into the game, the Bears had scored just three touchdowns on possessions that began with a kickoff and just one on a possession that began with a clean punt.
September, 28, 2014
Sep 28
7:24
PM ET
CHICAGO -- Here are five things we learned in the
Chicago Bears
' 38-17 loss to the
Green Bay Packers
:
1. Same old story:
Please, resist the urge to declare the season over. The NFL is fluid. The Bears can absolutely recover next week and knock off the Panthers in Carolina, or perhaps sneak past the
Atlanta Falcons
in the Georgia Dome in Week 6. But let's talk big picture for a moment. Until the Bears figure out how to consistently beat Green Bay, they will continue to fall short in the NFC North. The Packers own the division. Every so often, the Lions or Vikings have a surprise year and reach the playoffs, but the road to the division title runs straight through Green Bay, Wisconsin. The Bears will forever be 9-7, 8-8, or 7-9 and just chasing a postseason berth until they turn the tide in the series versus the Packers. Green Bay has won 10 of the last 12 against the Bears. Unacceptable.
2. No answer for Aaron Rodgers:
Sure, the Bears can steal a win at Lambeau Field when Seneca Wallace is pressed into action. But good luck trying to beat Rodgers; an unstoppable force on Sunday with 302 passing yards and four touchdowns (151.2 quarterback rating). Rodgers needs to be pressured. The Bears failed to do so with its front four. And the rest is history. Rodgers is a true franchise quarterback. Like Brett Favre before him, Rodgers has led the Packers to a lopsided record over the Bears since he took over the Green Bay starting job in 2008. Guess Rodgers turned out to be right: Packers' fans just needed to "relax" after a 1-2 start. With Rodgers at quarterback, Green Bay is always going to be a viable contender in the NFC.
[+] Enlarge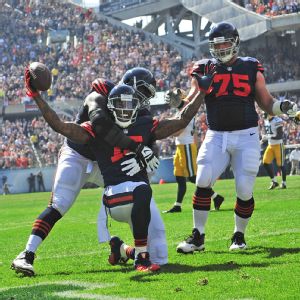 David Banks/Getty ImagesBrandon Marshall had just two catches against the Packers but one went for a touchdown in the first quarter.
3. Where's Brandon Marshall?
Marshall is a star player. And star players all have something in common: They suit up almost every single week, regardless of aches and pains. So while I applaud Marshall for refusing to skip a game due to a sprained ankle, it's fair to wonder how much the ankle is limiting his on-field production. Marshall has three combined catches over the last two weeks, and he apparently failed to break off his route on
Jay Cutler
's second interception. Maybe the lack of practice time is hurting Marshall's timing with Cutler. Marshall also has refused to speak with reporters in the postgame locker room following two straight games. It's not a good look for a great player.
4. Arrow pointing up for Bennett:
Martellus Bennett
seems to have his act together. After a controversial preseason, Bennett tops the Bears with 29 receptions for 295 yards and is second to Marshall (five) with four touchdown grabs. Bennett set career highs in catches (nine) and receiving yards (134) versus Green Bay. The most impressive part of Bennett's game is his refusal to go down after making a catch. It often takes two or three defenders to tackle Bennett. That kind of extra effort does not go unnoticed.
5. Run game flourished:
The Bears' offense did exactly what you're supposed to do against the 30th-ranked run defense: Run the ball down their throats. The Bears lost this game because of their inability to control Rodgers, coupled with losing the turnover battle (minus-2) for the umpteenth time in the series. The ground game is just fine, thank you.
Matt Forte
rushed for 122 yards on 23 carries, while rookie
Ka'Deem Carey
contributed 72 yards on 14 attempts. As a team, the Bears rushed for 235 yards and averaged 5.7 yards per carry. They played the matchups. Next week, maybe the Bears will throw the ball 45 times. That's simply the way the NFL works. But it was refreshing to see the Bears run the ball at will on Sunday. That should bode well for the team down the road.