October, 24, 2014
Oct 24
3:41
PM ET
LAKE FOREST, Ill. --
Brandon Marshall
brushed off any potential distraction caused by last week's locker room flap on the heels of Chicago's 27-14 loss to the
Miami Dolphins
, and plans to use the frustration from the defeat and residual drama as "fuel" for Sunday's game against the
New England Patriots
.
Asked Friday how he's moved on from last week's disappointment, Marshall said, "Do what I've been doing my whole career. Just get up every single day, put one leg in my pants, then the next one, and go to work. That's all I do."
Marshall
Marshall sees the latest situation as an opportunity for the team to take a major step toward developing. The Bears have lost three of their last four games, and are coming off a loss to Miami that caused Marshall to make several pointed remarks regarding the performance of the offense.
Before the team opened the locker room for reporters, Marshall could be overheard addressing the team. A source inside the locker room said some of the receiver's remarks were directed at quarterback
Jay Cutler
, who on Thursday denied that was the case.
"We've got a really talented group, close-knit group," Marshall said after practice Friday. "We're in a tough spot right now, but you can really grow when there's tension and when you're in an uncomfortable position, and I think we are. But this team is built to persevere in situations like this. We go on the road in San Francisco, against the Jets, and we play well. We play well enough. That's what we have to do this week is take it one game a time and fight our way back into this thing."
Marshall took issue with how reporters characterized what they heard outside the doors of the club's locker room as the receiver addressed the team.
"Man, you guys [in the media] are the most powerful people in the world," Marshall said. "You guys influence the masses. When you use words like 'rant' and 'tirade,' that's sexy. It sells papers. It boosts readings. But that's B.S., and you guys know that."
Did Marshall leave his frustrations from Sunday's loss in the locker room?
"No," he said. "It's fuel. You've got to take that frustration and use it as fuel. I'm going to be frustrated until we run a few [wins together] in a row. So you just have to take it and use it as fuel. That's the good thing about playing in professional sports. You can let the negative stuff tear you down or you can take it and build off of it, and use it as fuel. And I'll be determined to get the job done."
October, 24, 2014
Oct 24
3:25
PM ET
LAKE FOREST, Ill. -- A lingering foot injury kept starting right tackle
Jordan Mills
off the practice field Friday -- forcing the
Chicago Bears
to list Mills as questionable to face the
New England Patriots
on Sunday.
Mills went backwards on the injury report the entire week; downgraded to limited participation in practice on Thursday (Mills had full participation on Wednesday) before sitting out Friday's session altogether.
"It's a problem [Mills' foot injury] right now and we'll have to see how it is over the course of the next couple of days," Bears head coach Marc Trestman said. "We'll have to see where Jordan is. If he can't go, then
Michael [Ola]
will be in his place [at right tackle].
Ola started three games at left guard and two games at left tackle earlier in the season when
Matt Slauson
and
Jermon Bushrod
were injured.
Meantime, linebackers
Jon Bostic
(back) and
Lance Briggs
(ribs) are both listed as doubtful for Week 8. Trestman said Briggs is still dealing with soreness but is making progress towards an eventual return.
In more encouraging news, rookie cornerback
Kyle Fuller
is probable for Sunday after suffering a broken right hand and right hip pointer injury last weekend in the loss to the
Miami Dolphins
. Fuller has worn a protective brace on his hand the past two days at practice, but it's unknown if he plans to wear anything on his hand versus New England, according to Trestman.
Safety
Chris Conte
(shoulder), defensive tackle
Jeremiah Ratliff
(non-injury related) and tight end
Martellus Bennett
are also probable.
Safety
Danny McCray
has been ruled with a knee injury.
October, 24, 2014
Oct 24
2:00
PM ET
Noon CT Sunday at Gillette Stadium on FOX
October, 24, 2014
Oct 24
1:00
PM ET
The
Chicago Bears
should put forth a spirited effort because
Brandon Marshall
's postgame comments after Sunday's loss to the
Miami Dolphins
will likely galvanize the team. But Chicago's penchant for committing turnovers (13 in seven games), combined with the
New England Patriots
' knack for forcing takeaways (tied for second in the NFL with 14) likely means the visitors walk out of Gillette Stadium as losers.
Jay Cutler has committed multiple turnovers in three of the team's last four outings, resulting in losses. Opponents have scored 37 points off his giveaways.
Combine all that with a hostile environment -- not to mention the fact the Patriots will come into this game well-rested with extra prep time resulting from playing a Thursday night game on Oct. 16 -- and we could have the recipe for a trouncing.
Prediction
: Patriots 30, Bears 23.
October, 24, 2014
Oct 24
8:00
AM ET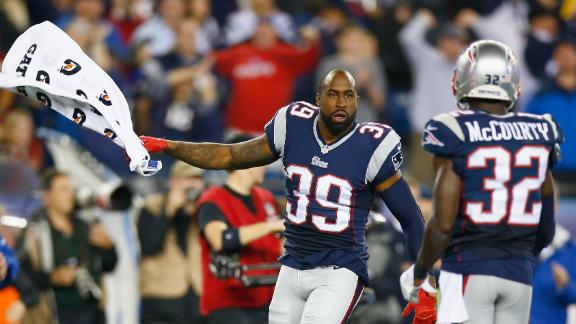 Has it really been eight years already?
The last time the
Chicago Bears
visited the
New England Patriots
, on Nov. 26, 2006, quarterback
Tom Brady
was juking linebacker Brian Urlacher on an unforgettable 11-yard run en route to a hard-fought, 17-13 win.
The Patriots had ripped up their natural-grass field the week before and installed FieldTurf on a permanent basis.
"It goes fast," Brady said of the eight years. "Before that game, we played the
Jets
in a rainstorm, and the field really started off crappy that year. The start of the year, it was like a sandpit."
The Bears' return to New England for the first time since that game, and ESPN.com NFL Nation reporters Mike Reiss (Patriots) and Michael C. Wright (Bears) break down the matchup:
Reiss:
Give us a feel for the state of the Bears team from a locker room solidarity standpoint. Any sense of how receiver
Brandon Marshall
's remarks were received?
Wright:
Well, you're talking about a locker room with 53 players, meaning 53 individuals who all view things differently. On one hand, you've got players who saw Marshall's remarks as something that needed to be said. On the other, you've got guys who believe he needed to keep those sharp criticisms in house. Ultimately, all of these guys have to continue to play together and unite to reach the goal, which obviously is to defeat the Patriots. Bears general manager Phil Emery recently took part in a chat on the team's official website and likened the situation to a family. There will be disagreements and different points of view, but ultimately, it's all love. So I think the Bears will quickly forget about Sunday's drama once they get into the thick of preparation for the Patriots.
The Patriots looked like a tired team during their 27-25 win over the New York Jets, especially on defense. How much of a change can we expect from this team with plenty of rest and 10 days to prepare for the Bears?
Reiss:
If it doesn't change, Mike, then I think they are in trouble. I probably gave them a little more leeway on that performance than others because it was their fourth game in 18 days (three in prime time), and they had no full-speed practices to adjust to the season-ending loss of signal-caller
Jerod Mayo
five days earlier. I thought they looked tired, and some players said as much after the game. The tackling was sloppy, and there was just no snap in their performance. Looking ahead, the concerns are in the front seven, where they are thin and still banged up. They are pretty deep in the secondary, especially at cornerback. I'd expect a better performance Sunday than we saw Oct. 16.
Patriots followers had been hoping the team might make a run at defensive end
Jared Allen
in the offseason. How would you characterize his impact on the Bears defense?
Wright:
Very minimal at this point, Mike, and I don't quite understand exactly why. I think a combination of factors have limited Allen's ability to make a real impact on the defense. During the preseason, Allen missed time to attend the birth of his daughter. Then, the team held him out of the third preseason game due to a bruised shoulder. Two days after the team's Sept. 22 win over the Jets, Allen was diagnosed with pneumonia, which caused him to lose 15 pounds and forced him to break a streak of 113 consecutive starts.
Meanwhile, Allen's backup,
Willie Young
, is putting together a career year (seven sacks). The Bears originally brought in Young to be a starter at defensive end, but when Allen became available in free agency, the club pounced and made Young the backup. But while Allen was missing time dealing with injuries and illness, Young stepped up and earned significant snaps. Now, it appears Allen has been relegated to a lesser role. Allen contributed half a sack in last week's win over the
Miami Dolphins
but didn't receive much playing time. Reporters asked Allen about that after the game, and all he could say was we'd have to ask the coach.
What I find a little odd is the Patriots rank fairly high in terms of points allowed, and they're also doing pretty well in terms of takeaways (tied for most in the NFL), yet there's the perception that New England's defense isn't very good. I know they've struggled against the run, but why is that the case, and where -- in terms of the defense's strengths -- do you think New England matches up best against Chicago's struggling offensive attack?
Reiss:
They've had three really bad games against the run, giving up 191 to the Dolphins in the season opener, 207 to the
Kansas City Chiefs
and then 218 to the Jets. Like most things in football, it's never really one thing. I thought the game plan against Miami was a bit flawed because they played
Chandler Jones
as a 5-technique defensive end in the 3-4 and, overall, they were hurt by the inside zone runs. Against Kansas City,
Jamaal Charles
and
Knile Davis
are no slouches, and that was just a beatdown in a frenzied environment in which the Patriots didn't enter the boxing ring with the emotion needed to win. Then, the Jets game had those dynamics in play where they were without Mayo for the first time, had others banged up and were fatigued quickly. As for where the Patriots match up best with the Bears, I'd relay what
Darrelle Revis
said Wednesday -- the unit is at its best producing turnovers. What Revis didn't say, but you can probably confirm best, is that Chicago has been generous in that area.
With
Matt Forte
, Marshall,
Alshon Jeffery
,
Martellus Bennett
and
Jay Cutler
, that's a pretty high-powered offensive package of five key players. What are some of the reasons they haven't been more explosive?
Wright:
The No. 1 reason is turnovers, and Cutler has committed more of them than anyone else (10) on the team, with opponents scoring 37 points off the quarterback's generosity. In each of the four losses, Cutler turned the ball over multiple times, yet in each of the victories, the quarterback didn't commit a single turnover. Headed into the game against the Dolphins, Bears coach Marc Trestman, offensive coordinator Aaron Kromer and even Cutler himself pointed to turnovers being the common denominator in each of the losses. Yet for whatever reason, the Bears haven't been able to fix the problem. I think Trestman, as a play-caller, shares in some of the responsibility because he probably needs to lean more on the rushing attack. Forte is averaging 4 yards per carry this season, yet in the first half last week, the Bears handed off to him just twice. Yes, the Bears ran just 18 plays in the first half. But the team needs to make Forte a more focal part of the game plan, which would enable Cutler to utilize play-action more effectively. Also, I believe there might be a problem brewing at right tackle with
Jordan Mills
. In each of the past two games, the Bears have had to give Mills help in protection, which obviously reduces the number of targets you can send out on routes.
Let's look at the other side of the ball. It's sort of rare to hold possession for 19:06, be outgained by 100 yards and have 12 fewer first downs than the Jets, yet still come out victorious. I know the offensive line has struggled, but can you give me an overview of some of the issues on offense?
Reiss:
It starts on the offensive line. Our good friends at ESPN's Stats & Information passed along these numbers that reflect some of the instability: The Patriots have had nine different offensive linemen play at least 100 snaps, tied for the most in the league. Furthermore, New England is the only team to play six different players for at least 100 snaps at the three interior offensive line positions. Part of that has been injury-based, while part of it has been performance-based. They opened the season with tackle
Marcus Cannon
at left guard despite never playing him there in the preseason. He lost the job after three weeks, as did first-year right guard
Jordan Devey
. Things have stabilized a bit in recent weeks, and, not surprisingly, the offense has looked better in the process. It has helped that tight end
Rob Gronkowski
is just about back to 100 percent after being eased back into the mix coming off his torn right ACL. What a difference-maker.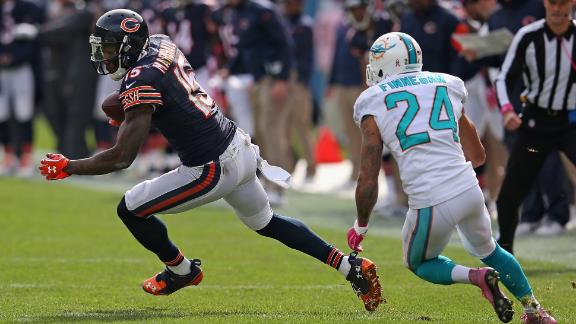 October, 23, 2014
Oct 23
6:48
PM ET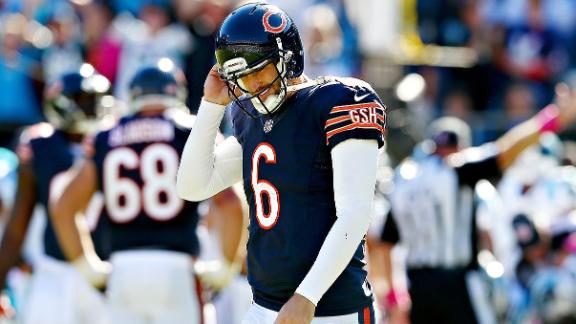 Former
Chicago Bears
linebacker Brian Urlacher pretty much told everyone what they already knew Wednesday, when he said former teammate
Jay Cutler
fits the category of "elite" in salary only.
Don't take that as a dig at Cutler or sour grapes on the part of Urlacher, who departed the organization unceremoniously prior to the 2013 season. Even Cutler didn't seem to take offense to Urlacher's comments.
"No," Cutler said when asked if he took issue with Urlacher saying he hasn't produced like an elite quarterback.
"No," Cutler responded when asked if such commentary bothered him coming from an ex-teammate.
Cutler certainly possesses "elite" tools: toughness, a cannon for an arm, underrated mobility, and the intelligence to diagnose quickly and make the necessary adjustments. But when it comes to producing at an elite level on the field, Cutler falls short of the truly elite signal-callers around the NFL, players such as
Aaron Rodgers
,
Tom Brady
,
Peyton Manning
and
Philip Rivers
.
"Financially, he is one of the elite guys in the NFL," Urlacher said during an interview with 87.7 FM The Game in Chicago. "He just hasn't produced like an elite quarterback."
That's an absolutely fair assessment, and came in response to Bears general manager Phil Emery remarking during an online chat on the team's official website that Cutler's winning record as a starting quarterback (59-52) makes him elite. Having covered Emery since he first set foot through the doors at Halas Hall, the general manager -- who absolutely should show support for his starting quarterback on the team's official website -- probably exaggerated a tad and used flawed logic in calling Cutler elite.
If merely a winning record makes for an elite quarterback, the league seemed to be teeming with them at the start of the season. Coming into this season, 25 active quarterbacks possessed winning records as starters.
Currently, players such as former Bears quarterback Rex Grossman (.532),
Mark Sanchez
(.532),
Michael Vick
(.547) and
Alex Smith
(.550) win at a higher clip as starters than Cutler, yet none are cashing in at his level.
Smith signed a four-year deal worth $68 million in August, while Vick, now a backup, signed a one-year deal in March worth $5 million to join the
New York Jets
.
Cutler, meanwhile, receives a base salary of $22.5 million this season ($5 million was converted into a signing bonus in March) as part of a seven-year, $126.7 million contract extension signed earlier this year, which places him atop the list for quarterback salaries in 2014, ahead of the
New York Giants
'
Eli Manning
($15.15 million) and the other Manning in Denver ($15 million).
Rodgers, who signed a five-year, $110 million contract last year, has the highest average annual salary among quarterbacks at $22 million, but his base salary for 2014 is $900,000 (he received $16.2 million more in bonuses). By the way, he's winning games, too.
"You look at the Bradys, the Mannings, the Rodgers, the [Drew] Brees, those guys win every year, even with no one around them," Urlacher said. "Rodgers has no offensive line. He wins. Brady has no receivers. He wins.
"And you look at Jay. He's got
Brandon [Marshall]
,
Alshon [Jeffery]
,
Matt [Forte]
, this great offensive line,
Martellus Bennett
, and they can't seem to put it together, for some reason. I'm not sure if that's his fault, but for some reason, they just can't figure it out."
What we can deduce though is Cutler, who has had a direct hand in each of Chicago's losses this season, falls short of elite.
Cutler tossed an interception and was credited for two fumbles in the team's loss to the
Miami Dolphins
. Cutler has thrown 14 touchdown passes and seven interceptions this season, and, interestingly, all the picks came in the club's four losses. Yet the quarterback turned the ball over only once (a fumble in a Week 3 win over the Jets) during the team's three victories.
And while the organization continues to stand behind Cutler, the quarterback stressed it is not doing so blindly.
"Everything I do is critiqued," Cutler said. "Every step I take, every read I make, ball location [it's all critiqued]. I think that's the farthest from the truth when we are in the meeting room. Anytime you lose a bunch of games, you're going to be under scrutiny. It's going to be tough. It's going to look not how you wanted it to look going into the season. So coaches and quarterbacks are judged on their records, on wins and losses, and right now we're behind the eight ball in that category."
October, 23, 2014
Oct 23
6:27
PM ET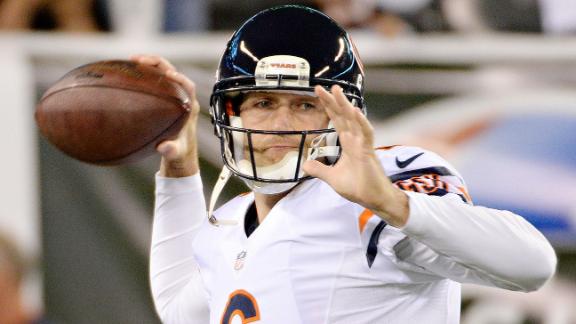 In this week's episode of "Lake Forest 60045," there's trouble at home as Jay Cutler commits two costly turnovers and skips his paid radio show. Brandon Marshall emotes, Lance Briggs shrugs and Papa Marc Trestman tries to keep it all together with his placid, detail-oriented approach. With a special appearance by Brian Urlacher as "Disgruntled ex-Bear!"
LAKE FOREST, Ill. -- To no one's surprise, in the weekly soap opera that is the Chicago Bears, the star-crossed lead is again in the spotlight.
Oh, that Jay Cutler, always up to something.
A new contract and an improved coaching staff and supporting cast have done little to dissuade persistent shots at Cutler's character and ability. In fact, they've only served to amplify his critics.
Hold on, I got Brian Urlacher on Line 1. He's got something to add and we need the dump button.
After a two-turnover game in a loss to the Miami Dolphins, Cutler can't seem to escape the one constant in his career: criticism. Seven interceptions and three lost fumbles, not to mention an 0-3 record at home, will do that to a guy.
Just a week after throwing for 381 yards in a win at Atlanta, Cutler's a bum again.
With the season on the line this week as the Bears head to New England, everyone is looking to Cutler to either get the team to the bye week at 4-4 or flame out in spectacular fashion. And you know what? I bet he'll be a conquering hero and lead the Bears to another surprising road victory.
And then he'll throw two picks during the bye. If anyone can do that, it's No. 6.
October, 23, 2014
Oct 23
5:25
PM ET
LAKE FOREST, Ill. –
Chicago Bears
rookie cornerback
Kyle Fuller
(hand, hip) returned to practice on Thursday wearing a protective brace on his fractured right hand.
The official injury report listed Fuller as having limited participation.
Fuller
"I talked to him after practice. He said it went well," Bears head coach Marc Trestman said.
"Our decision with Kyle is day-to-day in terms of how he's working. He practiced today to the full extent of practice. We'll see how that is tomorrow and we'll continue to evaluate it daily. We certainly want him to feel comfortable playing and not to have the concerns that he can hurt himself more with what he has. We certainly wouldn't put him out there if we thought that was the case."
Linebackers
Lance Briggs
(ribs) and
Jon Bostic
(back), tight end
Martellus Bennett
(hamstring) and right tackle
Jordan Mills
(foot) were also limited.
Three players were held out of practice: defensive end
Jared Allen
(rest), safety
Danny McCray
(knee) and KR/WR
Chris Williams
(illness).
Safety
Chris Conte
(shoulder) practiced without restrictions for the second consecutive day and is expected to be available Sunday when the Bears travel to New England. Conte was inactive in Week 7 after failing to finish four of the Bears' first six regular-season games.
October, 23, 2014
Oct 23
5:05
PM ET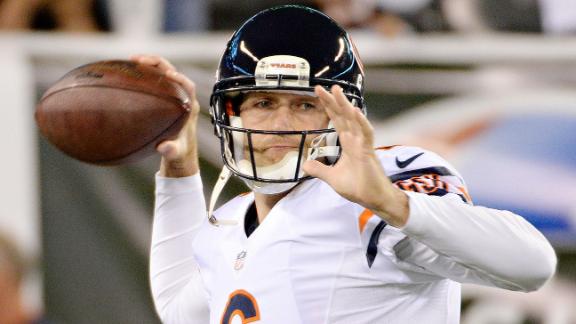 LAKE FOREST, Ill. -- Chicago Bears quarterback Jay Cutler said Brandon Marshall's postgame rant Sunday after a 27-14 home loss to the Miami Dolphins didn't cross the line, and it didn't include the wide receiver personally attacking teammates.
"He didn't come near me," Cutler said. "He didn't say my name. I don't think he attacked anybody personally with what he was saying.
"He's an emotional guy. Whenever he gets frustrated, he's going to get emotional most of the time. He's going to speak from the heart and make sure everyone around him hears him. It wasn't anything that caught us off guard, or was off-putting. ... It was frustration coming out and him letting us know it was important to him."
A source inside the locker room told ESPN Bears reporter Michael C. Wright that some of Marshall's remarks were pointed at the quarterback. Cutler said he spoke to the Pro Bowl wide receiver about the incident.
"I talked to him on Monday," Cutler said. "He was good Monday. Brandon wants to win. He wants to see this team do as well as possible. I understand his frustration. We all go about it different ways when we're frustrated, and that's how Brandon handled it that moment. We moved past it.
"I think some people are indifferent. I think some people are responding well to it. Like I said, I don't think anybody is taking it negatively. It was a frustrating loss for all of us. I think once guys left the locker room, that's where it died. We moved on Monday and Tuesday, and practiced on Wednesday. It's just one of those things."
October, 23, 2014
Oct 23
4:00
PM ET
DAVIE, Fla. --
Miami Dolphins
offensive lineman
Mike Pouncey
was honest Thursday when asked if he missed playing center.
"Of course," Pouncey said candidly. "I was so good at it."
Pouncey
But Pouncey and the Dolphins' coaching staff believe playing their Pro Bowler at right guard has been best for the offensive line. A year ago, this was Miami's most-maligned group. This season offensive line has developed into a strength.
The Dolphins (3-3) are fourth in the NFL in rushing at 136.3 yards per game and have allowed only 14 sacks this season.
Pouncey is the only returning starter on Miami's offensive line this year -- and even Pouncey switched positions.
Pouncey missed the first four games due to offseason hip surgery, and replacement
Samson Satele
did a nice job at center. Instead of moving Satele, the Dolphins thought it was best to plug Pouncey in at right guard, which was an area of concern.
"But it doesn't bother me at all," Pouncey said of the move. "I like the way our five guys jell together and the rotation we have now. Whatever's best for the team, and we're going to keep it that way until they say different."
Pouncey is still getting his legs under him. He missed all of training camp, the preseason and the first four games of the regular season.
Dolphins offensive coordinator Bill Lazor praised Pouncey for the progress he's making just two games in.
"Mike Pouncey was definitely better," Lazor said from his first to second game. "I thought in every way we would have expected, balance, finish, drive, pass protection, run blocking. It's probably what we expected. I thought the guy played a really good game. I'm excited for Mike."
This wasn't an easy decision for the Dolphins. Pouncey arguably is a top-five center in the NFL. He's not a top-five guard.
Pouncey also has shown some early rust. He allowed 1.5 sacks last Sunday to defensive tackle
Jeremiah Ratliff
in a win over the
Chicago Bears
.
But overall Dolphins quarterback
Ryan Tannehill
is getting the best pass protection of his career, and it's showing in his career-best 87.8 passer rating. Running back
Lamar Miller
also is getting bigger holes and on his way to his best individual season.
"I can say that we're much improved obviously, because of the way the statistics are," Pouncey said. "But we go out there and come in and work every day, trying to work as hard as we can. We've gotten better as an O-line."