October, 9, 2015
Oct 9
3:15
PM ET
LAKE FOREST, Ill. -- Kansas City coach Andy Reid knows exactly what he's up against on Sunday.
The veteran head coach is well-schooled in Bears offensive coordinator Adam Gase's scheme from playing in the AFC West. Reid went 0-4 versus division rival Denver from 2013-14 when Gase called plays for Broncos quarterback Peyton Manning.
"It does [help]," Reid told ESPN 1000's "Carmen and Jurko Show" on Friday.
The difference of course is that Manning stayed in Denver when Gase and John Fox bolted to Chicago in the offseason.

But that hasn't stopped Gase from using the same system with Jay Cutler that he did in Denver.
"[Gase] has had smart quarterbacks in both spots," Reid said. "Jay is a smart kid who seems to be picking this stuff up pretty quick. They are doing stuff that is very similar, and doing it well."
Cutler is clearly comfortable. He's completed 54-of-88 pass attempts (61.4 percent) for 626 yards, four touchdowns and three interceptions in 10 quarters of play. Lifetime against the Chiefs, the 32-year old quarterback has a career 96.4 passer-rating in four starts.
"I think he's playing well," Reid said. "I think he's enjoying the offense and playing well."
Reid is quick to mention Cutler's supporting cast, beginning with tailback Matt Forte. The Bears have the league's 11th-ranked rushing offense with Forte averaging 4.4 yards per carry. Kansas City's defense is better at stopping the run than the pass, but injuries to Alshon Jeffery (hamstring) and Eddie Royal (ankle) may require the Bears to lean on Forte Sunday.
"Matt Forte, I feel like he's been in the league for 100 years and keeps getting better," Reid said. "It's killing me. He's playing well and they have good tight ends and big receivers that can play. Eddie Royal is there, who is a little smaller, but he's quick. They've got good football players."
October, 9, 2015
Oct 9
2:35
PM ET
LAKE FOREST, Ill. -- Chicago Bears wide receiver Alshon Jeffery (hamstring) sat out Friday's practice and is questionable to face the Kansas City Chiefs.
Jeffery practiced in limited fashion on Wednesday and Thursday before skipping Friday's 70-minute session. The Bears targeted Sunday's game at Arrowhead Stadium for Jeffery to make his return, but Friday's development is hardly encouraging. Jeffery missed the past three weeks with a hamstring injury he suffered prior to the game against Arizona.
The Bears practice one more time on Saturday before departing for Kansas City. That final walk-through is where the club makes final determinations on injured players.
"If they are deemed healthy, and we have medical people to do that, then we expect them to perform at a high level," Bears head coach John Fox said. "I'm not sure anybody in the league is 100 percent in game five."
Chicago enters Sunday as the 29th-ranked passing offense in the NFL.
"As soon as [Jeffery is] ready to go, it'll be interesting to see kind of how we evolve and adapt and try and use him to his strengths and get him rolling," offensive coordinator Adam Gase said.
Meantime, fellow wideout Eddie Royal (ankle) is also questionable after sitting out three straight days. Royal caught seven balls for 54 yards and one touchdown in the 22-20 victory over the Oakland Raiders.
Fox said left tackle Jermon Bushrod has been ruled out for Week 5 because of a concussion/shoulder injury, and that veteran safety Antrel Rolle (ankle) is doubtful. Rolle was observed limping around the facility on Thursday with a brace on his ankle. This is expected to be the first game Rolle misses since 2009.
Guard Patrick Omameh (questionable/ankle) failed to practice the entire week, meaning rookie Hroniss Grasu is a strong candidate to make his first career start at center with Matt Slauson staying at left guard.
Outside linebacker Pernell McPhee appeared on Friday's injury report with a shoulder problem and is questionable for the game. McPhee did not practice on Friday but has played through injuries most of the year.
Also questionable for Sunday: Jay Cutler (hamstring), Jimmy Clausen (back), Kyle Long (back/ankle), Tayo Fabuluje (ankle), Jeremiah Ratliff (ankle), Will Sutton (elbow), Shea McClellin (elbow), Alan Ball (groin) and Sherrick McManis (hamstring).
Punter Pat O'Donnell (knee) is probable.
"It's been par for the course so far this season," Fox said of the injuries. "We've had the injury bug at a variety of positions. But it's kind of the nature of what we do. It comes in waves, just like turnovers. Sometimes [injuries] just come in waves. Hopefully it thins out here moving forward."
October, 8, 2015
Oct 8
7:02
PM ET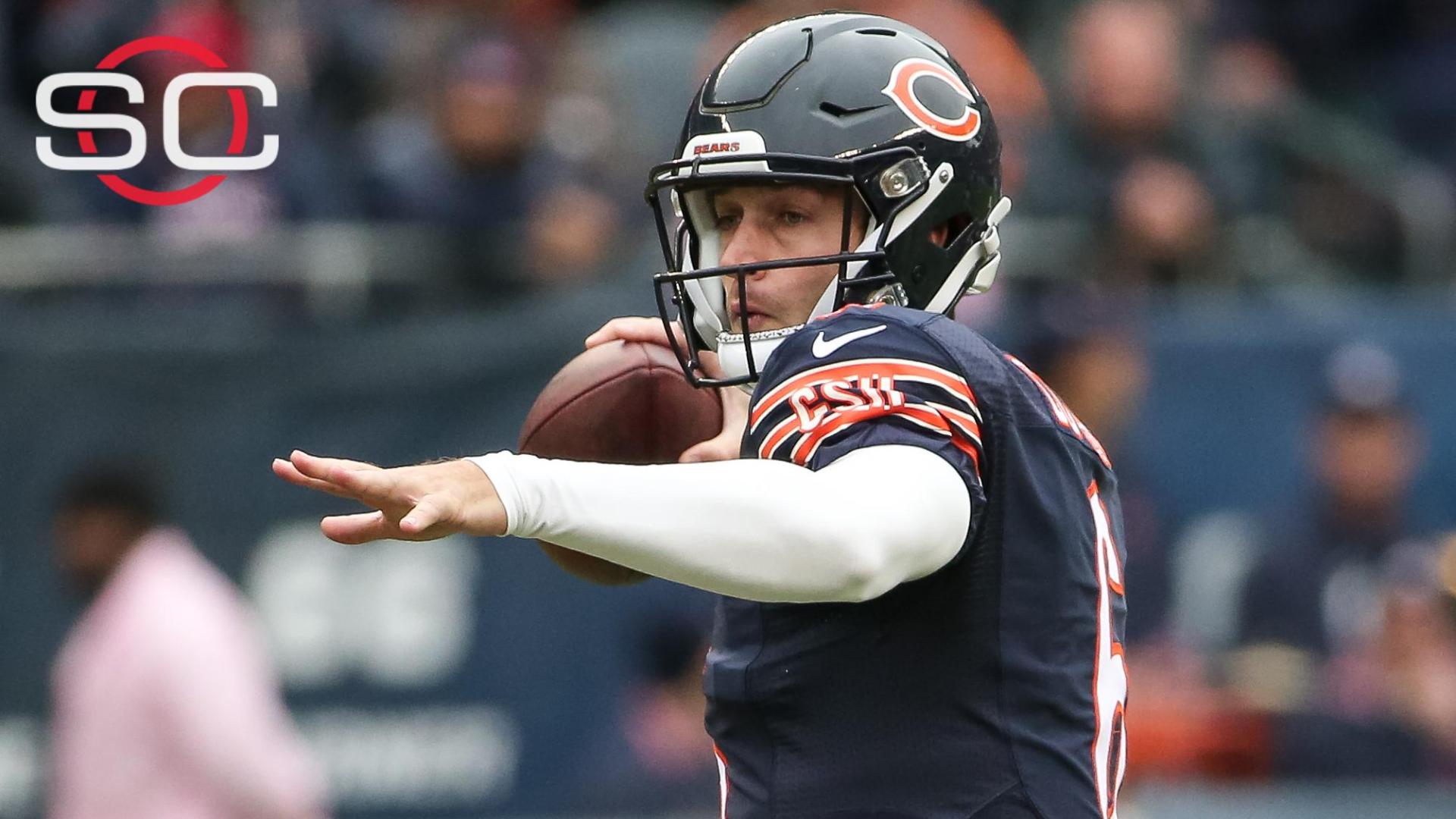 LAKE FOREST, Ill. -- Jay Cutler said on Thursday he's not 100 percent but is pushing through his hamstring discomfort in light of all the injuries the Bears have suffered this year.
"I feel better. I do," Cutler said. "I'm still not exactly where I want to be, but it is what it is, and we have a lot of guys banged up out here. I'll just make do."
Cutler had missed two weeks before returning to start in last week's 22-20 win over the Oakland Raiders, even though he had originally been expected to miss two to five weeks with his hamstring injury.
He was 28-of-43 for 281 yards, two touchdowns and one interception to lead the Bears to their first win of the season.
"First thing I learned was how tough he was," Bears offensive coordinator Adam Gase said. "For him to go out there and perform the way he did, I don't know if I've been around a performance like that, as efficient as he was, to fight through what he had going on. But him sticking around in the pocket, obviously, he did a good job of protecting himself, and he did a good job with all his reads."
The Bears will hope Cutler's mobility isn't hindered in Week 5. Although the Kansas City Chiefs enter the game with a disappointing 1-3 record and a defense ranked 29th overall and 28th against the pass, they can knock down the quarterback.
Head coach John Fox emphasized on Thursday that he is wary of Kansas City's pass rush off the edge, led by outside linebackers Justin Houston and Tamba Hali. Houston led the NFL with 22 sacks in 2014.
October, 8, 2015
Oct 8
5:10
PM ET
LAKE FOREST, Ill. – Chicago Bears rookie center Hroniss Grasu is one step close to making his first career NFL start.
An ankle injury to Patrick Omameh forced the Bears to keep emergency center Matt Slauson at left guard much of the week; allowing 2015 third-round pick Grasu to handle first-team reps at center on Wednesday and Thursday. Grasu is the obvious choice to start on Sunday if Slauson remains at guard.
"If we go with Hroniss, Hroniss would be the youngest center I've ever had," Bears quarterback Jay Cutler said. "I've always had, from Tom Nalen in Denver, Casey [Wiegmann], then Olin [Kreutz], [Roberto] Garza, and then Will [Montgomery] who just got hurt. I've always had older centers who make your life a little bit easier. So Hroniss would be the youngest guy, but it's fine. He's going to go out there and he's going to play his butt off. If we go with Slauson, we already have one game under our belt."
Offensive coordinator Adam Gase said the organization believes in Grasu, who was drafted No. 71 overall out of Oregon.
"Obviously we liked him a lot just from the draft process," Gase said. "Coming here from the system he came from, we were familiar with it. A lot of the guys we've worked with on this staff spent some time with the Oregon staff, Scott Frost, kind of knowing who he was as a player and person and seeing him kind of grow with us into what we do on offense compared to what he came from in college. He's done a great job and he's done nothing but get better day in and day out.
"He does have that rare ability to get to the second level and cut defenders off; and he's a lot stronger than what you'd anticipate. I know he's not like an overly sized guy but he does have good strength for that position."
The offensive line concerns extends to left tackle, where Charles Leno is preparing to make his second consecutive start in place of Jermon Bushrod (concussion/shoulder). Bushrod did not practice on Thursday and is still in the NFL concussion protocol. Right tackle Kyle Long (back/ankle) also sat out but is expected to play at Kansas City.
The names of 13 players appeared on Thursday's injury report.
Did not practice: Eddie Royal (ankle), Antrel Rolle (ankle), Bushrod and Omameh.
Limited participation: Alan Ball (groin), Tayo Fabuluje (ankle), Alshon Jeffery (hamstring), Shea McClellin (elbow), Pat O'Donnell (knee), Sherrick McManis (hamstring), Jeremiah Ratliff (ankle), Will Sutton (elbow), Cutler (hamstring) and Long.
Jeffery said after practice his recovery has been a "process," but he plans to return soon.
October, 8, 2015
Oct 8
7:00
AM ET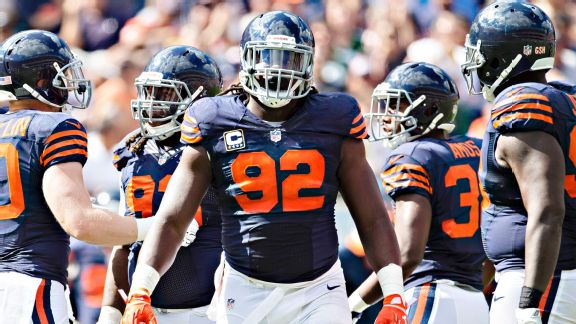 Wesley Hitt/Getty Images


LAKE FOREST, Ill. -- The Chicago Bears are seeing a return on their investment in Pernell McPhee.
McPhee, who signed a five-year, $38.750 million contract in March, is partly responsible for the Bears' steady improvement on defense. The outside linebacker has tallied two sacks, three tackles for loss, six quarterback pressures and one interception over four games, despite playing with nagging injuries.
An intense and fiery leader inside the locker room, McPhee has a sense of humor about his contract.
"It made me hungry. I want more money," McPhee said with a smile on Wednesday. "That wasn't enough. I'm trying to that [$100 million]. I want to see J.J. Watt [money].
"No ... but for real ... it just proves that I ain't no bluff. I am who I am. If I'm blessed to stay healthy, it's only going to get worse [for other teams]. I'm going to actually dominate."
A reporter reminded McPhee that Kansas City outside linebacker Justin Houston recently signed a six-year, $101 million deal.
"He's a beast," McPhee said. "Take nothing away from that guy. He's beast. I'm a beast. But there are all different kinds of beasts, you know what I'm saying?"
October, 7, 2015
Oct 7
5:50
PM ET
KANSAS CITY, Mo. -- It hasn't helped them much, but the Kansas City Chiefs' good fortune with injuries extends into this week.
Inside linebacker Josh Mauga, who injured his groin in last week's loss to the Cincinnati Bengals, is the only Chiefs player who didn't practice Wednesday.
Starting wide receiver Albert Wilson was a limited practice participant because of a sore shoulder. Tight ends Travis Kelce (groin/thumb) and James O'Shaughnessy (hand) were full participants, so unless there's a setback, each should be available for Sunday's game against the Chicago Bears at Arrowhead Stadium.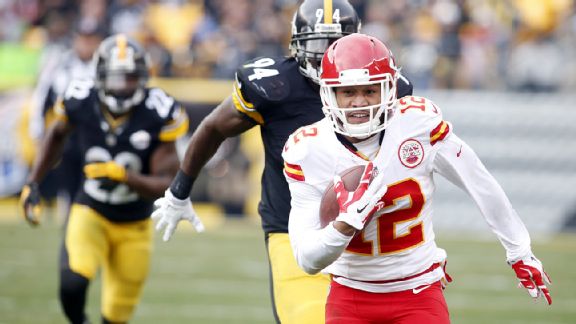 Charles LeClaire/USA TODAY SportsChiefs WR Albert Wilson was limited in practice with a shoulder injury.
The Bears, by contrast, listed 13 players on their injury report Wednesday, five of whom didn't practice.
This season, the Chiefs have had just four injuries that prevented players from getting into a game. Offensive lineman Jeff Allen missed the season's first two games because of a knee injury but has been available for the last two as a backup. Right tackle Eric Fisher didn't start either of the first two games because of a sore ankle but returned to the lineup for the last two games. Wilson didn't play last week in Cincinnati because of an ailing shoulder.
The injury of note is to starting cornerback Phillip Gaines, who tore his ACL in the recent Monday night game against Green Bay and is out for the season.
Gaines is one of three players on the Chiefs' injured reserve list. The others are a backup offensive lineman, Paul Fanaika, and a developmental player, linebacker Justin March.
October, 7, 2015
Oct 7
5:40
PM ET
LAKE FOREST, Ill. – Chicago Bears rookie Hroniss Grasu took some first-team practice reps on Wednesday as the team moves forward without starting center Will Montgomery who landed on injured reserve with a fractured fibula.
"I did [take some first-team reps]," Grasu said. "We were just shuffling guys around. Nothing is set. I'm just going out there and doing what I'm told to do and getting better every single day.
"That decision is up to Coach [John] Fox. Whatever decision is made, I'll do my best to help this team win."
The 2015 third-round pick said he added weight in the offseason to better compete at the NFL level. Grasu is listed at 300 pounds on the Bears' most updated roster.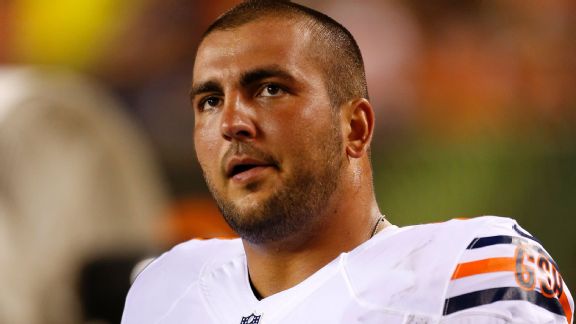 Gary Landers/AP PhotoThe Bears could turn to rookie Hroniss Grasu at center this Sunday with Will Montgomery out.
"I felt good identifying things up there in the preseason, but coming from the system I played in [at Oregon], I needed to add some pounds," Grasu said. "I worked hard every day in the weight room and with my nutrition. I feel good. I gained some pounds. Now I'm ready to roll."
Left guard Matt Slauson admirably replaced Montgomery at center in Week 4, but Slauson had to spend increased time at guard on Wednesday because Patrick Omameh missed the workout with an ankle injury.
"[Slauson] will be prepared for wherever he starts [in Kansas City]," Fox said.
In addition to Omameh, wide receiver Eddie Royal (ankle), left tackle Jermon Bushrod (concussion/shoulder), cornerback Sherrick McManis (hamstring) and safety Antrel Rolle (ankle) did not practice.
The Bears listed eight players as limited: quarterback Jay Cutler (hamstring), wide receiver Alshon Jeffery (hamstring), defensive tackle Jeremiah Ratliff (ankle), defensive lineman Will Sutton (elbow), inside linebacker Shea McClellin (elbow), cornerback Alan Ball (groin), punter Pat O'Donnell (knee) and right tackle Kyle Long (back/ankle).
October, 7, 2015
Oct 7
5:06
PM ET
LAKE FOREST, Ill. -- Chicago Bears defensive coordinator Vic Fangio boldly predicted a Word Series title for the Chicago Cubs on Wednesday.
Apparently the well-traveled 36-year coaching veteran has a history of being a good luck charm for local baseball teams.
"In San Francisco, I was there for five years, and the Giants won three World Series; they had never won one before," Fangio said. "I was in Houston (2005) when they got to their only World Series. I bring good luck to the baseball teams."
Fangio said he may run for public office if the Cubs win their first World Series since 1908.
"If they win, I probably could. Or at least they'd hire me at least," Fangio said.
The Cubs play at Pittsburgh Wednesday evening in the National League wild card game.