December, 17, 2014
Dec 17
3:56
PM ET
LAKE FOREST, Ill. -- One major component swaying the
Chicago Bears
' decision to hire Marc Trestman was his ability to coax the best from quarterbacks, but the coach admitted Wednesday he hasn't been able to accomplish that endeavor with
Jay Cutler
.
"I think that's evident I haven't up to this point," Trestman said. "Am I working at it? Yes. We've seen moments, but we haven't done it on a consistent basis. I can't hide from that."
Cutler won't let him.
[+] Enlarge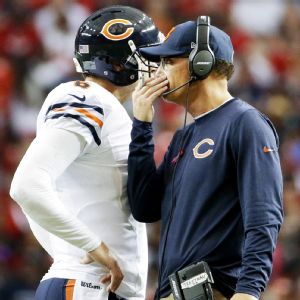 AP Photo/David Goldman"I haven't been able [to coax the best from Jay Cutler] and we haven't been able to do the things that we want to get done," Marc Trestman said.
During a nationally televised loss Monday night to the
New Orleans Saints
, Cutler tossed three interceptions and produced a season-low passer rating of 55.8. Cutler also generated a total QBR of 6.8 against the Saints, which registered as his second-worst performance of the season in that category (6.0 QBR in Week 10).
The highest-paid offensive player in the NFL this season, Cutler currently leads the league in turnovers (24). On a per-play basis, Cutler has averaged a turnover every 33.3 snaps this season, which ranks as third-worst among all qualified players in the NFL, according to ESPN Stats & Information. What's more is Cutler's turnover rate is nearly twice as high as the average qualified NFL quarterback this season (the average is a turnover every 65.3 snaps).
"I haven't been able [to coax the best from Cutler] and we haven't been able to do the things that we want to get done," Trestman said. "We're working towards that. But the answer to that is obvious. I'm trying to give you the most truthful answer and that is, we've seen moments of it, but it's not where we need to go. It's not where we need to be. But it's not all about Jay. It's about our entire offense, working together to get it done."
ESPN's Jon Gruden hired Trestman back in 2001 to serve as a senior assistant with the
Oakland Raiders
, and during the broadcast said the Bears coach should consider benching Cutler and taking a look at backup
Jimmy Clausen
. Trestman indicated Wednesday he's not quite ready to sit Cutler.
"Jon certainly has a right to his opinion, and each and every week we go through our evaluations all the way around," Trestman said. "As I said, Jon's got a right to his opinion."
For the better part of the season, Trestman has talked extensively about the team's great weeks of preparation, and admitted after a Nov. 10 blowout loss at Green Bay, to being "confounded" by the team's inability to transfer the groundwork laid in practice to the games.
Against the Saints, the Bears converted just 2 of 12 third downs, which led to the club's defense being on the field for 33 minutes and 31 seconds as
Drew Brees
ripped Chicago for 375 yards passing and three touchdowns.
Asked whether he was still confounded by Chicago's preparation not transferring to games, Trestman acknowledged the club still hasn't found answers, which for the organization, should be troubling considering just two outings remain in the 2014 season. At this point, it's unclear whether a thorough offseason examination would adequately reveal all that ails Chicago's offense.
"We haven't been able to answer that question. We have to be honest with that," Trestman said. "I'm being honest with you, we haven't seen that. We haven't been able to unlock that, and that's the reason we're 5-9."
December, 17, 2014
Dec 17
11:55
AM ET
Every now and then, rivals back one another, and that's precisely what took place Tuesday when
Green Bay Packers
quarterback
Aaron Rodgers
ripped Chicago Bears offensive coordinator Aaron Kromer
for criticizing
Jay Cutler
as an anonymous source in an NFL Network report.
Rodgers told the NFL Network he was "baffled" by the situation, and criticized Kromer's behavior while expressing empathy for what Cutler endured in the week leading up to Chicago's loss to the
New Orleans Saints
on "Monday Night Football."
"I would have a major problem if somebody said something like that," Rodgers said. "I think anybody that plays the position, you can't help but empathize with Jay for that situation. You talk all the time about being connected, being a unit, believing in each other. But if you have unnamed sources, people out there cutting you down, and then you find out it's the person calling the plays… that would be really hard to deal with, to look at him the same way."
[+] Enlarge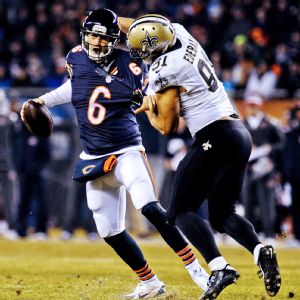 Matt Marton/USA TODAY SportsBears quarterback Jay Cutler was sacked seven times against New Orleans and threw three interceptions.
Kromer admitted to the team during a meeting he'd been the anonymous source in an NFL Network report in which he criticized Cutler's game-management skills, specifically his refusal to check out of bad run plays.
During that meeting, Kromer apologized to Cutler, who said he "wasn't angry" with the offensive coordinator.
But the entire situation resonated profoundly throughout the organization, with Bears general manager Phil Emery chiming in Monday night during the WBBM pregame show to vent his feelings.
"I've had to step back this week and let the emotions of those events quell down a little bit so that I was in position to listen and work through the processes and the structure we have to arrive at a conclusion that was in the best interest of the team," Emery said. "I was very angry, to be honest with you, with what happened. Disappointed, upset, like many of our fans and like many of our players, which was obvious because that's how the information got out, in terms of Aaron's apology to the team."
Rodgers told the NFL Network he "felt for Jay that he was having to deal with that." Cutler, meanwhile, told WBBM after Monday's game the entire situation "didn't affect me preparing for the game" in which he threw three interceptions, was sacked seven times and produced a season-low passer rating of 55.8.
"I was surprised that the coach came out and admitted that it was him. I think, in general, unnamed sources are pretty gutless," Rodgers said. "But then he comes out and admits it was him. I don't think he deserves any credit for that, but it was interesting that he did."
Rodgers pointed out the differences in work environments in Green Bay and Chicago, and credited coach Mike McCarthy and general manager Ted Thompson for creating an atmosphere in which communication rules and minimizes the prospects for such situations as what took place with the Bears from occurring.
"I would have a major problem with that, if [Green Bay offensive coordinator] Tom Clements was saying stuff like that about me -- which he never would, because Tom and I are so close, and I think we have good communication," Rodgers said. "I think there's a way of doing things when you have issues, and it's keeping it in-house."
Cutler felt the same way, saying he learned early on in his career that it was better to operate that way.
"When I first got in the NFL [with the
Denver Broncos
], Mike Shanahan made a huge emphasis that things get kept in house. Throughout my nine years I've tried to abide by that policy and keep things in-house," Cutler said. "Some years I'm better than other years. When [Bears coach Marc Trestman] got here, he was of the same method: Let's try to keep things in house. And I think we've done a heck of a job throughout almost two years, haven't had a lot of leaks, haven't had a lot of things happen inside the building that have gotten out. Obviously we had something this time get out. It's not a bad thing. It's going to happen, and we're not the first team it's going to happen to and we won't be the last team."
December, 17, 2014
Dec 17
10:45
AM ET
As Chicago stumbles toward its first sub-.500 season since 2009, second-guessing the franchise's decision to part ways with Lovie Smith after a 10-6 campaign in 2012 has become common, with former NFL coach Tony Dungy saying the organization took Smith for granted.
Dungy was asked in
an interview with The Sporting News
whether the firing of his longtime friend and opponent in Super Bowl XLI was fair.

Smith
"No, it wasn't," said Dungy, who now serves as an NFL analyst on NBC. "But it's human nature. It's not necessarily doing what's best for the organization, it's hearing a lot from the outside and hearing about disappointment and expectations not being met, and being convinced that a change has to be made."
The Bears fired Smith on Dec. 31, 2012, a day after the club closed the season with a 26-24 triumph at Detroit to improve to 10-6. Chicago missed the playoffs for the fifth time in six seasons, and the organization believed it was time to head a different direction. So ownership brought aboard Marc Trestman.
Since making the change, the team -- which openly discussed the desire to close in on the
Green Bay Packers
-- has deteriorated under Trestman's watch, finishing 8-8 in 2013, and well on the way now to a record worse than that in 2014.
Smith produced at least 10 victories in two of his final three seasons. Having worked for Indianapolis and Tampa Bay as a head coach, Dungy understood the win-now mindset that led to Smith's ouster.
"Sometimes you can get spoiled by success," Dungy said. "Nine-, 10-, 11-win seasons, but you didn't get to the Super Bowl, so that's unacceptable. You have to strive for more."
Dungy declined to criticize Trestman, but mentioned Chicago's front office hasn't provided the coach enough talent to field a consistently competitive team.
"From the talent part, they're really a ways away," Dungy said. "You take away some of the guys that Lovie had,
[Charles] Tillman
,
[Julius] Peppers
, Brian Urlacher, and you're gonna be a ways away."
December, 17, 2014
Dec 17
9:17
AM ET
ESPN.com news services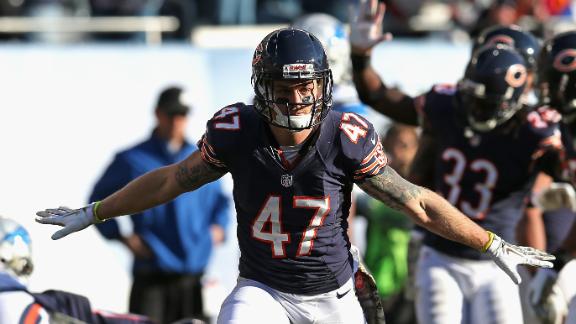 Chicago Bears safety Chris Conte, who has suffered two concussions this season, says playing in the NFL is worth the risk he takes to his long-term health by doing so.
"Ever since I was a little kid, it's what I've wanted to do," Conte told WBBM Newsradio in Chicago. "In college, I didn't even graduate school because my senior year, I honestly let school be a casualty to that because I knew I had one opportunity to make it to the NFL, and I put everything into that. And I felt school's something I could figure out later.
"As far as after football, who knows. My life will revolve around football to some point, but I'd rather have the experience of playing and, who knows, die 10, 15 years earlier than not be able to play in the NFL and live a long life. It's something I've wanted to do with my life and I wanted to accomplish. And I pretty much set my whole life up to accomplish that goal. So I don't really look toward my life after football because I'll figure things out when I get there and see how I am."
Conte, 25, has had a litany of injury issues this season -- also missing time due to a back injury, an eye injury and sprains of both shoulders. He's been held out of three games this season, and he has been unable to continue in seven of the 12 that he's seen action in.
"As long as I outlive my parents, then we'll be all right," Conte said.
Conte told ESPNChicago.com's Jeff Dickerson that his comments to WBBM do not reflect his stance specifically on concussions, claiming that he was referring to the general health risks of playing in the NFL.
December, 16, 2014
Dec 16
4:15
PM ET
With Chicago free-falling into a three-game losing streak after Monday night's 31-15 loss to the
New Orleans Saints
, naturally, questions regarding the Bears' effort continue to surface as the search commences for answers to the club's futility continues.
Cutler
In the wake of the defeat Monday night, New Orleans Saints cornerback
Keenan Lewis
was asked whether he thought the Bears quit.
"I wouldn't say I had seen it," Lewis said. "I don't think some players out there looked excited to play. Some of them came to play, and some of them didn't."
That's pretty much what the eyeball test has revealed of the Bears over the past several weeks.
Having watched tape of Green Bay's wins over Chicago, Lewis gleaned a few tips for how to stop the Bears offense. The most important? Disguise coverages to confuse quarterback
Jay Cutler
, who posted a 6.8 total QBR in the loss.
"Don't tell them what [defense] you're in," Lewis said. "Make them figure it out at the last minute. There was a lot of success doing that. By film study, we watched that and saw a couple of teams do the same thing and have success."
Cutler tossed three interceptions Monday night to extend his NFL lead in turnovers (24). The highest paid offensive player in the NFL ($22.5 million in 2014), Cutler has progressively increased his turnover rate this season. According to ESPN Stats & Information, Cutler has averaged a turnover every 33.3 snaps, which ranks as the third-worst rate among all qualified players in the NFL. Cutler's turnover rate is nearly twice as bad as the average qualified NFL quarterback this season, who turns over the ball ever 65.3 snaps.
Cutler earns $1 million more than the next-highest-paid offensive player (
Matt Ryan
, $21.5 million), yet he's responsible for 10 more turnovers (24 to Ryan's 14).
Joe Flacco
will earn $21 million in 2014, and he's turned over the ball on just nine occasions.
Contrary to what Lewis said, Saints safety
Kenny Vaccaro
called his team's success against Cutler and Chicago's offense a simple matter of execution.
Asked what the Saints did to confuse Cutler, Vaccaro said, "not much."
"We were doing what we did all year," he added. "It really wasn't an X's and O's thing. We just executed better."
December, 16, 2014
Dec 16
3:15
PM ET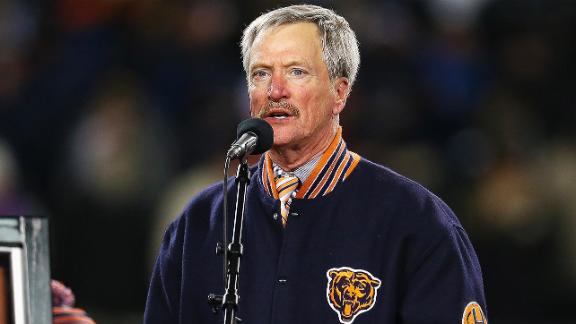 Chicago Bears chairman George McCaskey was involved in an altercation Monday night with a New Orleans Saints fan during Chicago's 31-15 loss, a team spokesman confirmed Tuesday.
The altercation came as the result of McCaskey arriving at some of his seats in the stadium bowl area of Soldier Field to find a couple of Saints fans sitting in them. McCaskey conversed briefly with one of the fans before heading to the concourse area to get stadium security.
As McCaskey walked in that direction, the fan approached the chairman from behind and pushed him in the back.
A Bears fan immediately came to McCaskey's aid, according to the team, and tackled the Saints fan.
Shortly after, security arrived and ejected the Saints fan from the stadium. The fan, Richard Kohnke, 58, of New Orleans, was processed by police at the stadium and charged with misdemeanor battery, according to authorities.
McCaskey did not require medical attention.
December, 16, 2014
Dec 16
3:00
PM ET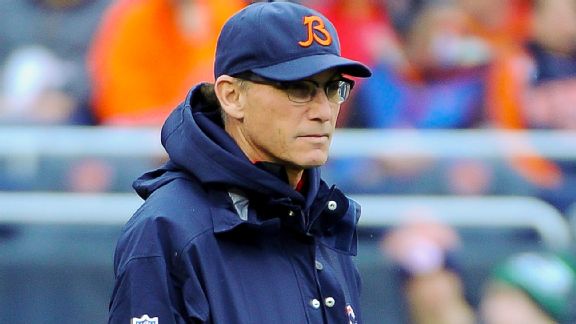 David Banks/Getty ImagesIt's near impossible to give a reason why Marc Trestman should return to coach the Bears next year.
RISING:

1. Marc Mariani:
Experience matters on special teams. Mariani is a credible return man. He ran back five kickoff returns for 142 yards (28.4 average), with a long return of 40 yards, in the 31-15 loss to New Orleans. While not the flashiest player, Mariani is a professional. He understands his role and doesn't make mental mistakes. Mariani should be in the mix next year for a permanent spot on special teams. The Bears were lucky to find him.
2. Pat O'Donnell:
O'Donnell crushed the ball versus the Saints, hitting six punts for 299 yards (49.8 average/46.3 net average). The sixth-round pick is in a groove. O'Donnell has been a model of consistency for the better part of two months. His overall net average is a tad low (38.1), but the rookie is another of the few bright spots in an otherwise dreary year.
Bennett
3. Martellus Bennett:
Nice to hear Bennett speak the truth after Monday's defeat. "There are some positions on the team that need to step up with leadership and things like that around the club," Bennett said. "But overall, I just feel like we need passion to come from certain places. I don't think the passion is always there all the time. But overall, it just hasn't been there. I don't really get into the name thing. They know who they are." That's the most honest assessment of the Bears' current plight.
FALLING:

1. Jay Cutler:
A miserable all-around effort by Cutler. The quarterback continues to lead the NFL in turnovers after throwing three interceptions against New Orleans (18 interceptions and six lost fumbles). Cutler excels in garbage time. That's it. The Bears must draft a quarterback in the first or second round.
2. Marc Trestman:
The offense looks ill-prepared and disinterested. Monday night marked the sixth blowout defeat for the Bears in 2014. It's virtually impossible to point to a reason why Trestman should return to coach the Bears for a third season. If you can find a reason, please tell me.
McCray
3. Danny McCray:
McCray needs to know better. A veteran special teamer can't call for a fake punt to be snapped when he sees the team is a man short on the field. McCray is the personal protector. His responsibility is to make sure the Bears have 11 men on the field. The missing player is also at fault, but McCray is experienced. It just cannot happen. Take the delay of game penalty and live to fight another day.
December, 16, 2014
Dec 16
1:00
PM ET
A quick observation of quarterback
Jay Cutler
and how he played in the
Chicago Bears
' 31-15 loss to the
New Orleans Saints
in Week 15:
Cutler
It's often uttered that Cutler isn't responsible for all of Chicago's problems, but he definitely deserves some blame for a putrid performance against the Saints.
In addition to throwing three interceptions, Cutler finished with a season-low passer rating of 55.8 and showcased the flippant demeanor and body language critics have lambasted him for over the years. Cutler downplayed the notion that offensive coordinator Aaron Kromer's criticism of him last week impacted the quarterback's performance.
But Cutler played a major role in Chicago getting off to a horrid start it could never recover from. Cutler sailed his first pass of the night right past
Dante Rosario
near the Chicago sideline.
Patrick Robinson
picked off Cutler's second pass of the night.
By the end of the second quarter, Cutler had thrown two interceptions while generating a passer rating of 14.9 on 6-of-14 for 56 yards.
Cutler told WBBM radio after the game the 2014 season has been his most difficult as a professional. Against the Saints, the quarterback extended his NFL lead for turnovers to 24 (18 interceptions, six lost fumbles).
"With all the buildup coming into this year, the expectations, I don't think we imagined it would be like that," Cutler said. It's frustrating. We're trying to say the same thing different ways after games. You get to a point where you don't have an answer. I think that's where we're at."
December, 16, 2014
Dec 16
12:37
PM ET
Jay Cutler
deservedly received harsh criticism for his three-interception outing in Monday night's 31-15 loss to the
New Orleans Saints
, but in the wake of that debacle, the quarterback and Chicago's public relations staff caught heat for the ensuing press conference.
Cutler
Cutler answered just three questions during his press conference before leaving the interview area, and it was believed reporters in the locker room weren't alerted to the start of the session in time to attend it. That's true to a degree, but Monday night's situation was more a product of circumstance than anything else.
What typically takes place after Bears home games is coach Marc Trestman conducts a radio interview with WBBM while Cutler showers. When Trestman finishes up with WBBM, he heads over to the interview room to conduct his press conference. While Trestman addresses the media in the press conference area, Cutler usually finishes up his shower, dresses and grabs a chair outside the interview room to sit in as he waits for the head coach to finish his presser.
This time, however, the interview order was thrown off for a couple reasons.
Instead of immediately taking care of his weekly postgame hit with WBBM, Trestman headed over to his office, where he stayed a few minutes, while Cutler showered. By the time Cutler finished up in the shower, Trestman was just heading over to conduct his WBBM interview, while the quarterback was ready to face the media in the press conference area.
So Cutler headed that direction.
At that time, the staff alerted reporters Cutler was walking to the podium, and several -- some even running -- headed that direction. It's worth noting the walk is fairly long between the team's locker room and press conference area. So by the time the reporters arrived, Cutler already had answered questions and left.