October, 22, 2014
Oct 22
7:55
PM ET
LAKE FOREST, Ill. --
Chicago Bears
defensive end
Jared Allen
participated in fewer snaps on defense than key reserve
Willie Young
in Sunday's loss to the
Miami Dolphins
, but the five-time Pro Bowler doesn't believe reduced playing time for him is in the team's plans.
Allen
"It's probably an aberration," Allen said, laughing. "They haven't told me I am on reduced playing time. We'll take it for that."
Allen played in 46 of the club's 70 snaps against the Dolphins, while Young participated in 54 snaps.
In the third quarter, Miami marched 83 yards in 13 plays with
Lamar Miller
capping the drive with on a 2-yard touchdown run. The Bears didn't utilize Allen during the drive, but defensive coordinator Mel Tucker pointed out the Dolphins weren't faced with many third-and-long situations. On that possession, Miami faced third down just twice with 2 yards to convert. The Dolphins also converted a fourth-and-1.
"Going forward, obviously we want him in the game," Tucker said. "He's been a highly-productive player for us. It was an unusual series. We had a lot of short-yardage situations. We didn't really get into third-and-long. We visited with him about it, and we're ready to move on. We'll be fine. We just tell him that we're going to make sure that we get him on the field as much as possible."
Allen wasn't concerned about a lack of playing time, but immediately after the game referred questions regarding the situation to the coaching staff.
"We haven't really talked about it," Allen said. "The rotation happened that way I guess. We'll move on to New England."
The Bears held out Allen when the team faced Green Bay on Sept. 28, but he's played in six games this season, contributing 24 tackles and 1.5 sacks.
October, 22, 2014
Oct 22
7:35
PM ET
LAKE FOREST, Ill. -- Chicago Bears coach Marc Trestman said Wednesday his team has moved past the loss to the Miami Dolphins and Brandon Marshall's subsequent locker room rant, and placed the focus where it matters most: preparing for Sunday's road matchup against the New England Patriots.
"When you watched our practice today, when you watch the demeanor of our players, and the focus that they have, it's clear that what we know as coaches and players that things don't linger and we move forward," Trestman said. "That's what happened today."
In the aftermath of a the club's 27-14 loss to the Miami Dolphins, a game in which Jay Cutler threw an interception and was credited for two fumbles, frustration boiled over and yelling by Marshall could be heard outside the locker room. A source inside the locker room said some of Marshall's remarks were pointed at the quarterback.
Later, Marshall vented his disappointment with the team's performance and penchant for committing turnovers, and noticeably left out Cutler when pointing out that he and several other players on the offense remained confident.
Asked whether Marshall's postgame comments could galvanize the team in its quest to avoid losing four out of its last five outings, Trestman called Marshall's "showing of emotion" "a good thing as long as it's not directed at any one person or any one side of the ball."
October, 22, 2014
Oct 22
5:40
PM ET
LAKE FOREST, Ill. --
Chicago Bears
first-year free safety
Brock Vereen
has had the date circled on his calendar for months.
S. Vereen
B. Vereen
Sunday's game in New England potentially pits Vereen against old brother Shane -- the Patriots' starting running back and key contributor on offense with 259 rushing yards (one touchdown), and 23 receptions for 185 yards and two scores.
The brothers have yet to battle each other during a game -- until now.
"After draft day obviously we looked up each other's schedules," Brock Vereen said. "Since then it's something that we've both been anticipating, but we're very excited for it to actually be here.
You know, it's an exciting time for my parents and my family. But from a personal standpoint I've got to stay focused and get ready to go."
A fourth-round draft pick, Vereen started Week 7 against the
Miami Dolphins
(five tackles), and is a candidate to see the field on defense in New England. Vereen is also tied for fifth on the team with five special teams tackles.
Of course, Vereen's defensive playing time likely hinges on the health of safety
Chris Conte
(shoulder). Conte practiced without restrictions Wednesday, but the safeties' 2014 track record is concerning. Conte failed to finish four of the first six games before being inactive against the Dolphins.
"There are definitely things I feel I did well and there's definitely things I need to improve on," Vereen said regarding his first NFL start.
Would Vereen hesitate to clobber his brother Sunday, if the opportunity presented itself?
"That's my job; just like he would be looking to run me over or break my tackle," Vereen said. "So we're very excited."
October, 22, 2014
Oct 22
8:00
AM ET
Join us today at 1 p.m. ET, 10 a.m. PT, for NFL Nation TV's Spreecast, as episode No. 28 will have a special guest. Former Oklahoma and
Seattle Seahawks
linebacker Brian Bosworth will join the show to talk about his upcoming 30 for 30 special, "The Boz."
Host Paul Gutierrez (
San Francisco 49ers
reporter) and co-host Coley Harvey (
Cincinnati Bengals
reporter) will also be joined by Mike Triplett (
New Orleans Saints
reporter), Mike Wright (
Chicago Bears
reporter), Terry Blount (Seahawks reporter) and Josh Weinfuss (
Arizona Cardinals
reporter) to give the latest on their respective teams as the season nears its midway point.
Viewers are encouraged to log in and ask Bosworth and the panelists questions.
October, 21, 2014
Oct 21
11:00
AM ET
A weekly look at what the
Chicago Bears
must fix:
Head coach Marc Trestman, offensive coordinator Aaron Kromer -- even the players -- constantly harp on the need for the Chicago Bears to eliminate the turnovers, and if the club doesn't start to take some steps in that direction, it faces a long day at Gillette Stadium on Sunday against the
New England Patriots
, who come into this contest with 10 days of prep time.
It all starts with quarterback
Jay Cutler
, who has spotted opponents an average of 9.25 points just off turnovers in each of the team's four losses. In each of the club's defeats, Cutler turned over the ball on multiple occasions. And while Cutler understands turnovers are the root of the problems, he's got to take corrective steps to keep his team out of the binds.
As a playcaller, Trestman can help.
Against the
Miami Dolphins
in the first half, Trestman -- despite the luxury of having one of the NFL's hottest backs in
Matt Forte
-- called just two runs, which isn't conducive to keeping opponents off balance to allow Cutler to operate off play-action. But it also places the offense in too many difficult-to-convert, third-and-long situations.
You've got a horse. Ride him, and keep the team's fate out of the hands of Cutler, who completed three of 11 passes for 52 yards and an interception on throws of 15 yards or more downfield against the Dolphins, according to ESPN Stats & Information. The Bears play a West Coast offense, which emphasizes a short, controlled passing attack. Yet Cutler insists on throwing vertical despite teams working feverishly to take that away. That partially explains why he's got the NFL's fourth-worst completion percentage (32.4 percent) on deep balls and has thrown five interceptions on such attempts, which is tied for second most in the NFL.
Trestman needs to emphasize to Cutler the need to simply take what defenses give him. In turn, the quarterback needs to stop giving it away. Ten turnovers in seven games (seven interceptions and three fumbles) is enough.
October, 21, 2014
Oct 21
10:00
AM ET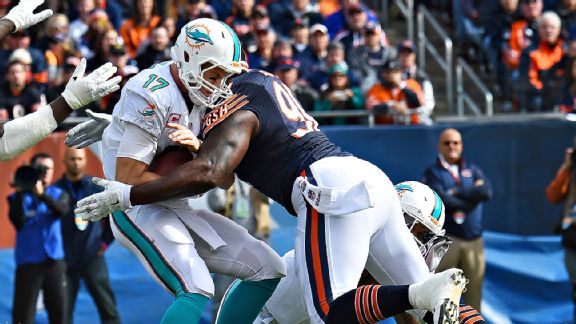 Mike DiNovo/USA TODAY SportsDT Jeremiah Ratliff, who missed three consecutive games due to a concussion, played his best game in a Bears uniform Sunday against the Dolphins.
RISING
Ratliff

1. Jeremiah Ratliff, DT:
Ratliff played the best game of his brief Bears career with 3.5 sacks in the 27-14 home defeat to Miami. On two separate instances, a Ratliff sack of Dolphins quarterback
Ryan Tannehill
on third down prevented Miami from putting points on the board. It had been a slow start to the season for Ratliff, who missed three consecutive games due to a concussion, but he played like a man on a mission Sunday. A 10-year NFL veteran, Ratliff had 3.5 sacks combined over the previous three years before Week 7's explosion.
O'Donnell
2. Pat O'Donnell, P:
The rookie punter is in a groove after averaging 53 yards per punt on three attempts with a net average of 45.7. That is the highest gross average by a Bears punter with a minimum of three punts in a game since Todd Sauerbrun in 1997. O'Donnell needed a couple of weeks in training camp to iron out the kinks, but the sixth-round pick has been outstanding since early in the regular season. O'Donnell looks to have serious staying power. He is likely to be punting footballs for the Bears for many years to come.
3. Coverage teams:
Miami rookie sensation
Jarvis Landry
managed to return just two kickoffs for 55 yards and two punts for 22 yards. Landry's dynamic ability on kickoff returns worried the Bears leading up to Sunday, but the coverage teams and kicker
Robbie Gould
answered the challenge. Covering kicks is a collective effort between the coverage men and the kicker. Gould forces return men to move around in the end zone before catching the football -- an exercise that can disrupt a return man's rhythm.
FALLING
Cutler

1. Jay Cutler, QB:
Cutler completed 21 of 34 pass attempts for 190 yards, one touchdown, one interception and one lost fumble for a quarterback rating of 74.4. Cutler has turned the ball over 10 times (seven interceptions, three lost fumbles) in seven games. The quarterback has played 74 regular-season games for the Bears since 2009. In the 74 games, Cutler has thrown 82 interceptions and lost 20 fumbles. Add it up: 102 turnovers. Many of those 74 games have featured multiple turnovers. How do you expect to sustain success in the NFL if the offense keeps giving the football away? The answer is simple: You can't.
Mills
2. Jordan Mills, OT:
Mills had another rough performance Sunday. He struggled in trying to block talented Dolphins defensive end
Cameron Wake
, a difficult matchup for any right tackle. But is Mills healthy? Keep in mind Mills skipped practice this past Wednesday due to a foot injury -- the same foot that required offseason surgery. Bears coach Marc Trestman hinted that
Michael Ola
could push Mills for playing time in New England. Maybe it's not a bad idea. Mills might benefit from a week off followed by the bye.
3. Rest of the offense:
This is not the kind of offensive output Bears fans envisioned. Fans expected to see growth and improvement in the second year of the offense. After all, the Bears returned all 16 starters from a group that finished second in the NFL in points per game in 2013. Instead, the Bears offense is the main culprit behind the rocky seven-game stretch to open the season. On all levels, the Bears are failing. For whatever reason, the Bears aren't stringing together wins (with the exception of back-to-back victories over San Francisco and the
New York Jets
). The offense is wildly inconsistent; it's always something with the offense. Actually, it's always something with this team. Rarely do the three phases come together in harmony. The Bears have nine games -- minimum -- to figure it out. The Bears have missed the playoffs six of the past seven years. It would be seven of the past eight years if they fail to reach the postseason in 2014 (a very real possibility). Time for the offense to step up and save the day.
October, 20, 2014
Oct 20
4:48
PM ET
LAKE FOREST, Ill. -- Held to an abysmal 54 total first-half net yards of offense on Sunday, the
Chicago Bears
completely abandoned the ground game in the opening 30 minutes, allowing tailback
Matt Forte
to carry the football only twice for 11 yards.
How did this happen?
"You know, there were a couple of reasons," Bears head coach Marc Trestman said on Monday. "We only ran 18 plays. That would be one. We didn't convert on third down to roll anything over. We had two called runs, we had two runs called with options to throw and we had another two called where we pulled the ball with an option to throw, as well. Eighteen plays. If you don't roll it over you can't get in sync.
"We threw it a little bit more early, but that wasn't the plan. The plan was to kind of do it the way we did it in the third quarter. And that's what we went back to doing. We took some of the options off and we handed the football off and we got more of what we would expect of our offense -- a good, solid drive."
Forte finished the game with 12 rushing attempts for 49 yards, the third time in 2014 opposing defenses have limited Forte to under 50 yards rushing. The Pro Bowl running back did catch six passes for 60 yards out of the backfield, and through seven weeks Forte leads the Bears with 52 receptions.
October, 20, 2014
Oct 20
4:33
PM ET
LAKE FOREST, Ill. --
Chicago Bears
head coach Marc Trestman called cornerback
Kyle Fuller
day-to-day after the NFL's reigning Defensive Rookie of the Month suffered a fractured right hand, and right hip pointer injury in Sunday's
27-14 loss
to the
Miami Dolphins
.
Fuller
Fuller is not expected to need surgery on his broken hand, but he failed to finish the Dolphins' game because of the injured hip.
Fuller's status is unknown for the Week 8 trip to New England to face the 5-2 Patriots.
"Up to this point today, I've heard it [the broken hand] as being a non-surgical issue," Trestman said.
"He went out of the game because of his hip more than his hand, so we'll just see. He said he felt good today, but it'll be day to day. I don't know that the hand will deter him. I don't know that, I haven't talked to [the training staff] about it. But that's what I understand at this time."
The No. 14 overall selection of the 2014 NFL draft, Fuller replaced
Charles Tillman
(injured reserve) on the first team in Week 2, recording three interceptions and three forced fumbles in five starts.
Fuller's third-quarter exit on Sunday forced the Bears to play
Sherrick McManis
at cornerback opposite
Tim Jennings
, with
Demontre Hurst
lining up at nickelback.