June, 23, 2016
Jun 23
7:00
AM ET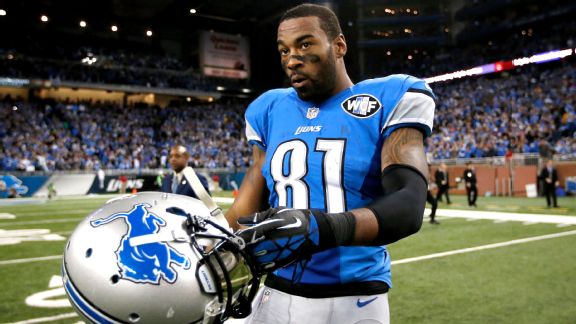 Gregory Shamus/Getty ImagesWithout Calvin Johnson, NFC North defensive coordinators have one less problem to worry about.
Today's question: Calvin Johnson spent almost a decade as the No. 1 option for the Detroit Lions offense and a good chunk of that time as the best receiver in the NFL. Cornerbacks knew they were in for a busy -- and often fruitless -- day when they were matched up against Johnson. Opposing defensive coordinators spent time devising plans they specifically hoped would stop him.
Those plans, of course, rarely worked as Johnson became the best receiver in Lions history and, along with Randy Moss, ushered in the era of big, tall, fast receivers in the NFL. While the Lions tried to compensate for Johnson's retirement in March by signing Marvin Jones and Jeremy Kerley, Detroit's offense will look much different in 2016. But will it be the least explosive unit in the division? We asked the other writers around the NFC North for their thoughts.
Ben Goessling, Minnesota Vikings reporter: Potentially, though the NFC North's offenses have some work to do across the board if they want to return to their high-flying ways. The Packers have to see if Jordy Nelson is healthy, fix some rough patches on the offensive line and try to coax more production out of a slimmed-down Eddie Lacy. The Bears have involved Matt Forte so heavily in their offense for so long that they're going to have to adjust to his departure –- not to mention the loss of Adam Gase, who helped Jay Cutler have one of his more efficient seasons in 2015. And the Vikings have all sorts of questions: their offensive line, the development of quarterback Teddy Bridgewater and the role of first-round pick Laquon Treadwell, to name a few. But if things work out for the other teams in the division, you do look at the Lions as the one team without a big-time weapon. The Vikings have Adrian Peterson, the Packers have Aaron Rodgers and the Bears have Alshon Jeffery. Who's the Lions player that keeps defensive coordinators working overtime? Golden Tate? Sorry, but he doesn't measure up on that level.
Rob Demovsky, Green Bay Packers reporter: I know this –- the Packers had as much respect, if not more, for Johnson and what impact he can have on a game as they did any other player in the NFC North. He was right on par with Adrian Peterson in that category. Joe Whitt Jr., the Packers cornerbacks coach, once said of Johnson: "We see him so much that we understand the challenge, and the challenge is huge." Matthew Stafford still has the potential to be an explosive, big-play quarterback even without Johnson. He's got the athletic ability and arm talent to do so. The Bears lost a couple of major offensive weapons in Matt Forte and Martellus Bennett, although I have a hard time seeing the Lions ranking ninth again in passing yards per game without Johnson.
Jeff Dickerson, Chicago Bears reporter: Not definitely. Johnson is a huge loss for the Lions. That cannot be disputed. And I highly doubt Golden Tate and Marvin Jones can make up for Johnson's absence. But Chicago lost Matt Forte, Martellus Bennett and offensive coordinator Adam Gase in the offseason, too. Can Jay Cutler experience the same kind of results under new play caller Dowell Loggains? Can former top pick Kevin White play? Can Alshon Jeffery stay healthy? Meantime, Minnesota is loaded on defense, but where are the weapons of offense after Adrian Peterson and Stefon Diggs? Can Bridgewater be an elite quarterback, or is he more of a game manager? You can make an argument for Detroit, Minnesota and Chicago in terms of which team is least explosive in the division.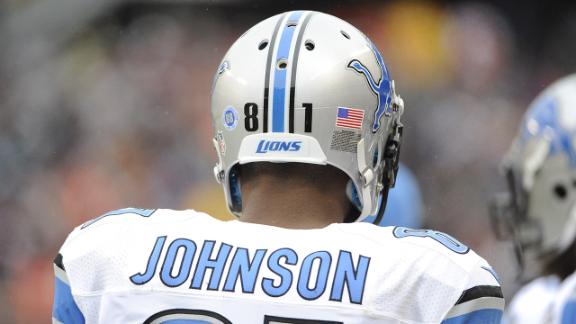 June, 22, 2016
Jun 22
7:00
AM ET
Today's question: Jay Cutler had a breakout season in 2015, but offensive coordinator Adam Gase left for Miami. Given Cutler's well-documented inconsistencies over the years, how concerned are you that he will regress with Gase gone and Dowell Loggains now calling plays for the Chicago Bears?
Rob Demovsky, Green Bay Packers reporter: It can't be a coincidence that Cutler had the best touchdown-to-interception ratio of his career (nearly 2-to-1) -- and therefore his highest passer rating (92.3) -- last season with Gase as his boss. If Cutler is disciplined enough to continue to think and play like he did last year for Gase, then perhaps he won't regress. But when has anyone ever used the word "disciplined" to describe the mercurial Cutler? Or maybe it was Loggains, the Bears quarterback coach, who controlled Cutler's wild side last season. If so, then perhaps Cutler will function similarly with Loggains.
Mike Rothstein, Detroit Lions reporter: Probably, but it won't be solely due to Gase's departure from Chicago to Miami. For the first time in Cutler's tenure with the Bears, Chicago's running game is somewhat in question after Matt Forte's departure. There is talent evident, but none is the proven commodity Forte was. It could throw off the comfort zone the Bears had knowing the dependable Forte was always around in the backfield. Having Dowell Loggains as the offensive coordinator does not scream improvement to me, especially since he's best known for running the passing game in Tennessee during a stretch in which the Titans had two 10-loss seasons. His offenses also ranked 22nd or worse in yards during his season-plus as offensive coordinator with the Titans. Combine that with Cutler's erratic play -- he has had double-digit interceptions every season since 2012 -- and it would seem as if Cutler is going to take a step back in 2016.
Ben Goessling, Minnesota Vikings reporter: Yeah, I'd say it's safe to be concerned about the loss of Gase. It seemed as if he helped Cutler eliminate so many of the boneheaded plays that had plagued him in the past, and we've all seen how unsightly things can get when Cutler loses focus in the Bears' offense. Throw in the loss of Forte -- who still led the Bears in yards from scrimmage by more than 400 yards even though he played only 13 games last season -- and this offense could be one that asks Cutler to do too much. When that happens, we know where things usually go. So yes, I'd say a regression is certainly possible for Cutler without Gase.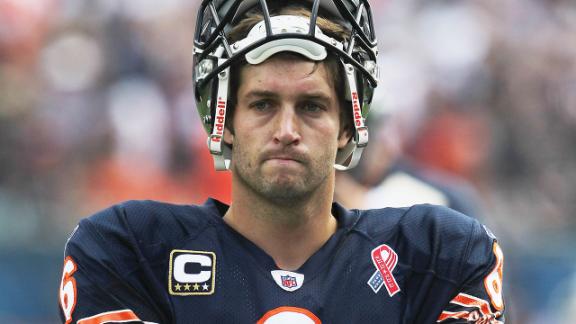 June, 21, 2016
Jun 21
1:52
PM ET
June, 21, 2016
Jun 21
7:00
AM ET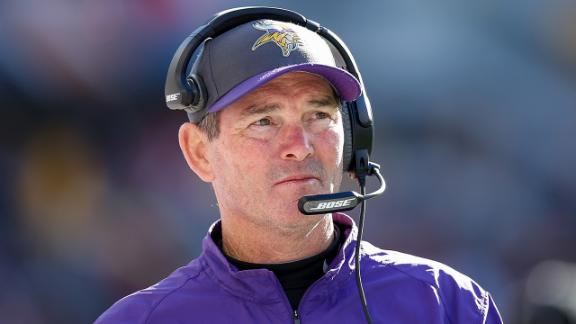 Today's question: Minnesota Vikings coach Mike Zimmer is the only coach in the NFC North who hasn't led a team to a Super Bowl, but after leading his team past the Packers to a NFC North title last season, Zimmer is attracting plenty of attention. Where does he rank among the NFC North's head coaches?
Rob Demovsky, Green Bay Packers reporter: If you asked Aaron Rodgers, Zimmer might rank at the top. Rodgers called Zimmer "a great football mind" during the coach's first year in Minnesota. Perhaps the best thing Zimmer has done is let Norv Turner run the offense, while he focused on his specialty -- defense. But Mike McCarthy remains the only coach in this division with a Super Bowl ring as a head coach. He's also the model of consistency with seven straight playoff seasons. Zimmer has a ways to go in terms of longevity, but his football acumen appears to be among the tops -- not only in the division, but across the league.
Jeff Dickerson, Chicago Bears reporter: Tied for third with Jim Caldwell. Green Bay's Mike McCarthy won Super Bowl XLV. That automatically places him No. 1 on the list. Under McCarthy, the Packers have won 65.3 percent of their regular-season games and five NFC North titles. Chicago's John Fox took Carolina and Denver to Super Bowls, and lost them both. But Fox has seven division titles on his resume since 2002. Caldwell lasted only three seasons in Indianapolis, but he went 26-10 and reached Super Bowl XLIV. He also took Detroit to the playoffs in 2014 (11-5). Zimmer has been a head coach for only two seasons but seems the right man for the job in Minnesota. Zimmer -- formerly a defensive coordinator -- has strengthened the Vikings defense. After going 7-9 in Year 1, Zimmer's team finished 11-5 and won the NFC North in 2015. His arrow is pointing way up. But it's too soon to place him above McCarthy or Fox.
Michael Rothstein, Detroit Lions reporter: Every coach in the division has been to a Super Bowl as a head coach except Zimmer. Right now, I'd put Zimmer third in the division behind Green Bay's Mike McCarthy and Chicago's John Fox. McCarthy is the standard in the division and one of the best coaches in the NFL. Sure, it helps to have Rodgers, but McCarthy's teams have made the playoffs every year since 2009, and he has won even when Rodgers has been injured. If the Vikings follow up last season with a division title this season, I'd say Zimmer is closer to passing Fox. The difference is Fox has had longevity and a proven record of winning and, more importantly, bottomed out only once in his career. Zimmer needs more consistent success to pass Fox. As for Jim Caldwell, he's a great motivator of men, but the X's and O's are not nearly as strong. I'd rather have Zimmer coaching my team if I were a general manager.
June, 20, 2016
Jun 20
7:00
AM ET
Today's question: Did last year represent a changing of the guard in the NFC North after the Minnesota Vikings ended the Green Bay Packers' run of four straight division titles or was it just a fluke and the Packers are still the team to beat?
Jeff Dickerson, Chicago Bears reporter: Green Bay is the team to beat until Aaron Rodgers retires. The NFL is still a quarterback-driven league, and last I checked, Rodgers is one of the best around. He will continue to torment the rest of the NFC North until he decides to join the celebrity "Jeopardy!" tour or pursues some other interest outside of football. The Packers finished 10-6 in 2015, so it's not like they had a huge fall from grace. I suspect with Jordy Nelson healthy again and Eddie Lacy hooked on P90X, Green Bay will reclaim the top spot in the division. Chicago is better, but not good enough. The Lions are, well, the Lions. Minnesota is still the Packers' chief rival, and while the Vikings boast a hellacious defense, the offense is kind of a question mark. So I'll stick with Green Bay, for now.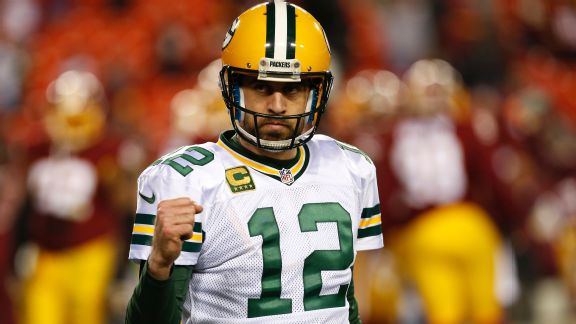 Rob Carr/Getty ImagesAs long as they have Aaron Rodgers at quarterback, are the Packers the team to beat in the NFC North?
Ben Goessling, Minnesota Vikings reporter: For it to represent a changing of the guard, the Vikings probably have to do it again -- and I think they know as much. If the Packers are healthier on offense than they were last year, it's hard to imagine them not being right back among the NFC contenders. A healthy Nelson might be the most dangerous receiver in the division (if, in fact, he's fully healthy), and Lacy has plenty of incentive to prove himself in his contract year. The Vikings should be better. They have everyone back on defense, and they spent the offseason putting better pieces around Teddy Bridgewater. If they finish in front of the Packers again, it could constitute a changing of the guard. But I think the Vikings would be the last to take the Packers lightly.
Michael Rothstein, Detroit Lions reporter: I've learned to never question the dominance of Aaron Rodgers, and I expect the Packers to be back to their old dominant selves in 2016. That said, the Vikings might be the best team in the NFC. They have the best defense in the division -- and it might not be close. If Adrian Peterson continues to defy the metrics of most other running backs and Teddy Bridgewater continues his growth, there's little to no reason why Minnesota can't win the division again. In fact, at this summer date, that would be my selection to win the NFC North (although a lot can change between now and September).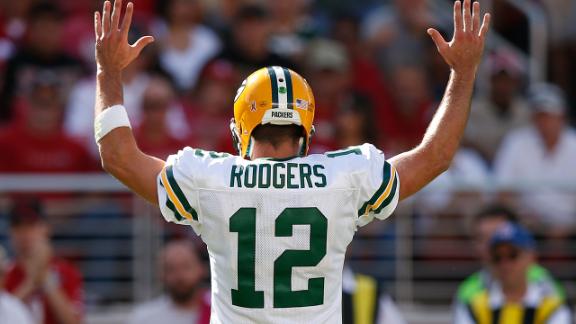 June, 20, 2016
Jun 20
7:00
AM ET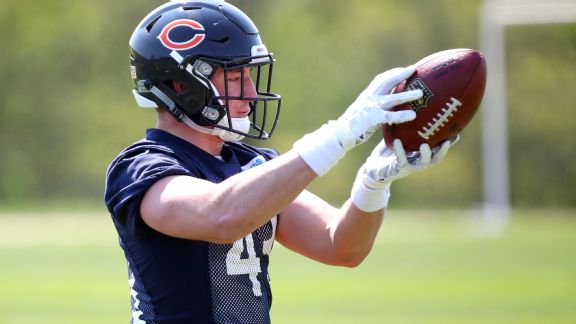 Photo by Robin Alam/Icon SportswireThe Bears are high on undrafted rookie TE Ben Braunecker, who many thought would be drafted.


The Chicago Bears wrapped up their offseason program on Thursday and will open training camp on July 28 at Olivet Nazarene University in Bourbonnais, Illinois. Here's a 53-man roster projection:
Quarterbacks (2): Jay Cutler, Brian Hoyer (cut: David Fales, Dalyn Williams).
* The Bears usually keep three quarterbacks on the 53-man roster, but keeping a fullback requires them to trim a spot somewhere. It's still a good bet Fales is part of the organization in some capacity.
Running backs (4): Jeremy Langford, Jordan Howard, Ka'Deem Carey, Jacquizz Rodgers (cut: Senorise Perry).
* The Bears kept four tailbacks last year. Swap out Matt Forte for Howard.
Fullback (1): Paul Lasike.
* Lasike may not end up winning the starting fullback job, but he's the only one currently under contract.
Wide receivers (6): Alshon Jeffery, Kevin White, Eddie Royal, Deonte Thompson, Joshua Bellamy, Daniel Braverman, Marquess Wilson (PUP) (cut: Marc Mariani, Cameron Meredith, Derek Keaton, Duncan Kieren, Darrin Peterson).
* Wilson is talented, but he battles injuries and doesn't do much on special teams. There is no guarantee he contributes much even when he returns from foot surgery. Mariani distinguished himself at receiver last year, but Braverman is younger and cheaper. The best preseason battles could be the wide-receiver position. A couple of good players will end up being cut. I gave Bellamy the nod over Meredith because of special teams.
Tight ends (3): Zach Miller, Tony Moeaki, Ben Braunecker (cut: Rob Housler, Khari Lee, Greg Scruggs, Gannon Sinclair, Joe Sommers).
* Housler did not participate in minicamp, so that will be a situation to monitor. The Bears seem to like Braunecker, who many thought would be drafted. Lee can still make the team if he stays healthy and has a successful preseason, but Moeaki (if available) is a proven commodity. This will be another interesting position to follow in the preseason.
Offensive line (9): Kyle Long, Bobby Massie, Charles Leno, Ted Larsen, Cody Whitehair, Hroniss Grasu, Nate Chandler, Nick Becton, Jason Weaver (cut: Adrian Bellard, Cornelius Edison, John Kling, Martin Wallace, Donovan Williams).
* The first seven spots on the line are fairly secure. The battle is expected to occur at the bottom of the depth chart.
Defensive line (6): Eddie Goldman, Akiem Hicks, Mitch Unrein, Jonathan Bullard, Will Sutton, Ego Ferguson (cut: Marquis Jackson, Terry Williams, Cornelius Washington, Roy Robertson-Harris, Keith Browner).
* The Bears opened 2015 with five defensive linemen because Jeremiah Ratliff began the season on the suspended list. It's possible the Bears keep six to open 2016. Sutton and Ferguson both seem on the bubble.
Linebackers (9): Pernell McPhee, Willie Young, Danny Trevathan, Jerrell Freeman, Lamarr Houston, Leonard Floyd, Nick Kwiatkoski, Sam Acho, John Timu (cut: Jonathan Anderson, Lamin Barrow, Jarrett Grace, Christian Jones).
* This is a deep group. I left Jones off the 53-man roster because the Bears appeared to sour on him last year. Both Timu and Anderson flashed as undrafted rookies in 2015. But you can't keep everyone.
Defensive backs (10): Tracy Porter, Adrian Amos, Deon Bush, Bryce Callahan, Omar Bolden, Kyle Fuller, Deiondre' Hall, DeAndre Houston-Carson, Harold Jones-Quartey, Sherrick McManis (cut: Chris Prosinski, Kevin Peterson, Demontre Hurst, Jacoby Glenn, Taveze Calhoun, De'Vante Bausby).
* Prosinski played well last year, but the Bears drafted a pair of safeties, which makes it harder for veterans earning the league minimum to stick around. But Prosinski is a pro. He's in the mix. Bolden takes up a roster spot even though he's primarily a return man.
Specialists (3): Robbie Gould, Pat O'Donnell, Aaron Brewer (cut: Ben LeCompte, Patrick Scales).
* Brewer is experienced. The Bears are looking for better consistency from their long snapper this year.
June, 17, 2016
Jun 17
7:00
AM ET
Here is the latest installment of the Bears' mailbag. Thank you to everyone who submitted questions. Have a Happy Father's Day weekend.
@DickersonESPN if the Bears don't get a long term deal done with @TeamJeffery_ by July, what are the chances they re-sign him? #bearsmailbag

— Jon Seeley (@DontTouchMyArm) June 16, 2016
Jeff Dickerson: I can envision a scenario in which Alshon Jeffery leaves the Bears after the 2016 season. But I can also see him staying. It all depends on the kind of season Jeffery has. If he stays healthy, catches 90 passes for 1,400 yards and 10 touchdowns, then the Bears might feel better about paying Jeffery top-five receiver money over the course of a long-term deal. Money talks. If Chicago offers Jeffery the best deal next offseason, he could re-sign, especially if he likes the offense and quarterback. Now, there is no guarantee the Bears will set the market for Jeffery. If the Bears fail to offer the most guaranteed cash, he's probably a goner. But let the season play out. There is plenty of time until the Bears have to make that decision after the July 15 deadline passes.
@DickersonESPN there were lots of WR screens called last year. With the new offensive coordinator, should we expect the same? #bearsmailbag

— Shnake_The_13th (@LeaveNoTrace13) June 16, 2016
JD: My expectation is the Bears will run a similar version of Adam Gase's offense. But in my opinion, they can get rid of the wide receiver screen. The play almost never works. I understand the bubble screen is a conservative play (the Bears do have to be mindful of limiting turnovers), but Jeffery and Kevin White (in theory) can stretch the field. The same can be said about Eddie Royal, who got crushed every time he caught a wide receiver screen in 2015. I'm not saying the play is going away entirely. I'm sure Dowell Loggains is interested to see White use that elite speed to turn the corner on a screen and take it to the house. You have to keep the defense honest. But save the majority of the screens for the running backs and Zach Miller. I'd rather watch Jeffery and White use their size to work down the field.
@DickersonESPN With Marquess Wilson sidelined again, is the last receiver spot Daniel Braverman's to lose? #BearsMailbag

— Dan J (@dj_jaco_10) June 16, 2016
JD: Not exactly. I expect a competitive battle for the final two or three receiver spots (last year the Bears kept six wideouts on the initial 53-man roster) between Daniel Braverman, Marc Mariani, Joshua Bellamy, Deonte Thompson, Cameron Meredith and others. Now obviously, Braverman has a decent opportunity to win a roster spot because he's a draft pick who is inexpensive and returned punts and kicks in college. But Bellamy is talented on special teams. He finished second on the Bears with 10 special-teams tackles in 2015. Thompson and Mariani are also decorated NFL return men. And Meredith is 6-foot-3 and made the team last year. So Braverman has his work cut out for him. It won't be easy by any stretch of the imagination.
@DickersonESPN #bearsmailbag What will be the Bears biggest problem on offense heading into the season?

— Nicholas Moreano (@NicholasMoreano) June 16, 2016
JD: I believe the Bears have several issues. The most critical being Jay Cutler's transition from Gase to Loggains. Then there is the issue of health. Can Jeffery, White and Royal stay on the field? Who is playing center and left guard? Are the Bears comfortable opening up the year with Hroniss Grasu and Cody Whitehair in the starting lineup? And will Jeremy Langford step up and assume the featured role in the backfield. The Bears have not been shy about using Ka'Deem Carey, Jordan Howard and Jacquizz Rodgers in organized team activities and minicamp practices. The coaches will not simply hand Langford the No. 1 spot based on the numbers he compiled last year. Langford needs to make sure he is mentally with it. So who takes charge in the backfield now that Forte is gone? And what about the depth at tight end after Miller? Seems kind of thin to me. So there is plenty to monitor when camp rolls around.
@DickersonESPN so what do the Bears plan to do with all that cap space money they didn't spend? Urlacher hair plugs for all! #bearsmailbag

— The Man Cave Podcast (@ManCavePodcast) June 16, 2016
JD: Save it. Unless a big name unexpectedly pops free, there is no reason for the Bears to spend a large portion of their estimated $22 million-plus worth of salary-cap space. Besides, that money is more useful in March, when free agency begins. By now, the list of available players is picked over. There really isn't much out there. As for Urlacher's hair plugs -- I'll pass on the suggestion to the Bears' marketing team. Maybe they can sponsor a "Grow Your Hair Day" in Bourbonnais, where Urlacher allows the first 50 fans to run their fingers through the new hairdo.
June, 16, 2016
Jun 16
5:43
PM ET
LAKE FOREST, Ill. – The Chicago Bears signed tight end Tony Moeaki and defensive lineman Marquis Jackson and waived defensive lineman Kenton Adeyemi and linebacker Don Cherry, the team announced on Thursday.
Moeaki, 29, joins the Bears after he attended veteran minicamp on a tryout basis.
Originally a third-round pick of the Chiefs in 2010, Moeki had a pair of productive seasons in Kansas City, combining for 80 receptions for 1,009 yards and four touchdowns in 2010 and 2012.
Moeaki played in 11 games for Atlanta in 2015, but hauled in just three passes for 58 yards and one touchdown. The veteran tight end also spent time with Buffalo and Seattle.
A Chicago area native, Moeaki will battle Rob Housler (did not participate in minicamp), Khari Lee and undrafted rookie Ben Braunecker for a spot on the 53-man roster. Behind starting tight end Zach Miller, the Bears are light on experience at the position.
Meantime, Jackson is the twin brother of Jacksonville defensive end Malik Jackson, who signed with the Jaguars in the offseason for $42 million guaranteed.
Jackson was one of seven veteran players to participate in the Bears' rookie camp in May.
A 6-foot-4, 280 pound defensive lineman out of Portland State, Jackson played for the Minnesota Vikings and in the Arena Football League in recent years.
Jackson landed on Chicago's radar because of his brother, who played three seasons (2012-14) for Bears coach John Fox in Denver.
"We had [Marquis in for a workout] in Denver one time and he was in a suit, sitting in our lunchroom," Fox said. "Everybody was looking around going, 'Malik, what are you doing in a suit?' So I've met him before. That's a big reason why we brought him in."
June, 15, 2016
Jun 15
3:45
PM ET
LAKE FOREST, Ill. – Leonard Floyd smiled on Wednesday when a reporter referenced Chicago's obsession over his playing weight.
"I pretty know much know it's going to be asked every time I step up [to] the podium," Floyd said politely.
Such is life for Floyd. The ninth overall pick in April's NFL draft has been peppered with questions regarding his body type from the moment he was selected.
The reason for the curiosity is valid. Despite being an athletic 6-foot-4 linebacker with elite speed, Floyd is slender. The Chicago Bears list Floyd at 244 pounds on their official offseason roster, but defensive coordinator Vic Fangio conceded in May that the club expects Floyd to play somewhere between 230 and 235 pounds.
Some believe Floyd played lighter than that in college at Georgia.
To bulk up, the Bears put him on a strength and nutritional program that calls for Floyd to eat every couple of hours. Floyd even sets an alarm on his phone to remind him when to grab some food.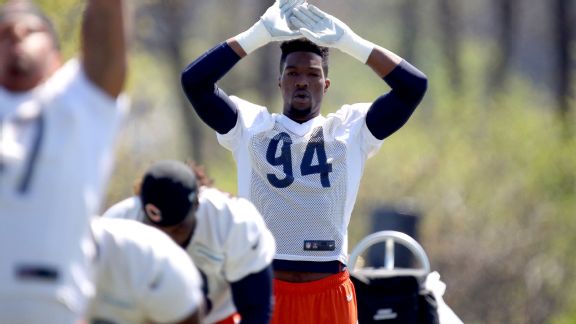 Photo by Robin Alam/Icon SportswireLeonard Floyd knows the question is coming, and he's still eating a lot to gain weight.
It's early in the process, but Floyd is pleased with the results.
"Oh, it's going pretty well," Floyd said. "We've still got the game plan going, every other hour, still sticking to the game plan.
So far I've put on quite a few [pounds]. I can't throw you a number out, but I've been improving."
Floyd said he is allowed to eat anything he wants.
"It doesn't get old," Floyd said. "I try to eat the things I like to eat every other hour, so it doesn't get old."
Head coach John Fox maintains the topic of Floyd's playing weight is overrated. The Bears obviously envision Floyd playing a role on defense in 2016, perhaps as a situational pass-rusher to complement veterans Willie Young and Lamarr Houston. Whether Floyd is built to be a four-down player, in his rookie season, is unknown.
"He's got tremendous athleticism; we talked about that even in the draft process," Fox said. "He's very smart, has played a lot of different positions, understands the game, and he has the skill set to do all parts of his job, both in coverage and as far as rush. A lot's been made of his weight, but it's been my experience that they get better -- as I think we all do. But I like the way he's gone about it, and I see a lot of that athleticism we saw on tape.
"He plays pretty strong anyways. A lot of times it's not all about size, it's about playing forcefully."
June, 15, 2016
Jun 15
1:35
PM ET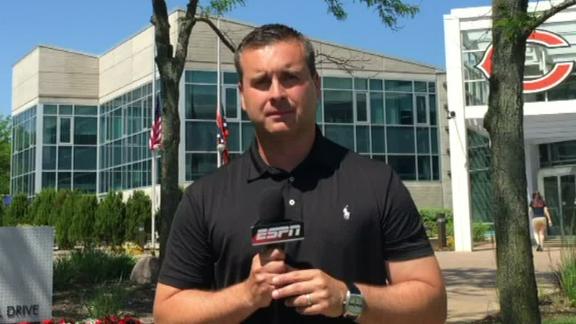 LAKE FOREST, Ill. -- Chicago Bears fourth-year receiver Marquess Wilson will undergo surgery to repair a left foot injury he suffered during mandatory minicamp, coach John Fox announced Wednesday.
Wilson broke his foot during Tuesday's practice.
Chicago does not intend to release Wilson, who refractured the foot, but the former seventh-round pick may begin the regular season on the physically unable to perform list.
Wilson injured the same foot last year, which caused him to land on injured reserve and miss the final five games. Wilson also sat out the first nine games of 2014 after he broke his clavicle while diving for a deep ball during a training camp practice.
The 6-foot-4 receiver has 47 career receptions for 617 yards and two touchdowns.
Wilson's injury opens the door for another receiver to win a roster spot. After Alshon Jeffery, Kevin White and Eddie Royal, there is expected to be decent competition for the reserve roles between Joshua Bellamy, Marc Mariani, Cameron Meredith, Deonte Thompson and 2016 seventh-round NFL draft choice Daniel Braverman.
June, 15, 2016
Jun 15
7:00
AM ET
LAKE FOREST, Ill. -- Kyle Long is the new social chair of the Chicago Bears' offensive line.
As is the case in most NFL markets, Chicago's offensive line is a close-knit group that often enjoys each other's company outside the team facility.
With so many offensive linemen on the roster, especially in the offseason, the unit requires a point man to organize its busy social calendar.
Enter Long, who at 27 is just three seasons removed from playing college ball at Oregon. But with three Pro Bowl selections under his belt, he is the most qualified.
Now, to say Long lobbied for the job is inaccurate. Rather, he grudgingly accepted the role after observing former Bears veterans Roberto Garza and Matt Slauson coordinate the group outings in recent years.
"Obviously without Matt [whom the Bears released in the offseason], we kind of looked around and were like, 'Who's going to do this?'" Long said Tuesday. "And Charles Leno was like, 'You got it, dude. You can organize the group text.'"
The O-line's most recent get-together occurred at the home of position coach Dave Magazu, who hosted a cookout over the weekend.
The annual sausage and peppers O Line cookout at the Magazu house was a great success pic.twitter.com/jrorcLVjpq

— Kyle Long (@Ky1eLong) June 12, 2016
"We've got a great group of guys, and we've got a coach that's fired up about football every day and treats us like family," Long said. "That's all you can ask for. We'll go get something to eat, we'll go watch a basketball game. I've had the guys over to my house, and they clean up, which is nice. [Rookie second-round pick] Cody Whitehair is a gentleman. He always does the dishes. It's been good."
June, 14, 2016
Jun 14
5:16
PM ET
LAKE FOREST, Ill. -- Chicago Bears receiver Marquess Wilson left minicamp practice early on Tuesday for undisclosed reasons.
When questioned about Wilson's early exit, coach John Fox responded: "I don't get into injury reports at this stage of the season."
A former seventh-round pick, Wilson has appeared in 28 games since 2013. He missed the first nine games of 2014 after fracturing his clavicle during training camp, and then sat out the final five games of last season with a foot injury.
Wilson has 47 career receptions for 617 yards and two touchdowns.
Meanwhile, linebacker Pernell McPhee and offensive lineman Ted Larsen were among the players absent from Tuesday's first mandatory minicamp workout.
McPhee is recovering from offseason knee surgery, but he has been rehabilitating at the team facility.
Fox declined to reveal if the club expects McPhee to be full-go when training camp begins next month in Bourbonnais, Illinois.
"I can't predict five weeks day-to-day," Fox said. "Pernell's doing what we think is best for him and for us, and I'll say the same until we get to training camp, and even then."
Fox essentially repeated himself when asked about Larsen's condition. The Bears signed Larsen in the offseason to compete for a starting job, most likely at left guard, where Chicago used a second-round pick on Kansas State's Cody Whitehair.
"He's [Larsen] doing what we feel is best for him right now to get him ready for the opener," Fox said.
The Bears are scheduled to practice Wednesday and Thursday before their annual pre-training camp break.