July, 23, 2014
Jul 23
10:00
AM ET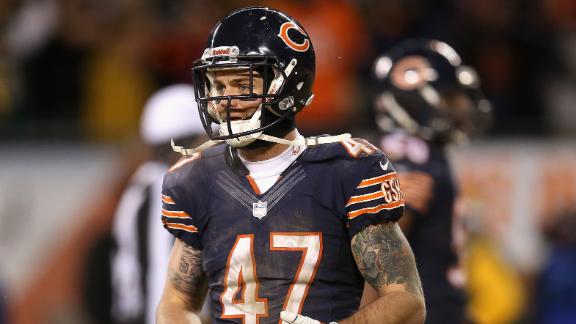 ESPN.com
Chicago Bears
reporter Michael Wright says veteran
Chris Conte
could start camp on the physically unable to perform list recovering from shoulder surgery.
July, 22, 2014
Jul 22
9:00
AM ET
CHICAGO -- If there were one phrase that is antithetical to
Jay Cutler
's career, it's "a day at the beach."
Nothing has come easy for Cutler in his time with the Bears, except for the contracts.
But last Friday, there was Cutler chilling at North Avenue Beach a week before training camp opened. It was the last gasp of his summer. His season begins this week.
[+] Enlarge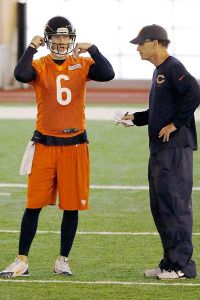 Charles Rex Arbogast/AP PhotoCan Chicago Bears quarterback Jay Cutler progress, as well as succeed, in Year 2 of coach Marc Trestman's system?
Cutler welcomed reporters to his charity beach volleyball tournament, answered a few anodyne questions and spent the day mixing and mingling with the teams that paid a grand to his diabetes charity, with the winners getting to have dinner with Cutler that evening.
The media team was gunning for that dinner, trust me.
In the five minutes he spent with reporters, Cutler showed off his playful, joking side, which we see on occasion, but not enough.
I saw him take a selfie with an overeager (non-sports) radio host and later saw a picture he took with a bride and groom out at the beach taking wedding photos.
If Cutler wanted to, he could own Chicago. A good-looking, tough quarterback for the
Chicago Bears
: It should be easy.
But it hasn't been easy for him. Aside from his weekly in-season paid appearance on "The Waddle & Silvy Show," there is no vehicle to get to know Cutler, aside from his performance and his oft-critiqued body language. There is a distance between the city and Cutler. Maybe this is the year that divide is closed.
At the beach, Cutler wore a thick scruff of beard and short khaki shorts and seemed at peace. He looked happy and comfortable.
So I could write that snippet of time is going to symbolize how happy and comfortable he'll be as quarterback this season, his sixth with the Bears.
I guess I just did. But that's the last time I'm going to mention Cutler and body language this season. The last time I psychoanalyze Cutler, a person with whom I've never had a one-on-one conversation.
OK, OK, I can't promise I won't relapse when he grumbles at a reporter or looks forlorn on the sidelines, but that's my goal. Cutler doesn't want to throw interceptions, but things happen.
Covering Jay Cutler is the job for a novelist with third-person omniscience. Because I don't know what's going on his head and I'm tired of guessing.
I'm also not going to write the "Jay Cutler has no excuses" column that I've written, along with my peers, a hundred times already.
Yes, he's got head coach Marc Trestman, the same offense and an offensive line and the best receiving duo in the NFL and a new contract, etc. We know this. Jay knows this. There is no doubt he's more comfortable this season than in the past; how could he not be? Last year, he was learning. This year, he should be teaching.
"For sure, for sure, with all the guys around me, coach Trestman and the rest of coaches in place there's definitely comfort there, not only for me, but the rest of the guys as well," he said at his event.
At 31, he remains inscrutable to national reporters, aloof to local ones. Fans cherrypick his failings and contrarians back up his strengths. His low ranking in
Ron Jaworski's big board of quarterbacks
is enough to busy a sports radio talk show for a few days, at least.
No matter how good his supporting cast is and how often his teammates and coaches try to downplay that Cutler is the leading character in the Bears' story, he is the quarterback, which means he is the star. Like you, I want to see if his numbers match his abilities. I want to see if he can play a full season and return the Bears to the playoffs. I want to see if Cutler can re-brand himself as a winner instead of a whiner.
Last year, the storyline was "Is Cutler worth the contract?" General manager Phil Emery saved us from months of debate when he inked Cutler to a new deal on Jan. 2.
This year, it will be "Can Cutler realize his potential?" Cutler can save us from months of debate by, you know, realizing his potential.
But he can't do that in late July.
We still have a month of training camp before the Bears open at home against the
Buffalo Bills
. With a long season ahead of him, Cutler said he's ready to go to Bourbonnais, despite the pain of leaving his wife and two children.
"I'm ready, ready to go," he said about reporting to camp. "I think guys are itching to get back into it and see what we have. There's a lot of work to do."
Let the Season of Jay commence!
July, 22, 2014
Jul 22
8:00
AM ET
Jay Cutler
can take the
Chicago Bears
to the Super Bowl, according to future Hall of Famer Brett Favre, who believes the enigmatic quarterback might now be hitting his prime.

Favre
Cutler
Asked on ESPN 1000's "Carmen and Jurko" show on Monday whether Chicago could advance to the Super Bowl with Cutler under center, Favre said "I think they can," adding that it appears the Bears are finally starting to put enough talent around the quarterback after focusing for so many years on the defense.
"It goes without saying that Jay has all the tools it takes to be a great quarterback," Favre said. "And I think the pieces are beginning to be in place. For years their defense had just been so dominating, and it's time for their offense to really prove their worth. I think Jay can be that guy."
Chicago's brass does, too, considering the organization rewarded Cutler back in January with a contract extension worth $126 million. Cutler celebrated his 31st birthday back in April, and although players' physical skills often start to diminish after the age of 30, Favre pointed to a pair of former MVPs in making a case for the Chicago quarterback.
Asked if Cutler could become a great quarterback after the age of 30, Favre didn't hesitate.
"Rich Gannon did it. Steve Young did it. Sure," Favre said. "I think you become a lot wiser as you kind of lose some of your physical abilities. I think at 30 for a quarterback, really, you're just kind of hitting your prime."
Perhaps one component of the growing wisdom Favre anticipates from Cutler will manifest itself in decision making. In part, because of supreme confidence in his arm strength, Cutler has gained a reputation for forcing throws into tight windows, which often leads to interceptions.
Favre had the same reputation during his 20-year NFL career, and called his arm strength "a blessing and a curse." Favre holds the NFL record for career interceptions (336).
"What I mean by that, I had an arm that I felt was as good if not better than anyone," Favre said. "I wasn't as fast. I wasn't as tall. I wasn't as smart. But I knew I could make the throws no one else could make. I would attempt throws I knew I could get away with. Would it come back to haunt me sometimes? Sure it would. But I played 20 years and sometimes it bit me in the butt. Most of the time, I got away with it. I think had my arm not been as strong, I wouldn't have attempted those. You get away with it more times than not, but occasionally it gets you. I think that's just the way really any player plays throughout the league; knowing your imitations, and sometimes, it gets the better of you."
July, 21, 2014
Jul 21
10:47
AM ET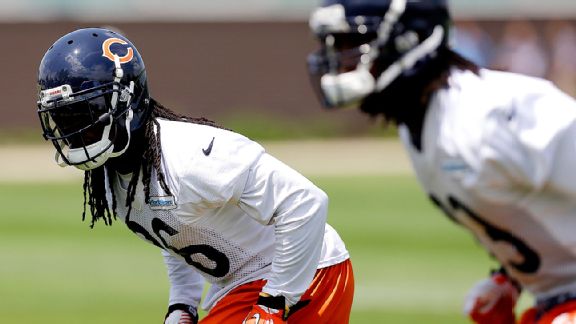 AP Photo/Nam Y. HuhTim Jennings, left, expects to be rushing the quarterback more often this season.
We caught up with
Chicago Bears
cornerback
Tim Jennings
recently to discuss a variety of topics, ranging from his work with martial arts expert Joe Kim to what he thought of the changes last season made by coach Marc Trestman.
As training camp approaches, here's something to whet your appetite for Bears football:
Since you're playing nickel some and you're expected to do some blitzing, tell us what are you doing with Joe Kim?
Tim Jennings:
Joe Kim, he's supposed to be like a master of kung fu or whatnot. So he works a lot with our defensive line on their pass-rush moves. So I work with Joe Kim now that I'm playing the nickel position. I think I'm going to be blitzing a lot more. So I need to kind of work on some pass-rush moves, man, because I can't beat everybody with the quickness and strength. So I want to put some more in my repertoire.
With the scheme changing up front, how much do things change for you guys on the back end?
Jennings
: It doesn't really change too much. [Defensive coordinator Mel Tucker] just wants us to be in the position to do our jobs. Really, our success comes from that defensive front, and I think that's why he's doing a lot more things to try to create the freedom for those guys to get to the quarterback and create pressure; just let me, Charles [Tillman], and now
Kyle Fuller
just do our thing.
With all the things this team did with the front this offseason, how much easier will it make your job on the back end?
Jennings:
Of course, that's exactly what I expect. On the back end we just have to do our job, be where we need to be and then the plays will start coming because of the pressure that we're putting on the quarterback. The throws won't be as perfect. Then, we could start getting a feel for some things to where we can be there a little bit quicker, where the field starts to shrink. Then, we can start to anticipate things a lot more. I think that's just the approach that Coach Tucker has taken. Me and Charles, we're taking that same approach. We just need to do our jobs, be where we need to be, do what we've been doing for the past couple of years that we've been playing together. With the pressure on the quarterback, if we're getting to the quarterback, a lot more plays will come for us on the back end. It will work hand in hand. So if we're where we need to be, we can take some throws away from the quarterback, make him hold it longer. We'll get a lot more snaps.
Throughout the offseason, you've worked some at nickel while Fuller has gone to your spot outside. With camp coming up, do you anticipate any packages where maybe Fuller goes inside to nickel while you stay outside?
Jennings:
Right now, I do not anticipate that. I think I'm that guy to move inside. Just the fact that we're looking at our division, guys we're going to face and stuff, matchups that we'll have. We want to make sure the matchup is to where we've got the best advantage, where we can be equal with those guys. Maybe if we're playing Detroit and they move
Calvin Johnson
inside at the slot, of course we're going to have
Charles Tillman
follow him around. We feel like that's a better matchup. It gives us the best chance to win. So we're going to move guys around and we're going to match up. I think that's why we drafted Kyle Fuller. It was a good move.
Last year, you guys didn't get the repetitions at practice that you had been used to getting in the past, and we saw what happened. Do you see this team making some changes or tweaks in terms of how you do things at practice this upcoming season?
Jennings:
Well, I don't think we're going to change that. One thing about coach [Marc] Trestman is he's big on competition. So he's going to line up his ones against his ones. He wants to get the best out of both teams, offense, defense and special teams. So the structure I don't think is going to change. As far as us not practicing [last year], I wouldn't say all that. I think the reps that we get are quality reps because we compete so much. When I am out there, it's against our ones. It's against Brandon [Marshall]. It's against Alshon [Jeffery]. It's a way for us to get better. But he's being smart about the reps knowing that it's a long, long, long season. It's big to make sure guys are healthy and ready to go on Sunday. It took me some getting used to when he first got here last year, to really realize what's going on, why we're doing things this way. But it's making sense to me right now in seeing the structure he does things in and the competition he wants from this group is meaningful.
July, 19, 2014
Jul 19
9:00
AM ET
Training camp is coming, and you've got questions. So we figured it would be absolutely worth it to try to knock out a Bears mailbag before the start of training camp Thursday at Olivet Nazarene University. Thanks everyone for participating.
@mikecwright #bearsmailbag Have you had chance to meet and speak with Ego yet?

— Devin O'Barr (@Devin_OBarr) July 18, 2014
@mikecwright:
I have. He's a very engaging fellow whom I think has a chance to contribute significantly as a rookie. Back in May during the rookie minicamp, we had the opportunity to speak with him and ask him about what it was like to finally put on a Bears uniform. Here's what he said: "A dream come true. It's like when you come from the first year in high school, you're a little puppy, you're trying to learn; first year of college, it's the same thing. So I'm just trying to soak everything in and learn from the vets. It's definitely unreal right now. I still wake up every morning thinking this is a dream. But at the end of the day, I'm here man. And I'm happy to be here." What I liked about Ferguson is the fact he wasn't quick to pat himself on the back in terms of his physical skill set. He prefers to prove his worth on the field, which is refreshing. "I can't tell you what I can bring until I get on the field," Ferguson said.
@mikecwright Which linebackers do you think will be on the final 53 man roster? #bearsmailbag

— Max Bahling (@maxbahling63) July 18, 2014
@mikecwright:
It would be easy for me to tell you right here, but I prefer you take a minute to look at my projected 53-man roster, which ran Friday. You can find the answer you seek
here
.
@mikecwright Who, in your opinion, is last years Jordan Mills as the most under the radar player pre-camp? #bearsmailbag

— Bryan Koteles (@XXX_CandyMan) July 18, 2014
@mikecwright:
It's too early to say whether he'll make the team, but in my mind that player is linebacker
Christian Jones
, who was a big-time standout at Florida State but wasn't drafted. At FSU, Jones played all over the place and started games at every linebacker spot for the Seminoles, in addition to defensive end. He was expected to be picked as high as the second round, yet his name went uncalled during the draft. At rookie minicamp back in May, Jones admitted that a diluted drug test at the NFL combine in February likely resulted in teams shying away from him. Here's an interesting note about Jones: His father, Willie Jones Sr., played at Florida State with Bears linebackers coach Reggie Herring, which is part of the reason the rookie chose to sign with Chicago. "I knew I'd get some good coaching from [Herring] and I know about the Bears history, winning nine championships," Jones said. "It's a great organization and I just wanted to be a part of it. It's a lot of motivation [to go undrafted]. It's the competitive side. You see guys getting drafted above you. Everybody thinks they're better than somebody. But that's how it is. It's going to help fuel me, and I believe things happen for a reason. I really feel like I belong here, and I'm just making the best of the opportunity." I'd say keep an eye out for Jones because he's a player.
@mikecwright #bearsmailbag does Ratliff have anything left?

— Ricardo Arguello (@PCRicardo) July 18, 2014
@mikecwright:
Absolutely he does. Remember, when
Jeremiah Ratliff
joined the Bears he was coming off an injury, and the Bears more or less just let him take his time going through the healing process. That was a huge positive for Ratliff and the Bears because he's 100 percent ready to go. Your question reminds me of a text I received from a member of the Bears organization shortly after the club re-signed Ratliff. So I dug through my phone to find it. It said: "It helps that we signed Rat. He's a soldier if healthy!" Well, now Ratliff is fully healthy, and the Bears are expecting him to be a steady and disruptive force up front this season. Ratliff will be 33 once the season starts, but I don't see his age being a major concern.
@mikecwright Do you think our secondary has improved? #Bearsmailbag

— DJD (@datdamndj) July 18, 2014
@mikecwright:
I do, but not necessarily for the reasons you'd think. First off, what the Bears did in terms of reloading up front will be huge in helping the secondary. If the front four can consistently put pressure on the opposing quarterback, obviously the secondary doesn't have to stay in coverage as long, and that's huge. So that's the No. 1 reason the secondary will be improved. Here's No. 2. When the Bears revamped the coaching staff last season, it took away a ton of the continuity the club had established with the former coaching staff under Lovie Smith. Under Smith, Jon Hoke worked with the cornerbacks. Smith's son, Mikal, worked with the nickel corners, and Gill Byrd spent his time with Chicago's safeties. When the new staff came aboard last season the players weren't able to get as much individualized coaching because Byrd and Smith obviously left, leaving Hoke to try to work with both the cornerbacks and the safeties. Ultimately, defensive quality control assistant
Chris Harris
ended up working with the safeties, and although he's got tons of knowledge as a former player, you have to keep in mind that 2013 was his first season as a coach. I think this season there will be more continuity with the coaching staff, and Hoke will return to working with the cornerbacks, while defensive coordinator Mel Tucker will start spending more time working with the safeties. I didn't even get into the new additions, which obviously should help. But I think the moves with the front four and the coaching staff changing the way it does things will be the two biggest contributors to improved play in the secondary.
July, 18, 2014
Jul 18
11:00
AM ET
Examining the
Chicago Bears
' roster:
QUARTERBACKS (3)
Despite recently signing, Jimmy Clausen quickly gained ground on
Jordan Palmer
at the club's veteran minicamp and appears poised to unseat the latter for the No. 2 job behind Cutler. The team likes Fales' long-term potential, and it will look to keep him on the roster as a developmental prospect to groom in Marc Trestman's scheme.
RUNNING BACKS (4)
Forte's role in the offense is expected to evolve somewhat, and the team added an interesting between-the-tackles grinder in Carey, who is arguably the most physical back of the entire 2014 class. Fiammetta will stay in his role as fullback, and Ford will contribute mostly on special teams if he can't claim the primary backup role behind Forte.
RECEIVERS (5)
Marshall and Jeffery will get an opportunity to prove they're the league's best duo at the position in 2014. Wilson comes into the season with high hopes and the expectation that he'll grow into the No. 3 role. Morgan and Weems will be pushed by all the young prospects at camp, but their experience and reliability will win out.
TIGHT ENDS (2)
This is a position where it might make sense to add a third player. Bennett clearly is the team's best all-around tight end, while Mulligan excels as an in-line blocker.
Zach Miller
is more of a receiving tight end than all-around blocker, but if the Bears go with three tight ends, either he or
Dante Rosario
could get the call.
OFFENSIVE LINEMEN (10)
The case could be made that offensive line is one of the team's strongest position groups, which is somewhat strange given all the struggles the Bears have experienced in recent years there. The starting five from 2013 return for 2014, and the Bears also have some prime candidates should they decide to reload up front, as Britton and De La Puente are capable of starting.
DEFENSIVE LINE (10)
Look for veterans at the bottom of the roster such as Scott, Lane and Collins to be pushed tremendously by several of the youngsters at training camp. Injuries in 2013 made this position group a weakness, but the Bears made sure to load up on the defensive line through the draft and free agency.
LINEBACKERS (6)
The Bears will have difficult decisions to make here, and we believe Jones, an undrafted rookie, is talented enough to make the team.
Khaseem Greene
has improved, but it will likely come down to him and Senn for that final linebacker spot, which Senn might win because of his abilities as a special-teamer.
CORNERBACKS (5)
The depth chart here is pretty set in stone, but first-rounder Fuller will definitely see plenty of time on the field.
SAFETIES (4)
Both starting spots are up for grabs, but Conte probably won't be ready for the start of camp. If he doesn't recover quickly, he could wind up losing his roster spot. We've got Wilson making the cut, but his odds are long; he has to prove he's still got something left in the tank.
SPECIALISTS (4)
Williams is the only question mark among the specialists, and he's being pushed hard by
Micheal Spurlock
,
Armanti Edwards
and
Josh Bellamy
.
July, 17, 2014
Jul 17
10:00
AM ET
»
NFC Preview:
East
|
West
|
North
|
South
»
AFC:
East
|
West
|
North
|
South
NFL Nation's Michael C. Wright examines the three biggest issues facing the
Chicago Bears
heading into training camp.
Cutler after the big-money contract:
Lost in all the anticipation for the upcoming season seems to be an undercurrent of skepticism regarding whether quarterback
Jay Cutler
is worth -- or whether he'll eventually prove he's worth -- the seven-year deal signed in January worth $126.7 million. The verdict remains out, and even the team made sure to structure an escape hatch into the Cutler deal. Essentially, Cutler signed a three-year deal worth $54 million that contains rolling club options from now until 2016. If the Bears decide to release Cutler after the 2016 season, they can do so with no salary-cap repercussions because he didn't receive a signing bonus, which means no proration.
Cutler took a major step in his first season working with head coach Marc Trestman, quarterbacks coach Matt Cavanaugh and offensive coordinator Aaron Kromer. But will Cutler continue to trend in that direction?
In four seasons with the Bears prior to 2013, Cutler had generated a passer rating of 81.9. But last year, the quarterback produced a career-high passer rating of 89.2, his best since his rookie season (2006). The coaching staff and front office believe they made a wise investment in Cutler. What's more is the players in that locker room believe in Cutler, too.
Safety play:
Unrest at the safety positions seems synonymous with the Bears in recent years, and the team goes into camp with both spots up for grabs. The Bears drafted
Brock Vereen
, and signed
M.D. Jennings
,
Danny McCray
,
Ryan Mundy
and
Adrian Wilson
to battle it out for the top spots. Mundy has taken repetitions with the first group as have Vereen and Jennings, but the picture won't start to clear up until the Bears play some preseason games.
"The simple fact [that] we've rotated him in with the ones is a clear indication we think he can compete," Trestman said of Vereen, a fourth-round pick. "We're not going to anoint him yet. You've got to be very careful with young players. They get in shorts and they're doing well, and then you put on the pads and you've got to see how they are in pads. There's no reason to think he can't put himself in position to compete for one of those jobs, but it's way, way too early."
Chris Conte
is the only returning starter at the safety position, but it's unclear whether he'll be fully healthy for the start of camp after undergoing offseason shoulder surgery, which forced him to miss organized team activities and minicamp.
Can Shea play LB?
That's been the question regarding former first-round pick
Shea McClellin
since the team announced it would be moving him to linebacker from defensive end. While McClellin certainly doesn't appear to be out of place at his new position, we still haven't seen him in live game situations. So it's unclear whether the Bears will be able to salvage the first pick of Phil Emery's tenure as general manager.
"He's going to be a typical 4-3 linebacker for us," Bears defensive coordinator Mel Tucker said. "I see him as probably more of a blitzer than maybe a four-down rusher. But he will have some edge-rush opportunities."
McClellin is competing with
Jon Bostic
for the starting spot at Sam linebacker, and it's likely Bostic will win the job. That could relegate McClellin to more of a role as a pass-rushing specialist. McClellin is also taking repetitions at middle linebacker, but he's not likely to beat out incumbent
D.J. Williams
or Bostic.
McClellin deserves credit for transforming his body during the offseason in preparation for the new role. Now he has to prove he's capable of performing consistently in the new gig.
July, 16, 2014
Jul 16
12:20
PM ET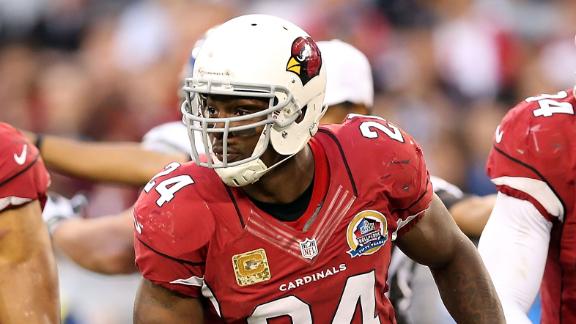 ESPN.com
Chicago Bears
reporter Michael Wright says the addition of
Adrian Wilson
should add competition at safety during training camp.
July, 16, 2014
Jul 16
11:12
AM ET
With the start of training camp closing , here's the final player in our a look at the three Chicago Bears rookies most poised to make an impact in 2014. It's no surprise that every one of the rookies to watch are defensive players:

He took repetitions with the starters during organized team activities and minicamp, but at this point it's unknown whether Brock Vereen is capable of consistently performing at the level required of a first teamer.

That's why Bears coach Marc Trestman cautioned against heaping too much praise on Vereen, a fourth-round pick out of Minnesota.

"The simple fact we've rotated him with the 1's is a clear indication we think he can compete, but we're not going to anoint him yet," Trestman said. "There's no reason to think he can't put himself in position to compete for one of those jobs, but it's way, way too early."

Besides that, Vereen needs to beat out some veterans to hold onto the starting job. The Bears signed M.D. Jennings and Danny McCray in free agency among others, but it appears Vereen's chief competition for the starting gig will be Chris Conte, who has missed most of the team's on-field work this offseason after undergoing offseason shoulder surgery.

While likely it's unknown whether Conte will start training camp on the physically unable to perform list. If he does, Vereen needs to take full advantage of the veteran's absence to secure the starting job.

"I told Chris I can't wait to get him out there. He said he can't wait to get out there, and that's where we are," said Bears defensive coordinator Mel Tucker. "Whenever he's available, we'll start working him in, get him up to speed and get him the reps."

In the meantime, Vereen wants to pick up the concepts of Chicago's defense as quickly as possible. The staff's approach should help. The Bears plan to reinstall the defense at training camp, according to Tucker, while adding "some things as we go that we didn't cover in OTAs and the coaching sessions."

"One of the first things our coaches said is, 'You're gonna make a mistake, but make it fast," Vereen said. "I'm just trying to show my speed, and hopefully, that I can pick up the concepts quick."

If that happens, it should make for an interesting competition at the free-safety position.

"He's smart, he plays fast," Tucker said. "He does not make a lot of mistakes. We'll see how it goes. We have competition there. There's nothing set in stone. We'll just continue to monitor him and the rest of the guys, and we'll end up with a good group I think."
July, 15, 2014
Jul 15
11:09
AM ET
With the start of training camp closing quickly, let's take a look at the three
Chicago Bears
rookies most poised to make an impact in 2014. It's no surprise that every one of the rookies to watch are defensive players.
In an effort to shore up the league's worst rushing defense (161.4 yards per game) in 2013, the Bears used two draft picks to add youth to the interior, starting with second-round pick
Ego Ferguson
.
Behind starters
Jeremiah Ratliff
and
Stephen Paea
, the Bears aren't teeming with proven depth at defensive tackle. That's why there's a good chance Ferguson -- and third-round pick
Will Sutton
-- could see just as many repetitions as the first-teamers throughout training camp and the preseason leading into the regular season.
"I feel like I'm a better athlete than people expect," Ferguson said. "But I just have to show it. They just told me to get into the playbook and learn as much as I can."
The expectation is Ferguson learns both defensive tackle positions.
"The benefit of that is if you get into the season and there is a reason why they have to play another technique, if the offense shifts the formation or if they scheme you and catch you on a play where now, they've got you left-handed," defensive line coach Paul Pasqualoni said. "For us there won't be such thing as left-handed. We're going to be able to handle both and handle both effectively."
Prior to selecting Ferguson, Bears general manager Phil Emery pulled tape of Ferguson in games against Alabama, Mississippi State, Mississippi and Georgia just to double check whether the rookie was worth taking with a second-round pick. The fact that "nobody could run the ball against him inside at all" on those tapes, according to Emery, only confirmed the general manager's initial evaluation.
Now Ferguson has to prove his worth against NFL competition, and it's not expected the rookie will be eased into the mix. At LSU, Ferguson played the 3-technique, a spot he'll play in Chicago, while also contributing at the shade nose position.
"We've got an opportunity to be better because of the overall group of personnel that we've brought in," Emery said after the draft. "We don't know how this all looks yet. We feel good about the group we have, very confident in our coaching staff."
July, 14, 2014
Jul 14
11:45
AM ET
With the start of training camp closing quickly, let's take a look at the three
Chicago Bears
rookies most poised to make an impact in 2014. It's no surprise that every one of the rookies to watch plays defense:
[+] Enlarge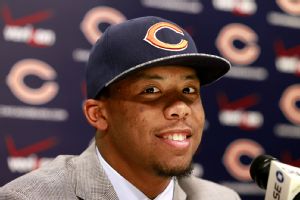 AP Photo/Charles Rex ArbogastKyle Fuller's versatility could be a major factor for the Bears' secondary.
CB Kyle Fuller, Virginia Tech:
"Duh," you might say, considering the Bears spent the No. 14 overall pick on Fuller. But what might make Fuller most impactful as a rookie is his versatility. The Bears have talked about moving Fuller inside to cover slot receivers in some packages and outside on others. We've already seen the Bears experiment with playing Fuller outside in nickel packages while shifting starter
Tim Jennings
inside to the slot spot.
More than likely, we'll see the Bears tinker even more with Fuller throughout the preseason, and if the rookie proves capable of consistently performing what's asked, he'll help defensive coordinator Mel Tucker achieve a higher level of diversity in terms of play calls. Fuller possesses the necessary speed (4.49-second 40-yard dash at the NFL combine) and explosion (38.5-inch vertical), but he'll need to consistently flash that athleticism against NFL-level competition. The Bears plan to give Fuller every opportunity to do so.
"What impresses me is he's eager to learn," Jennings said. "He's eager to be here. He's like a sponge. In the classroom, you could tell how focused he is and eager to learn, and once we got on the field, he's on it."
While it appears the Bears plan to play Jennings at the nickel, we could see Fuller at the spot depending on the opponent and matchups, which is why it will be important for the rookie to cross train during training camp.
"Well, the nickel spot for us can be complicated at times," Tucker said. "You want a guy that has very good football IQ, good instincts, and a guy that has a good demeanor in terms of poise inside. You need a guy that can play tight man coverage when you need to get off the field in third-and-medium type downs; a guy who can break on the ball in zone and match patterns in zone; and a guy that can give you something as a blitzer, just a credible threat off the edge to create one on ones for other guys, and if he can get on a back and win on an edge or things like that, that's what you look for at that spot, among other things."
July, 11, 2014
Jul 11
10:00
AM ET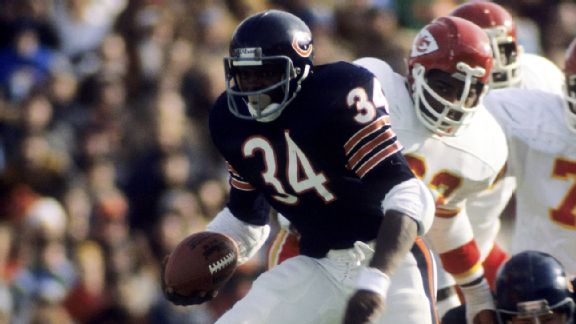 Tony Tomsic/Getty Images
This is the play voters and ESPN Bears reporter Michael C. Wright picked as the most memorable play in
Chicago Bears
history, narrowly beating out William "Refrigerator" Perry's touchdown run in Super Bowl XX and Devin Hester's 92-yard kickoff return to open Super Bowl XLI.
Score:
Bears 28, Chiefs 27
Date:
Nov. 13, 1977.
Site:
Soldier Field
Thank you, thank you, thank you, voters. We definitely agree on this one. But as time ticked away on voting for the Chicago's most memorable play, there certainly was trepidation about how things would pan out as Walter Payton's rather beastly run against the Chiefs in 1977 was basically neck-and-neck with William "Refrigerator" Perry's touchdown in Super Bowl XX as the voting deadline neared.

No knock on Perry, as his touchdown certainly was "memorable." But for many Bears fans, that Perry play served as reminder that Payton didn't score a TD in that Super Bowl trouncing, which from this vantage point, was a travesty.
As is the case with fellow Chicago icon Michael Jordan, it's difficult to pull a top play from the many Payton blessed fans with throughout his 13-year NFL career. But this one embodied Payton as a runner, fully displaying all the attributes that made "Sweetness" one of the best running backs.
With the Bears down 17-0 in the third quarter, Payton took a handoff right, spun away from linebacker Willie Lanier and Tim Gray, cut back left and made three Chiefs miss, in addition to plowing over two others before being dragged down from behind at the Kansas City 4. In all, Payton broke seven tackles on a run that sparked Chicago's eventual 28-27 comeback win.
"If you look at the video, I'm within three or four feet of him four times," Chiefs defensive tackle John Lohmeyer said in the book, "Sweetness: The Enigmatic Life of Walter Payton." "I didn't give up because it was well known that you couldn't get him down with ease, and he was an escape artist. I tried tackling him. We all did."
Seattle's
Marshawn Lynch
might hold the "Beast Mode" nickname, but Payton's 1977 run against the Chiefs might be true definition of that moniker. Not only was Payton's run the best play in franchise annals, it's arguably the top run in NFL history.