September, 17, 2014
Sep 17
5:01
PM ET
ESPN.com news services
[+] Enlarge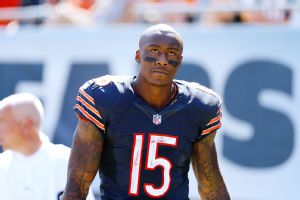 AP Images/Scott BoehmLawyer Gloria Allred says the NFL ignored complaints against Brandon Marshall stemming for a 2006 allegation of abuse.
Attorney Gloria Allred on Wednesday joined those calling for changes in the way the NFL investigates and punishes players accused of assault and domestic abuse, saying commissioner Roger Goodell ignored previous complaints lodged against Brandon Marshall.
At a news conference in Atlanta, Allred was joined by a friend of and the father of Rasheeda Watley, who alleged in 2006 that she was abused by Marshall, who at the time was a receiver for the Denver Broncos.
All three detailed how Watley had complained to the NFL after numerous police reports and at least one arrest involving Marshall, but said she got no response from Goodell.
In 2008, Marshall was suspended for three games for violating the NFL's personal conduct policy, but the suspension was reduced to one game and an additional game check. He denied ever abusing Watley in a 2009 interview with "Outside the Lines."
No new allegations were made Wednesday, though Allred said she would write to the NFL with her proposed changes.
"We want the NFL to get it right," Allred said. "It's long overdue for the NFL to get it right."
Marshall, 30, currently plays for the Chicago Bears
September, 17, 2014
Sep 17
1:24
PM ET
[+] Enlarge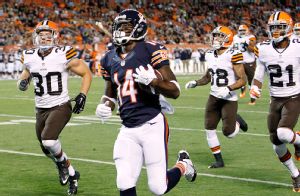 Ron Schwane-USA TODAY SportsSantonio Holmes has fit in nicely with the Bears after being cut by the Jets.
New York Jets coach Rex Ryan on Wednesday disputed the notion that Santonio Holmes was a divisive player in the locker room during his tenure there.
"No, that is totally untrue," Ryan said in a conference call with the Chicago media. "That was one of the biggest ... that's a joke. He wasn't that way at all."
Holmes spent four seasons with the Jets (2010-13) before signing in August with the Chicago Bears as a replacement for Marquess Wilson, who suffered a fractured clavicle during training camp. With the Jets, Holmes caught 146 passes for 2,168 yards and 16 touchdowns, but he came under fire toward the latter portion of his tenure after signing a five-year contract coming out of the NFL lockout in 2011 worth $45 million.
One New York Daily News report, citing anonymous sources back in January 2012, quoted a player saying Holmes is "a cancer. It's like dealing with a 10-year-old."
September, 17, 2014
Sep 17
1:15
PM ET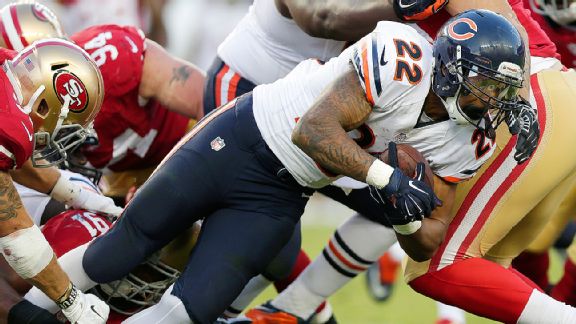 AP Images/Marcio Jose SanchezMatt Forte was held to just 21 yards rushing on 12 carries against the 49ers.
Kyle Long
said he was "embarrassed" by the
Chicago Bears
' running game in Week 2. Marc Trestman called it "very poor."
Facing a 17-point deficit against the
San Francisco 49ers
, the Bears had to look to pass more, but when they did run it wasn't pretty with
Matt Forte
rushing for just 21 yards on 12 carries. A week earlier, Forte was effective with 82 yards in Week 1 against the
Buffalo Bills
, but he got just 17 carries.
It doesn't get any easier in Week 3 against the
New York Jets
, who have allowed the fewest rushing yards (105) in the NFL this season. Is there reason to be concerned about the Bears' running game or is it all part of the game plan from week to week? Our panel weighs in on that and more:

Fact or Fiction: The Bears' running game is a concern after two weeks.

Jeff Dickerson:
Fact. Forte is an elite tailback. There is no issue with him. But Long labeled the Bears' effort in the run game "embarrassing" against San Francisco. That sounds a tad extreme. However, Forte only gained 21 yards on 12 carries on Sunday night. The best run came when
Jay Cutler
scrambled for 25 yards, so I think it's OK to call it concerning. But there's no reason to panic. Keep in mind, the Bears aren't exactly a power running team. They rely more on running outside the tackles with Forte. The ground game isn't the bread and butter of the offense. The Bears are a pass-first team. That's just the way it is. Also, fullback Tony Fiammetta hasn't been available yet this season due to injury and a release before re-signing. Maybe Fiammetta helps when he's on the field against the Jets roughly 15-20 percent of the time.
Jon Greenberg:
Fiction. It's just the way it is. I don't think Trestman is ever going to call a completely balanced game, run-pass wise. It'll always be slanted toward the pass with Cutler. After the opening loss against Buffalo, I asked Forte if he wanted more touches, and he admitted 17 carries was a little low, but that he'll get his touches on short passes ("extended handoffs"). He caught eight passes against the Bills. Those numbers dropped to 12 and 5 against the Niners. I'd like to see the Bears get more creative on runs -- San Francisco showed a few cool wrinkles Sunday night -- and more importantly, give him a few drives where he can really carry the load. Too often he was running on first down, getting stuffed because it was so obvious, and then the Bears went to the pass. But there were drives where they really tried to get him the ball. In the 13-play, 80-yard drive that spanned the third and fourth quarters, he touched the ball six times, four passes and two runs. But he only gained 18 yards, 11 coming on one pass. Long said he was frustrated in their run-blocking, so maybe Trestman was wise to spread the wealth.
---

Fact or Fiction: Charles Tillman is the best defensive back in Bears' history.
[+] Enlarge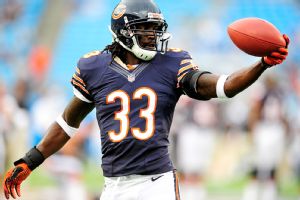 Grant Halverson/Getty ImagesCharles Tillman's Bears future is uncertain but his inclusion among the franchise's greats is not.
Jeff Dickerson:
Fact. It's a close race between Tillman (two Pro Bowls) and legendary safety Gary Fencik (two Pro Bowls). Fencik holds the franchise record with 50 takeaways (38 interceptions, 12 fumble recoveries) and won a championship in 1985. Tillman is the Bears' all-time leader in defensive touchdowns (nine), interception return yards (675), interception return touchdowns (eight), and ranks third with 36 career picks. However, Tillman revolutionized the game with his uncanny ability to force fumbles from the cornerback position. The "Peanut Punch" has been responsible for 42 forced fumbles since 2003, the second-highest total in the league over that span. Tillman changed the way coaches teach the game to younger players. Tillman gets the nod, in my opinion. But Fencik is underrated in terms of what he provided the Bears' defense in the mid-70s to late 80's.
Jon Greenberg:
Fact. It's so tough to judge between eras, but given Tillman's singular effect on the defense -- his ability to create takeaways -- and his team records in interception return yards, defensive touchdowns and interceptions returned for touchdowns, let's agree to call him that. Add to that, his 36 interceptions and 42 forced fumbles, he's got a great case. Tillman's had a fantastic career, if it's over.
---

Fact or Fiction: There won't be much of a dropoff on the defense with rookie Kyle Fuller replacing Tillman.
[+] Enlarge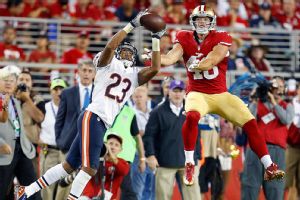 AP Images/Tony AvelarKyle Fuller came up big in place of Charles Tillman against the 49ers.
Jeff Dickerson:
Fiction. Fuller looks ready to assume a full-time starting role. He belongs. But rookies always experience a certain degree of growing pains when pressed into action straight out of college. That especially holds true at the cornerback position where players are taught to have short memories. The Bears play in a division with
Calvin Johnson
and
Aaron Rodgers
. I don't care how ready a player is, the Packers and Lions can throw the football. Fuller will be tested. I believe he will hold up OK, but let's hold off on the Tillman comparisons. Fuller will be making his first career NFL start on Monday night. Tillman made 158, including the postseason. Maybe Fuller eventually becomes the next Tillman. But it doesn't happen overnight. Give the rookie time.
Jon Greenberg:
Fiction. That's tough to say after two games. Check out the Bears' schedule, Fuller will have some difficult receivers to cover if the Bears throw him to the wolves and Megatrons of the league. The Bears are lavishing praise on him, and his two-pick game against the Niners augur good things to come. Fuller looks like an All-Pro, and he's got young legs, but while Tillman was getting older, experience is often a cornerback's greatest weapon. Tillman had seen it all and his instincts let him gamble for those punch-outs. The Bears would be better off with three strong cornerbacks.
---

Fact or Fiction: Special teams will cost the Bears at least one win this season.
[+] Enlarge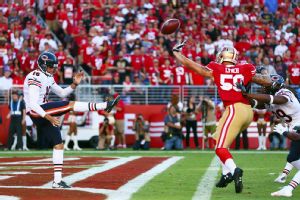 Jeff Gross/Getty ImagesThe Bears were able to recover after a blocked punt led to an early 49ers touchdown.
Jeff Dickerson:
Fact. This has been a problem since the summer. The Bears just don't seem talented, organized, or intelligent enough on special teams. They were lucky to avoid a complete meltdown after the 49ers' blocked punt led to an early touchdown. Next time, they may not be so fortunate. In the past, the Bears used to make their special teamers into positional backups. Now, the Bears try to make their positional backups into special teamers. The philosophical shift is partly to blame for the decline. Losing players such as
Devin Hester
, Craig Steltz,
Eric Weems
, Blake Costanzo,
Zack Bowman
, Anthony Walters and Jordan Senn hurts. I think it's fair to say coordinator Joe DeCamillis needs to do the best coaching job of his career to turn it around. DeCamillis has 26 years of experience coaching special teams in the NFL. This is probably one of his toughest assignments to date.
Jon Greenberg:
Fact. This group is awful. Disorganized and sloppy. Whither Dave Toub? Oh yeah, he's in Kansas City. It's not just coaching, it's the caliber of players in the group, and that's on GM Phil Emery and the coaches. The Bears cut
Shaun Draughn
after he committed two penalties on special teams and missed a block that led to a blocked punt. So it's not like the Bears aren't aware of the problem. So yeah, unless they can find some players on special teams, I think they could lose a game because of it.
September, 17, 2014
Sep 17
10:00
AM ET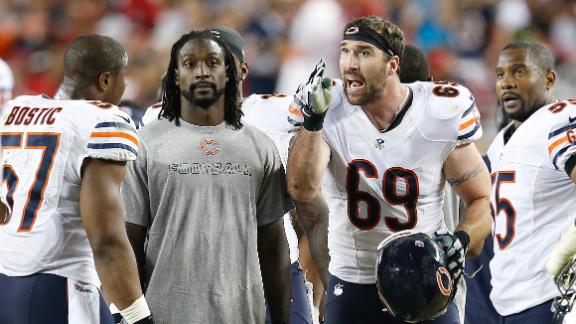 ESPN
Chicago Bears
reporter Michael C. Wright discusses the cornerback situation after
Charles Tillman
's injury.
September, 16, 2014
Sep 16
4:30
PM ET
LAKE FOREST, Ill. -- The roster shuffling continued at Halas Hall on Tuesday, with the
Chicago Bears
elevating cornerback Isaiah Frey and receiver Rashad Ross off the practice squad to the 53-man roster while waiving running back
Shaun Draughn
and receiver
Chris Williams
, in addition to terminating the contract of vested veteran tight end
Matthew Mulligan
.
The moves come in response to the Bears placing cornerback
Charles Tillman
on the season-ending injured reserve, as well as to the club's struggles on special teams during its win Sunday over the
San Francisco 49ers
.
The Bears also added defensive tackle Roy Philon to the practice squad.
A third-year veteran, Frey spent all of the 2013 season as the team's primary nickel corner. But he struggled throughout the season due to a broken bone in his hand and failed to force a single turnover. Frey started six games, producing 62 tackles and two pass breakups, in addition to generating five quarterback pressures.
Frey spent his rookie season (2012) and the first two weeks of this season on the practice squad. It's unknown whether the Bears plan to make Frey the starter at nickel for Monday night's matchup against the
New York Jets
, and it's likely the club is continuing to explore options at the position.
Because of Tillman's injury, the Bears will move rookie
Kyle Fuller
into the starting lineup to play opposite
Tim Jennings
. Still, the club seeks a proven player to take snaps from the slot corner position, as the Bears spend approximately 50 percent of the time executing out of substitution packages.
Ross, meanwhile, spent the bulk of last season on the practice squads of the
Tennessee Titans
and
Kansas City Chiefs
after the former signed him as an undrafted free agent out of Arizona State.
Ross played in 26 games at Arizona State with 14 starts, and he caught 55 passes for 864 yards and seven touchdowns while also contributing as a return man (779 yards and two touchdowns).
September, 16, 2014
Sep 16
4:14
PM ET
LAKE FOREST, Ill. -- A black briefcase lying in front of him at the podium,
Chicago Bears
guard
Kyle Long
took a businesslike approach Monday in assessing the team's dismal performance in the run game during the club's triumph over the
San Francisco 49ers
.
"I was embarrassed," Long said.
Bears coach Marc Trestman worded his thoughts a tad more delicately, but the fact remains the offense -- after averaging 4.8 yards per rushing attempt in the season opener -- took a major step backward running the ball against the 49ers.
Obviously several factors played into the performance, most significantly, a 17-point deficit in the second quarter, which put the team into passing mode. Still, when Chicago ran against the 49ers, it averaged just 2.7 yards per attempt, with
Matt Forte
finishing with 21 yards on 12 attempts.
[+] Enlarge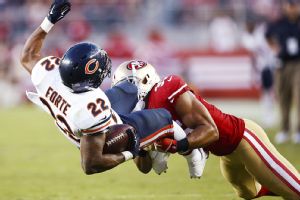 AP Photo/Tony Avelar)The Bears struggled to run the ball against the 49ers, averaging just 2.7 yards per carry.
Jay Cutler
led the way with 25 yards rushing, with all of that coming on one scramble.
"Very poor in our run game performance," Trestman said. "We're gonna throw that away, and try to work off where we got started in the Buffalo game, and try to continue progress and get better there. [San Francisco is a] very difficult defense to run against. But nonetheless, the tape has certainly shown us we have some work to do. It got our guys' attention, which is a good thing."
The club's rushing aspirations become more difficult Monday night on the road when the Bears face the
New York Jets
, which boast the league's to run defense. Jets opponents averaged 2.8 yards per attempt and 52.5 yards per game on the ground. New York's defense is one of just seven units in the NFL which still hasn't given up a rushing touchdown.
The longest run surrendered by the Jets this season was 12 yards.
"We need to run the ball," Long said. "I know we got the win on the road, and it was big. I'm sure everybody else in our room will echo that. So will Matt. You need to run the ball in the National Football League, and we'll be better at that."
Chicago certainly needs to be Monday night to prevent New York from making it one dimensional, which in turn would allow the Jets to pin back their ears and come after quarterback Jay Cutler. If the Bears can string together success on the ground against the Jets, the playbook opens up and allows them to attack with all the weapons at their disposal as opposed to relying solely on Jay Cutler and the receivers to make the offense go.
Long attributed the offense's problems running the ball to simply "techniques, different looks." But ultimately, Long said there's no excuse for Chicago's inability to run the ball effectively.
"You run the ball. You grab the guy in front of him. You move him, and the running back has an opening," Long said. "It's hard to break that down any simpler than that. [The Jets] pose another challenge for us. When you can break through walls like those, you become stronger as a unit. I feel like it's an opportunity for us. It's a mountain. We've got to climb it, and we've got to put our flag in the top of it. We're gonna figure out a way to run the ball against the Jets."
Balancing out the run-pass ration might help (83 passes to 35 runs so far this season), as well as bringing back fullback Tony Fiammetta. Fiammetta missed the opener due to a hamstring injury. Then the team -- reeling from injuries along the offensive line and receiver -- cut the fullback last week as it adjusted the roster to compensate. The Bears brought Fiammetta back on Monday, and Trestman is hopeful he can help spark the rushing attack as Forte's lead blocker.
"He certainly could [help]," Trestman said. "Tony Fiammetta is an excellent player, and we haven't had a chance to utilize him because of the hamstring injury. Very, very good as a lead back. I know Matt likes running with Tony leading the way."
September, 16, 2014
Sep 16
3:10
PM ET
The
Chicago Bears
took a huge fall last week in ESPN.com's Power Rankings, but made a similar move the other way
Tuesday in the latest edition
, coming off the club's 28-20 come-from-behind victory at San Francisco.
ESPN's Power Panel, which is comprised of more than 80 writers, editors and TV personalities, handed down the most dramatic drop last week in the Power Rankings to the Bears. But this time around, the group gave the Bears some love, ranking them at No. 11. Yet they still rank just second in the division behind the
Green Bay Packers
(No. 8).
The
Detroit Lions
checked in at No. 18, falling five slots from 13th. The
Minnesota Vikings
rounded out the division No. 26 after a 17th ranking last week.
Bears receiver
Brandon Marshall
felt pundits panicked after the club's season-opening loss to the
Buffalo Bills
in which the club allowed 193 yards rushing.
"It felt like 60 percent of Chicago, of Illinois, started panicking," he said Monday during "The Brandon Marshall Show" on ESPN 1000. "It felt that [the feeling was], 'Our season's over.'"
In the loss to the Bills, the Bears reeled off 427 yards of offense, but committed a trio of turnovers which led to points by the opponent.
Chicago appeared to be headed down a similar road against the 49ers, as it trailed 17-0 late in the first half. The truth is the score should've been even more lopsided. Still, the Bears rallied to score 21 unanswered in the fourth quarter.
Marshall led the charge with a trio of scoring receptions, and Bears coach Marc Trestman considered the win against the 49ers one his team can build on moving forward through the schedule. At 1-1, the Bears play two of their next three on the road, with a home matchup sandwiched in between against the Packers.
"As I told the team, as you go through this marathon of a football season, you're going to have opportunities to gain some backbone," Trestman said. "I think this really helped us and will help us [moving forward]. The bottom line is we'll go back to work. That was the message in the locker room is the reason we're able to get to this point is we went back to work last week [after the loss], focused on each and every day in practice. We're going to do the same thing. We're going to get some rest. We've got an extra day of rest this week with the Monday night game [against the
New York Jets
], and we're going to go back to work and try to get better as a football team, one day at a time."
September, 16, 2014
Sep 16
11:40
AM ET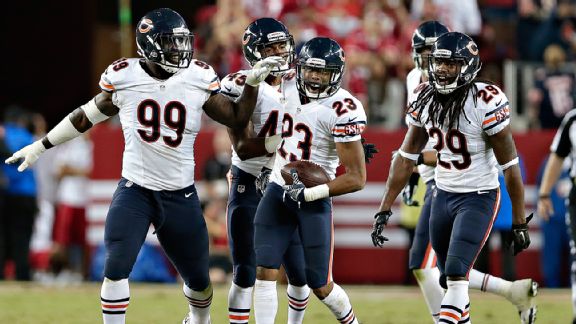 AP Photo/Marcio Jose SanchezThe Bears' defense had plenty of highlights on Sunday, including two interceptions by rookie cornerback Kyle Fuller.
RISING

1. Entire defense:
There is a noticeable improvement on defense. From top to bottom, the whole group needs credit for keeping the Bears in the game against the
San Francisco 49ers
, despite suffering a ton of injuries to key starters. Defensive end Willie Young is a gem. He filled out the stat sheet for the second consecutive week with four tackles, two sacks, two tackles-for-loss and two quarterback hits, according to the NFL's official game book.
Jared Allen
made a couple of impact plays with a tackle-for-loss and forced fumble.
Lance Briggs
had a bounce-back game. Rookie
Kyle Fuller
intercepted two fourth-quarter passes in place of injured
Charles Tillman
(triceps), and safety
Chris Conte
had a highlight-reel pick before he left early due to a bad shoulder. Safety
Ryan Mundy
, linebacker
Shea McClellin
and the first-year interior defensive linemen (
Will Sutton
and
Ego Ferguson
) all contributed to the victory. If the Bears can get efforts like this from the defense every week, the team will be in position to win lots of games.

2. Jay Cutler, QB:
Cutler and the offense got off to a bad start, but the quarterback recovered to finish 23-of-34 for 176 passing yards, four touchdowns and zero interceptions, with a passer rating of 119.2. Cutler beat a good team on the road. That deserves a mention. He stayed in the game after taking an illegal hit to the chest late in the first half. That shot must have triggered something inside Cutler because he played at a different level from that moment on. Cutler no doubt benefitted from the sturdy play of the offensive line (minus starters
Roberto Garza
and
Matt Slauson
), but it's hard to throw four touchdowns when the team is struggling to establish the ground game. However, Cutler pulled it off. Even some of the dropped balls were delivered on the money.

3. Brandon Marshall, WR:
Not a bad performance for a guy with a bum ankle. Marshall played like a man possessed in Week 2, catching three touchdowns, including a miraculous one-handed grab at the end of the first half that proved to be a turning point for the Bears. Marshall vowed all week he planned to play against the 49ers, and he backed it up with a performance that will have Bears' fans buzzing all week. Credit wide receiver
Alshon Jeffery
for fighting through a tight hamstring to contribute three receptions for 47 yards. The Bears were never going to defeat San Francisco with their two Pro Bowl receivers on the sidelines. Both were active, and the Bears pulled out the 28-20 upset. Coincidence? Hardly. Great players who push themselves often inspire their teammates. The extra day should help Marshall and Jeffery get ready to face the
New York Jets
on Monday.
FALLING

1. Special teams:
Unfair to criticize one person for the mess on special teams, this is a collective issue. But no matter where the fault ultimately lies, the Bears need to clean up the special teams mistakes because it's borderline unwatchable. The Bears committed a ton of penalties (three on one specific play) and had the opening punt blocked. These breakdowns are unacceptable. Rookie punter Pat O'Donnell struck the ball with authority against the 49ers, despite his 32.3 net average. After O'Donnell, there wasn't much to like. And the Bears still cannot figure out the return game.
Senorise Perry
looks to be very average on kickoff return after two weeks.

2. Run game:
It was an off-night for the run game. The team basically went away from the ground attack after the 49ers jumped out to a 17-0 lead, but yards were hard to come by whenever the Bears put the ball in
Matt Forte
's hands. Forte carried the ball 12 times for 21 yards (1.8 yards per rush average). Cutler actually had the best run of the night when he scrambled for 25 yards. It's hard to establish much of a rhythm when the starting tailback is fed the ball only 12 times, but the offense failed to capitalize when the opportunities presented themselves on the ground, no matter how few and far between they were.

3. Officials:
Twenty-seven combined penalties? Kind of excessive, no? Not to mention the crew took forever to make certain calls and explain the rulings. The game dragged. It was really tough to watch in the first half, for both sides. I'm a firm believer in the fact that officials do not determine the outcome of games. Calls will be missed. That's life. Deal with it. But officials can impact the enjoyment level of watching games. Thumbs down to the officials. Second week in the row the crew assigned to the Bears didn't appear to have their act together. These penalty fests are hurting the league.
September, 15, 2014
Sep 15
10:33
PM ET
Charles Tillman
said "this isn't the end of the road for me" in a statement released by the team on Monday after it announced he'd go on the season-ending injured reserve due to a ruptured triceps. The first thought to come to mind was it may not be the end, but in Chicago it's essentially over.
That's not the way to think regarding a player of Tillman's ilk. But reality is reality.
Tillman
Tim Jennings
signed a four-year extension back in January worth $22.4 million, and rookie
Kyle Fuller
received a four-year deal with a club option for a fifth year which pays $9.687 million, including a signing bonus of $5.365 million.
Tillman, meanwhile, was playing on a one-year contract worth $3.25 million, and he signed that late after free agency proved fruitless.
Moving forward, the Bears can't afford to pay starter's money to three corners, especially with
Jay Cutler
's monstrous salary and potential extensions coming down the pipe for several players such as Brian de la Puente and
Alshon Jeffery
, just to name a couple.
Tillman certainly deserves to finish his career in Chicago. But with the corner set to turn 34 before the start of the 2015 season, it's unlikely the Bears bring him back at a salary he wouldn't find to be a slap in the face.
When Tillman hits free agency, he likely won't be looking to break the bank. But he'll definitely feel he's worth more than a veteran minimum type of deal, which is probably what the Bears will offer given Tillman's age, recent injury history, and the emergence of Fuller, who picked off a pair of passes Sunday in the club's win at San Francisco. Besides that, if the Bears did decide to bring back Tillman for another season, would it be as a starter? Would he feel comfortable taking on the role as the nickel corner?
It's sad to be pondering all this with emotions still raw, fewer than 24 hours after Tillman's latest setback.
But that's the reality we're faced with; one in which special players such as Tillman always leave on someone else's terms.
"He's one of our leaders on this team, and much needed," receiver
Brandon Marshall
said during his radio show Monday on ESPN Chicago 1000. "It's sad for the city, it's sad for our team, it's sad for him."
It truly is.
Tillman was correct in saying it's not the end of the road, because it isn't. Once Tillman rehabs from this injury, he'll still be a player capable of starting and playing at a high level in the NFL.
But the problem is this team, even before Tillman's injury, has already moved on. If Brian Urlacher and
Devin Hester
have taught us anything, it's the fact the Bears -- like every other team in the NFL -- always moves on.
September, 15, 2014
Sep 15
8:50
PM ET
The
Chicago Bears
signed fullback
Tony Fiammetta
to the 53-man roster, while also adding rookie quarterback
David Fales
to the practice squad.
Fales
Fiammetta
The Bears brought back Fiammetta and Fales after cutting the duo last week in a series of roster moves brought about due to a rash of injuries along the offensive line and at receiver. Fiammetta had been nursing a hamstring injury headed into Week 2, while Fales had missed practice time because of a shoulder injury.
A six-year veteran, Fiammetta serves primarily as a lead blocker for
Matt Forte
, and has run the ball 11 times for 26 yards throughout his career, while also producing 130 yards on 12 catches in 50 games with 24 starts.
Fales, meanwhile, joined the Bears as a sixth-round pick out of San Jose State.
Over two seasons at San Jose State, Fales started in 25 games, throwing for 8,382 yards and 66 touchdowns with 22 interceptions. Fales has impressed the staff enough throughout his brief tenure with the Bears, that he would likely develop into a potential backup to starter
Jay Cutler
.
With the Bears placing cornerback
Charles Tillman
on the injured reserve, it's expected the club in the coming days will make more roster moves.
September, 15, 2014
Sep 15
8:25
PM ET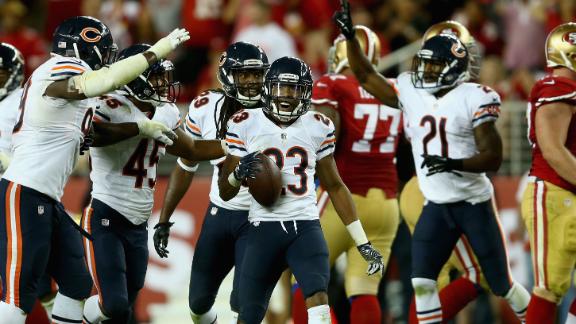 When Chicago Bears cornerback and civic hero Charles "Peanut" Tillman left Sunday night's game with what would later be determined as a ruptured right triceps muscle, teammates approached him in appreciation and homage.
A screenshot showed him apparently tearing up; it went viral. Bears fans love Tillman, and he would later go on Twitter and thank the fans for their virtual well-wishes. A Peanut without his shell.
As the game went on, I took some binoculars and watched Tillman move around the sidelines by himself. Sitting down, standing up, walking around. Nervous energy with no outlet. He was no longer vital to the team. He was injured and therefore a bystander. The game continues.
While Tillman faded into the sideline, rookie Kyle Fuller, drafted to be his replacement as the playmaking franchise corner, picked off two fourth-quarter passes in San Francisco 49ers territory that turned into touchdowns as the Bears shocked the NFL, and certainly Chicago and the San Francisco Bay Area, with a 28-20 comeback victory.
It was Fuller's moment, and not a small amount of people made "passing the torch" comments in the press box.
After the game, Brandon Marshall and Jay Cutler raved about Fuller. He is the future.
"I told him that he needs to have Hall of Fame on his mind," Marshall said. "There is no fear. He has a great skill set. But his attitude is amazing. You'd think he's been in the league for five or six years."