Power Rankings: Sox at No. 24? Really?
April, 11, 2011
4/11/11
1:41
PM ET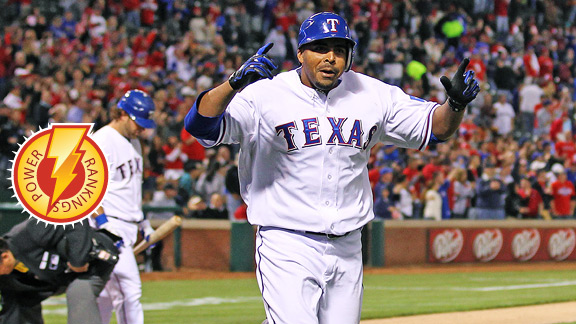 Matthew Emmons/US Presswire
That didn't take long for the ESPN experts to jump off the Red Sox bandwagon.
Just nine games into the season, the Red Sox -- whom 42 of 45 ESPN pundits picked to reach the Fall Classic --
have dropped all the way to 24th in the latest Power Rankings on ESPN.com
.
The Sox, who debuted in the Power Rankings in the No. 7 spot last week after getting swept in Texas, fell 14 spots after a 2-4 week despite taking two of three from the fourth-ranked Yankees. The Rangers are No. 1.
There's no way the Sox are the 24th-best team in baseball, as the Power Rankings suggest, but where do you think they really belong? Top 10? Top 5?
Share your ranking here
(SportsNation has them 18th) or in the comments section of this blog entry.
ABOUT THIS BLOG

Gordon Edes
Gordon Edes, who joined ESPNBoston.com in Nov. 2009, has covered MLB for more than 25 years. He spent 12 years covering the Sox for the Globe. Ask a question for his next mailbag. Follow him on Twitter here.

Joe McDonald
Joe McDonald, a native Rhode Islander, joined ESPNBoston.com as a Bruins and Red Sox reporter in February 2010. He worked at the Providence Journal for 18 years and covered the Red Sox, Bruins, Patriots, PawSox and Providence Bruins. He's a three-time winner of the National Sportscasters and Sportswriters Association's state Sportswriter of the Year for Rhode Island. Follow him on Twitter here.
2016 AMERICAN LEAGUE EAST STANDINGS
UPCOMING GAMES
| | W-L | HM | AW | STK | L10 |
| --- | --- | --- | --- | --- | --- |
| BOS | 42-35 | 23-18 | 19-17 | W1 | |
| TAM | 32-44 | 16-21 | 16-23 | L1 | |
| | W-L | HM | AW | STK | L10 |
| --- | --- | --- | --- | --- | --- |
| LAA | 32-46 | 16-25 | 16-21 | L2 | |
| BOS | 42-35 | 23-18 | 19-17 | W1 | |
| | W-L | HM | AW | STK | L10 |
| --- | --- | --- | --- | --- | --- |
| LAA | 32-46 | 16-25 | 16-21 | L2 | |
| BOS | 42-35 | 23-18 | 19-17 | W1 | |
BLOG ARCHIVE:
CATEGORIES:
JUNE 2016
JULY 2016
AUGUST 2016
Sun
Mon
Tue
Wed
Thu
Fri
Sat

1

LAA
7:10 PM ET

2

LAA
7:15 PM ET

3

LAA
1:35 PM ET

4

TEX
1:35 PM ET

5

TEX
7:10 PM ET

6

TEX
7:00 PM ET

7

8

TB
7:10 PM ET

9

TB
4:05 PM ET

10

TB
1:35 PM ET

11

12

13

14

15

@NYY
7:05 PM ET

16

@NYY
4:05 PM ET

17

@NYY
8:00 PM ET

18

19

SF
7:10 PM ET

20

SF
7:00 PM ET

21

MIN
7:10 PM ET

22

MIN
7:10 PM ET

23

MIN
7:10 PM ET

24

MIN
1:35 PM ET

25

DET
7:10 PM ET

26

DET
7:10 PM ET

27

DET
1:35 PM ET

28

@LAA
10:05 PM ET

29

@LAA
10:05 PM ET

30

@LAA
9:05 PM ET

31

@LAA
3:35 PM ET

Sun
Mon
Tue
Wed
Thu
Fri
Sat

1

@SEA
10:10 PM ET

2

@SEA
10:10 PM ET

3

@SEA
10:10 PM ET

4

@SEA
10:10 PM ET

5

@LAD
10:10 PM ET

6

@LAD
4:05 PM ET

7

@LAD
7:10 PM ET

8

9

NYY
7:10 PM ET

10

NYY
7:10 PM ET

11

NYY
7:10 PM ET

12

ARI
7:10 PM ET

13

ARI
7:10 PM ET

14

ARI
1:35 PM ET

15

@CLE
1:10 PM ET

16

@BAL
7:05 PM ET

17

@BAL
7:05 PM ET

18

@DET
1:10 PM ET

19

@DET
7:00 PM ET

20

@DET
7:10 PM ET

21

@DET
1:10 PM ET

22

@TB
7:10 PM ET

23

@TB
7:10 PM ET

24

@TB
7:10 PM ET

25

@TB
1:10 PM ET

26

KC
7:10 PM ET

27

KC
7:10 PM ET

28

KC
1:35 PM ET

29

TB
7:10 PM ET

30

TB
7:10 PM ET

31

TB
1:35 PM ET