Almost a year later, family celebrates Westmoreland recovery
March, 10, 2011
3/10/11
8:06
AM ET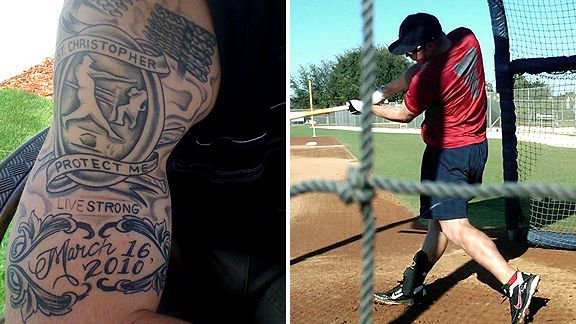 Joe McDonald/ESPN Boston and Westmoreland Family
FORT MYERS, Fla. -- Don't miss
Joe McDonald's terrific piece
on Ryan Westmoreland's remarkable recovery from life-threatening brain surgery.
"While I was in the ICU in Arizona, I never really let go of anything," Westmoreland told Mac. "I just said, 'I'm still going to be able to play, regardless of the people who said that wasn't in the cards.' It's great to put it into perspective and realize how far I have come. Being me, and the drive I've always had, I've always had the extra motivation and wanted to be better.
"I have come a long way, but I know there's still a long way to go. I'm ready for it and I push myself every day. I haven't taken a day off. If [returning to baseball] is meant to be, it's going to happen. If not, it's not because I didn't work hard."
Red Sox reporter, ESPNBoston.com
Has covered Red Sox for 15 years
Award-winning beat reporter
Joined ESPNBoston.com in 2009
ABOUT THIS BLOG

Gordon Edes
Gordon Edes, who joined ESPNBoston.com in Nov. 2009, has covered MLB for more than 25 years. He spent 12 years covering the Sox for the Globe. Ask a question for his next mailbag. Follow him on Twitter here.

Joe McDonald
Joe McDonald, a native Rhode Islander, joined ESPNBoston.com as a Bruins and Red Sox reporter in February 2010. He worked at the Providence Journal for 18 years and covered the Red Sox, Bruins, Patriots, PawSox and Providence Bruins. He's a three-time winner of the National Sportscasters and Sportswriters Association's state Sportswriter of the Year for Rhode Island. Follow him on Twitter here.

Mike Andrews
Mike Andrews is the founder and managing editor of SoxProspects.com.
2014 AMERICAN LEAGUE EAST STANDINGS
UPCOMING GAMES
| | W-L | HM | AW | STK | L10 |
| --- | --- | --- | --- | --- | --- |
| NYY | 55-52 | 25-26 | 30-26 | L1 | |
| BOS | 48-60 | 26-29 | 22-31 | L3 | |
| | W-L | HM | AW | STK | L10 |
| --- | --- | --- | --- | --- | --- |
| NYY | 55-52 | 25-26 | 30-26 | L1 | |
| BOS | 48-60 | 26-29 | 22-31 | L3 | |
| | W-L | HM | AW | STK | L10 |
| --- | --- | --- | --- | --- | --- |
| NYY | 55-52 | 25-26 | 30-26 | L1 | |
| BOS | 48-60 | 26-29 | 22-31 | L3 | |
BLOG ARCHIVE:
CATEGORIES:
JULY 2014
AUGUST 2014
SEPTEMBER 2014
Sun
Mon
Tue
Wed
Thu
Fri
Sat

1

NYY
7:10 PM ET

2

NYY
4:05 PM ET

3

NYY
8:00 PM ET

4

5

@STL
8:15 PM ET

6

@STL
8:00 PM ET

7

@STL
7:15 PM ET

8

@LAA
10:05 PM ET

9

@LAA
9:05 PM ET

10

@LAA
3:35 PM ET

11

12

@CIN
7:10 PM ET

13

@CIN
12:35 PM ET

14

HOU
7:10 PM ET

15

HOU
7:10 PM ET

16

HOU
7:10 PM ET

17

HOU
1:35 PM ET

18

LAA
7:10 PM ET

19

LAA
7:10 PM ET

20

LAA
7:10 PM ET

21

LAA
7:10 PM ET

22

SEA
7:10 PM ET

23

SEA
1:35 PM ET

24

SEA
1:35 PM ET

25

@TOR
7:07 PM ET

26

@TOR
7:07 PM ET

27

@TOR
7:07 PM ET

28

29

@TB
7:10 PM ET

30

@TB
7:10 PM ET

31

@TB
1:40 PM ET

Sun
Mon
Tue
Wed
Thu
Fri
Sat

1

@TB
1:10 PM ET

2

@NYY
7:05 PM ET

3

@NYY
7:05 PM ET

4

@NYY
7:05 PM ET

5

TOR
7:10 PM ET

6

TOR
7:10 PM ET

7

TOR
1:35 PM ET

8

BAL
7:10 PM ET

9

BAL
7:10 PM ET

10

BAL
1:35 PM ET

11

@KC
8:10 PM ET

12

@KC
8:10 PM ET

13

@KC
7:10 PM ET

14

@KC
2:10 PM ET

15

16

@PIT
7:05 PM ET

17

@PIT
7:05 PM ET

18

@PIT
7:05 PM ET

19

@BAL
7:05 PM ET

20

@BAL
7:05 PM ET

21

@BAL
1:35 PM ET

22

23

TB
7:10 PM ET

24

TB
7:10 PM ET

25

TB
7:10 PM ET

26

NYY
7:10 PM ET

27

NYY


28

NYY
1:35 PM ET

29

30
Great American Products Boston Red Sox 2013 World Series Champions 22 oz Tankard Shop »