Share your 2004 ALCS Red Sox memories
October, 5, 2010
10/05/10
10:27
AM ET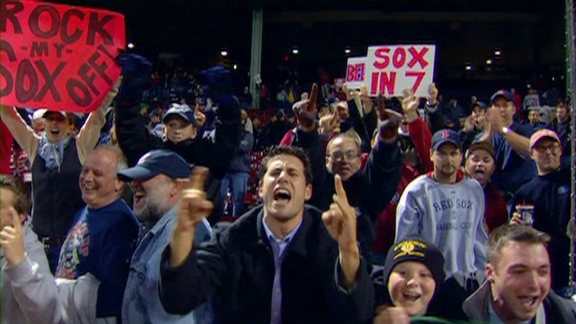 Bummed that the Yankees are still playing baseball and your Red Sox are home for the winter? Tonight's "30 For 30" film
(8 p.m. ET on ESPN)
might help cheer you up.
It is titled "Four Days In October" and it chronicles the Red Sox's historic comeback against the Yankees in the 2004 ALCS after going down three games to none.
You might not have realized it at the time, but you were watching history unfold over those four fateful days.
Curt Schilling, for one, thinks there will never be another team like the 2004 Red Sox
.
What's your favorite memory from the 2004 ALCS? Was it Dave Roberts' steal? Big Papi's two walkoff hits? The Bloody Sock? S
hare your thoughts and memories in the comments section of this blog entry
.
ABOUT THIS BLOG

Gordon Edes
Gordon Edes, who joined ESPNBoston.com in Nov. 2009, has covered MLB for more than 25 years. He spent 12 years covering the Sox for the Globe. Ask a question for his next mailbag. Follow him on Twitter here.

Joe McDonald
Joe McDonald, a native Rhode Islander, joined ESPNBoston.com as a Bruins and Red Sox reporter in February 2010. He worked at the Providence Journal for 18 years and covered the Red Sox, Bruins, Patriots, PawSox and Providence Bruins. He's a three-time winner of the National Sportscasters and Sportswriters Association's state Sportswriter of the Year for Rhode Island. Follow him on Twitter here.
2016 AMERICAN LEAGUE EAST STANDINGS
UPCOMING GAMES
| | W-L | HM | AW | STK | L10 |
| --- | --- | --- | --- | --- | --- |
| BOS | 42-36 | 23-18 | 19-18 | L1 | |
| TAM | 33-44 | 17-21 | 16-23 | W1 | |
| | W-L | HM | AW | STK | L10 |
| --- | --- | --- | --- | --- | --- |
| LAA | 32-46 | 16-25 | 16-21 | L2 | |
| BOS | 42-36 | 23-18 | 19-18 | L1 | |
| | W-L | HM | AW | STK | L10 |
| --- | --- | --- | --- | --- | --- |
| LAA | 32-46 | 16-25 | 16-21 | L2 | |
| BOS | 42-36 | 23-18 | 19-18 | L1 | |
BLOG ARCHIVE:
CATEGORIES:
JUNE 2016
JULY 2016
AUGUST 2016
Sun
Mon
Tue
Wed
Thu
Fri
Sat

1

LAA
7:10 PM ET

2

LAA
7:15 PM ET

3

LAA
1:35 PM ET

4

TEX
1:35 PM ET

5

TEX
7:10 PM ET

6

TEX
7:00 PM ET

7

8

TB
7:10 PM ET

9

TB
4:05 PM ET

10

TB
1:35 PM ET

11

12

13

14

15

@NYY
7:05 PM ET

16

@NYY
4:05 PM ET

17

@NYY
8:00 PM ET

18

19

SF
7:10 PM ET

20

SF
7:00 PM ET

21

MIN
7:10 PM ET

22

MIN
7:10 PM ET

23

MIN
7:10 PM ET

24

MIN
1:35 PM ET

25

DET
7:10 PM ET

26

DET
7:10 PM ET

27

DET
1:35 PM ET

28

@LAA
10:05 PM ET

29

@LAA
10:05 PM ET

30

@LAA
9:05 PM ET

31

@LAA
3:35 PM ET

Sun
Mon
Tue
Wed
Thu
Fri
Sat

1

@SEA
10:10 PM ET

2

@SEA
10:10 PM ET

3

@SEA
10:10 PM ET

4

@SEA
10:10 PM ET

5

@LAD
10:10 PM ET

6

@LAD
4:05 PM ET

7

@LAD
7:10 PM ET

8

9

NYY
7:10 PM ET

10

NYY
7:10 PM ET

11

NYY
7:10 PM ET

12

ARI
7:10 PM ET

13

ARI
7:10 PM ET

14

ARI
1:35 PM ET

15

@CLE
1:10 PM ET

16

@BAL
7:05 PM ET

17

@BAL
7:05 PM ET

18

@DET
1:10 PM ET

19

@DET
7:00 PM ET

20

@DET
7:10 PM ET

21

@DET
1:10 PM ET

22

@TB
7:10 PM ET

23

@TB
7:10 PM ET

24

@TB
7:10 PM ET

25

@TB
1:10 PM ET

26

KC
7:10 PM ET

27

KC
7:10 PM ET

28

KC
1:35 PM ET

29

TB
7:10 PM ET

30

TB
7:10 PM ET

31

TB
1:35 PM ET