'30 for 30' film a timely 2004 flashback
September, 27, 2010
9/27/10
2:46
PM ET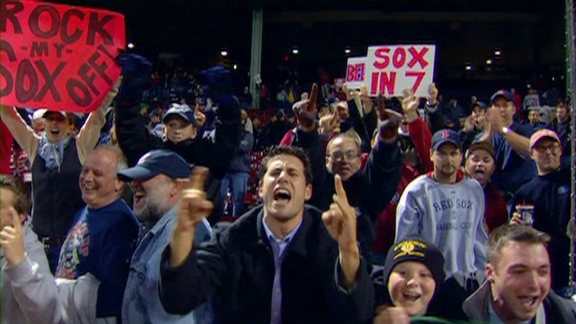 The Red Sox may be out of this year's playoffs, but we'll always have 2004.
So instead of stewing over this year's lost season, you may want to tune in to ESPN's latest "30 For 30" film,
"Four Days in October,"
debuting next Tuesday, Oct. 5, at 8 p.m. on ESPN and repeating four more times this fall.
Produced by MLB Productions and partially narrated by ESPN's Bill Simmons and comedian Lenny Clarke, both Boston natives, the film aims to "capture the symbolic essence of the
Boston Red Sox
unprecedented 2004 ALCS comeback victory vs. their arch-rivals, the
New York Yankees
," according to the creators.
Basically, it's an inside look at those four amazing days in October 2004 when everyone in Boston became a Red Sox fanatic. Watching the trailer above gave us chills, so be prepared.
ABOUT THIS BLOG

Gordon Edes
Gordon Edes, who joined ESPNBoston.com in Nov. 2009, has covered MLB for more than 25 years. He spent 12 years covering the Sox for the Globe. Ask a question for his next mailbag. Follow him on Twitter here.

Joe McDonald
Joe McDonald, a native Rhode Islander, joined ESPNBoston.com as a Bruins and Red Sox reporter in February 2010. He worked at the Providence Journal for 18 years and covered the Red Sox, Bruins, Patriots, PawSox and Providence Bruins. He's a three-time winner of the National Sportscasters and Sportswriters Association's state Sportswriter of the Year for Rhode Island. Follow him on Twitter here.

Mike Andrews
Mike Andrews is the founder and managing editor of SoxProspects.com.
2014 AMERICAN LEAGUE EAST STANDINGS
UPCOMING GAMES
| | W-L | HM | AW | STK | L10 |
| --- | --- | --- | --- | --- | --- |
| NYY | 12-8 | 6-3 | 6-5 | W2 | |
| BOS | 9-12 | 4-7 | 5-5 | L2 | |
| | W-L | HM | AW | STK | L10 |
| --- | --- | --- | --- | --- | --- |
| NYY | 12-8 | 6-3 | 6-5 | W2 | |
| BOS | 9-12 | 4-7 | 5-5 | L2 | |
| | W-L | HM | AW | STK | L10 |
| --- | --- | --- | --- | --- | --- |
| BOS | 9-12 | 4-7 | 5-5 | L2 | |
| TOR | 11-9 | 4-3 | 7-6 | W1 | |
BLOG ARCHIVE:
CATEGORIES:
APRIL 2014
MAY 2014
JUNE 2014
Sun
Mon
Tue
Wed
Thu
Fri
Sat

1

TB
7:10 PM ET

2

OAK
7:10 PM ET

3

OAK
1:35 PM ET

4

OAK
1:35 PM ET

5

6

CIN
7:10 PM ET

7

CIN
7:10 PM ET

8

9

@TEX
8:05 PM ET

10

@TEX
8:05 PM ET

11

@TEX
3:05 PM ET

12

13

@MIN
8:10 PM ET

14

@MIN
8:10 PM ET

15

@MIN
1:10 PM ET

16

DET
7:10 PM ET

17

DET
7:10 PM ET

18

DET
8:00 PM ET

19

20

TOR
7:10 PM ET

21

TOR
7:10 PM ET

22

TOR
4:05 PM ET

23

@TB
7:10 PM ET

24

@TB
4:10 PM ET

25

@TB
1:40 PM ET

26

@ATL
1:00 PM ET

27

@ATL
7:00 PM ET

28

ATL
7:10 PM ET

29

ATL
7:10 PM ET

30

TB
7:10 PM ET

31

TB
7:15 PM ET

Sun
Mon
Tue
Wed
Thu
Fri
Sat

1

TB
1:35 PM ET

2

@CLE
7:05 PM ET

3

@CLE
7:05 PM ET

4

@CLE
7:05 PM ET

5

6

@DET
7:08 PM ET

7

@DET
7:15 PM ET

8

@DET
1:08 PM ET

9

@BAL
7:05 PM ET

10

@BAL
7:05 PM ET

11

@BAL
7:05 PM ET

12

CLE
7:10 PM ET

13

CLE
7:10 PM ET

14

CLE
4:05 PM ET

15

CLE
1:35 PM ET

16

MIN
7:10 PM ET

17

MIN
7:10 PM ET

18

MIN
1:35 PM ET

19

@OAK
10:05 PM ET

20

@OAK
10:05 PM ET

21

@OAK
4:05 PM ET

22

@OAK
4:05 PM ET

23

@SEA
10:10 PM ET

24

@SEA
10:10 PM ET

25

@SEA
10:10 PM ET

26

27

@NYY
7:05 PM ET

28

@NYY
7:15 PM ET

29

@NYY


30

CHC
7:10 PM ET
Majestic Men's Replica Boston Red Sox Dustin Pedroia #15 Road Grey Jersey Shop »