Hot Button: Middlebrooks or Youkilis?
May, 18, 2012
5/18/12
12:03
PM ET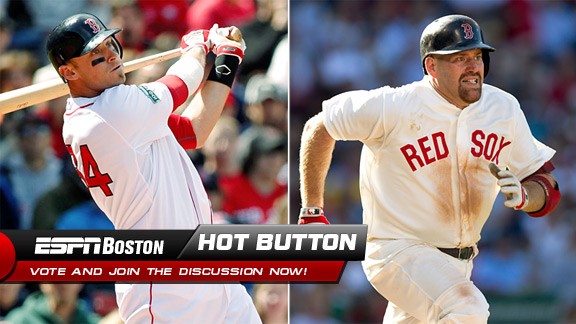 US Presswire, Getty Images
The Red Sox have a tough decision to make when Kevin Youkilis comes off the disabled list soon. Should he return to his third base spot or should Will Middlebrooks stay there? The fact that Middlebrooks has struggled recently helps make Youk's seemingly inevitable return to the hot corner a little easier to swallow, but what happens to the kid? Does he waste away in Pawtucket?
Weigh in on this Hot Button topic HERE
.
ABOUT THIS BLOG

Gordon Edes
Gordon Edes, who joined ESPNBoston.com in Nov. 2009, has covered MLB for more than 25 years. He spent 12 years covering the Sox for the Globe. Ask a question for his next mailbag. Follow him on Twitter here.

Joe McDonald
Joe McDonald, a native Rhode Islander, joined ESPNBoston.com as a Bruins and Red Sox reporter in February 2010. He has worked at the Providence Journal since 1992, covering the Red Sox, Bruins, Patriots, PawSox and Providence Bruins over the past nine years. Follow him on Twitter here.

Jeremy Lundblad
Jeremy Lundblad is a senior researcher with ESPN Stats & Information. He provides statistical analysis for ESPNBoston.com and will post here frequently during the season. Follow him on Twitter here.

Steven Krasner
Steven Krasner, a Rhode Island native, has been a Red Sox contributor for ESPNBoston.com since June, 2010. He also covered the Red Sox for 22 years at the Providence Journal. He conducts interactive classroom and Skype writing workshops and has authored several children's baseball books.

Mike Andrews
Mike Andrews is designer and developer of SoxProspects.com and a special contributor to ESPNBoston.com. He writes a weekly column on Red Sox prospects.
2013 AMERICAN LEAGUE EAST STANDINGS
UPCOMING GAMES
| | W-L | HM | AW | STK | L10 |
| --- | --- | --- | --- | --- | --- |
| CLE | 26-19 | 15-10 | 11-9 | L2 | |
| BOS | 28-19 | 13-10 | 15-9 | W1 | |
| | W-L | HM | AW | STK | L10 |
| --- | --- | --- | --- | --- | --- |
| CLE | 26-19 | 15-10 | 11-9 | L2 | |
| BOS | 28-19 | 13-10 | 15-9 | W1 | |
| | W-L | HM | AW | STK | L10 |
| --- | --- | --- | --- | --- | --- |
| CLE | 26-19 | 15-10 | 11-9 | L2 | |
| BOS | 28-19 | 13-10 | 15-9 | W1 | |
BLOG ARCHIVE:
CATEGORIES:
MAY 2013
JUNE 2013
JULY 2013
Sun
Mon
Tue
Wed
Thu
Fri
Sat

1

@NYY
7:15 PM ET

2

@NYY
8:00 PM ET

3

4

TEX
7:10 PM ET

5

TEX
7:10 PM ET

6

TEX
7:10 PM ET

7

LAA
7:10 PM ET

8

LAA
7:15 PM ET

9

LAA
1:35 PM ET

10

@TB
7:10 PM ET

11

@TB
7:10 PM ET

12

@TB
7:10 PM ET

13

@BAL
7:05 PM ET

14

@BAL
7:05 PM ET

15

@BAL
4:05 PM ET

16

@BAL
1:35 PM ET

17

18

TB
1:05 PM ET

19

TB
7:10 PM ET

20

@DET
7:08 PM ET

21

@DET
7:08 PM ET

22

@DET
7:15 PM ET

23

@DET
1:08 PM ET

24

25

COL
7:10 PM ET

26

COL
4:05 PM ET

27

TOR
7:10 PM ET

28

TOR
7:10 PM ET

29

TOR
4:05 PM ET

30

TOR
1:35 PM ET

Sun
Mon
Tue
Wed
Thu
Fri
Sat

1

2

SD
7:10 PM ET

3

SD
7:10 PM ET

4

SD
1:35 PM ET

5

@LAA
10:05 PM ET

6

@LAA
10:05 PM ET

7

@LAA
3:00 PM ET

8

@SEA
10:10 PM ET

9

@SEA
10:10 PM ET

10

@SEA
10:10 PM ET

11

@SEA
3:40 PM ET

12

@OAK
10:05 PM ET

13

@OAK
10:05 PM ET

14

@OAK
4:05 PM ET

15

16

17

18

19

NYY
7:10 PM ET

20

NYY
4:05 PM ET

21

NYY
8:00 PM ET

22

TB
7:10 PM ET

23

TB
7:10 PM ET

24

TB
7:10 PM ET

25

TB
7:10 PM ET

26

@BAL
7:05 PM ET

27

@BAL
7:05 PM ET

28

@BAL
1:35 PM ET

29

30

SEA
7:10 PM ET

31

SEA
7:10 PM ET