Valentine salutes Jackie Robinson
April, 15, 2012
4/15/12
1:19
PM ET
By
Tony Lee
| ESPNBoston.com
BOSTON -- Jackie Robinson Day means so much to the baseball world. Among those with a special connection to the man we celebrate Sunday is Red Sox manager Bobby Valentine.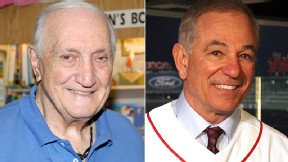 Getty ImagesRalph Branca, Bobby Valentine's father-in-law, was a teammate of Jackie Robinson on the 1947 Brooklyn Dodgers.
Valentine not only has Dodgers roots, having been drafted by the organization in 1968, but his father-in-law is Ralph Branca, the last surviving member of the 1947 Brooklyn Dodgers. Of course, that is the team which welcomed Robinson into the fold for his debut 65 years ago Sunday, breaking baseball's color barrier.
Branca was one of those who opened his arms for Robinson, and his stories still resonate today.
"Ralph has talked about those experiences as much as anything he's talked about in his life because it was obviously traumatic," Valentine said. "It was a time of great pride. Ralph takes great pride in being a part of what was going on then and understanding the difference between right and wrong.
"Most of [the stories] were ugly. Most of the things that Ralph related are things that I am anything but proud to have heard. But [Robinson] endured. It's really amazing. I know there's books and there's movies and there's legend, but I think what Jackie did was beyond all that."
Valentine has become close with Robinson's family over the years. He opened a Little League in Jackie Robinson's name in his hometown and teamed with the family in installing a commemorative statue of the Hall of Famer.
Additionally, Valentine was managing the New York Mets when baseball retired Robinson's No. 42 in 1997.
"When Bill Clinton, President Clinton, came to Shea Stadium to retire 42 for all of baseball, it was one of the great days in baseball," Valentine said.
Every player will wear No. 42 on Sunday, continuing a tradition that began in 2007. Each of them, regardless of race, has a reason to wear it with pride.
"Obviously Jackie Robinson did what was needed for the game of baseball, he did what was needed for America," Valentine said. "He was exactly the right guy to do the exact right thing. Branch Rickey chose him and he took a big step forward for mankind."