Shoppach deal signals end for Tek
December, 13, 2011
12/13/11
11:05
AM ET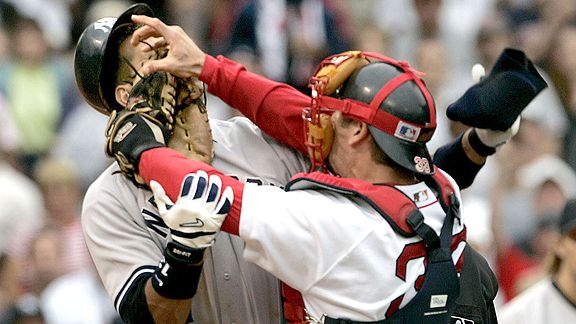 Jim Rogash/WireImageThis iconic image of Jason Varitek shoving A-Rod's face in a 2004 game will live on long after Tek leaves town.
The
Boston Red Sox
have reached agreement on a one-year major league contract with free-agent catcher
Kelly Shoppach
, a baseball source told ESPN.com's Jerry Crasnick, almost certainly ending team captain Jason Varitek's 15-year career in Boston.
A source said the 31-year-old Shoppach will make a base salary of $1.35 million, plus performance bonuses. The deal is expected to be announced sometime Tuesday.
For the soon-to-be-40-year-old Varitek, the Shoppach deal should make official what Ben Cherington hinted at the winter meetings last week: that the catcher's tenure in Boston was over. His 15 years, 1,488 games and 190 homers at the position are the most in team history.
Read more HERE
ABOUT THIS BLOG

Gordon Edes
Gordon Edes, who joined ESPNBoston.com in Nov. 2009, has covered MLB for more than 25 years. He spent 12 years covering the Sox for the Globe. Ask a question for his next mailbag. Follow him on Twitter here.

Joe McDonald
Joe McDonald, a native Rhode Islander, joined ESPNBoston.com as a Bruins and Red Sox reporter in February 2010. He worked at the Providence Journal for 18 years and covered the Red Sox, Bruins, Patriots, PawSox and Providence Bruins. He's a three-time winner of the National Sportscasters and Sportswriters Association's state Sportswriter of the Year for Rhode Island. Follow him on Twitter here.
2016 AMERICAN LEAGUE EAST STANDINGS
UPCOMING GAMES
| | W-L | HM | AW | STK | L10 |
| --- | --- | --- | --- | --- | --- |
| BOS | 42-36 | 23-18 | 19-18 | L1 | |
| TAM | 33-44 | 17-21 | 16-23 | W1 | |
| | W-L | HM | AW | STK | L10 |
| --- | --- | --- | --- | --- | --- |
| LAA | 32-46 | 16-25 | 16-21 | L2 | |
| BOS | 42-36 | 23-18 | 19-18 | L1 | |
| | W-L | HM | AW | STK | L10 |
| --- | --- | --- | --- | --- | --- |
| LAA | 32-46 | 16-25 | 16-21 | L2 | |
| BOS | 42-36 | 23-18 | 19-18 | L1 | |
BLOG ARCHIVE:
CATEGORIES:
JUNE 2016
JULY 2016
AUGUST 2016
Sun
Mon
Tue
Wed
Thu
Fri
Sat

1

LAA
7:10 PM ET

2

LAA
7:15 PM ET

3

LAA
1:35 PM ET

4

TEX
1:35 PM ET

5

TEX
7:10 PM ET

6

TEX
7:00 PM ET

7

8

TB
7:10 PM ET

9

TB
4:05 PM ET

10

TB
1:35 PM ET

11

12

13

14

15

@NYY
7:05 PM ET

16

@NYY
4:05 PM ET

17

@NYY
8:00 PM ET

18

19

SF
7:10 PM ET

20

SF
7:00 PM ET

21

MIN
7:10 PM ET

22

MIN
7:10 PM ET

23

MIN
7:10 PM ET

24

MIN
1:35 PM ET

25

DET
7:10 PM ET

26

DET
7:10 PM ET

27

DET
1:35 PM ET

28

@LAA
10:05 PM ET

29

@LAA
10:05 PM ET

30

@LAA
9:05 PM ET

31

@LAA
3:35 PM ET

Sun
Mon
Tue
Wed
Thu
Fri
Sat

1

@SEA
10:10 PM ET

2

@SEA
10:10 PM ET

3

@SEA
10:10 PM ET

4

@SEA
10:10 PM ET

5

@LAD
10:10 PM ET

6

@LAD
4:05 PM ET

7

@LAD
7:10 PM ET

8

9

NYY
7:10 PM ET

10

NYY
7:10 PM ET

11

NYY
7:10 PM ET

12

ARI
7:10 PM ET

13

ARI
7:10 PM ET

14

ARI
1:35 PM ET

15

@CLE
1:10 PM ET

16

@BAL
7:05 PM ET

17

@BAL
7:05 PM ET

18

@DET
1:10 PM ET

19

@DET
7:00 PM ET

20

@DET
7:10 PM ET

21

@DET
1:10 PM ET

22

@TB
7:10 PM ET

23

@TB
7:10 PM ET

24

@TB
7:10 PM ET

25

@TB
1:10 PM ET

26

KC
7:10 PM ET

27

KC
7:10 PM ET

28

KC
1:35 PM ET

29

TB
7:10 PM ET

30

TB
7:10 PM ET

31

TB
1:35 PM ET