Crawford has successful rehab start in Pawtucket
July, 15, 2011
7/15/11
10:00
PM ET
By
Steven Krasner
| ESPNBoston.com
PAWTUCKET -- Carl Crawford's first rehab game went off without a hitch, keeping the left fielder on track to return to Boston's starting lineup on Monday in Baltimore.
Crawford, expected to play the first six innings of Pawtucket's Friday night game against Durham at McCoy Stadium, called it a night after five innings, having had enough work.
[+] Enlarge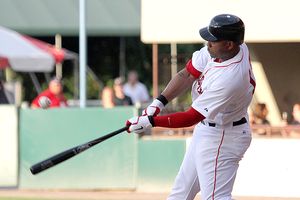 Louriann Mardo-ZayatCarl Crawford went 1 for 2 with a walk, knocked in one run and scored another in his first rehab start with the PawSox since injuring his hamstring.
By that point in the slow-moving game, Crawford, who has been on the disabled list since June 18 because of a left hamstring pull, already had gotten a solid workout for his legs as well as three at-bats. He went 1 for 2 with a walk, knocking in one run and scoring another.
The best part for Crawford and the Sox organization was that he didn't feel any twinges in his left hamstring, which means he will play a second and final rehab game (he hopes) Saturday night for the PawSox at McCoy Stadium.
Crawford pronounced himself satisfied with his return to activity.
"The most important thing was I was able to move quickly without worrying," said Crawford, who suffered his first big-league hamstring injury beating out an infield single in the first inning of the June 17 game at home against the
Milwaukee Brewers
.
"There were a few times I was able to test it [on the base paths] and I had a chance to test it in the outfield, and it felt good," said Crawford, who is in the first year of a seven-year, $142-million contract he signed with the Sox as a free agent last winter.
Crawford's legs endured heavy work on the base paths because he reached base in each of his three plate appearances.
In the first inning, facing lefthander Alex Torres, Crawford, a left-handed hitter, dunked a broken-bat RBI single into center on a 2-and-1 pitch. He made it to second base on a groundout, but was stranded there.
In the third inning, facing former
Tampa Bay Rays
teammate
Lance Cormier
, a right-hander, Crawford worked a seven-pitch walk. He took off on a stolen-base attempt on an 0-and-1 pitch to Ryan Lavarnway, but was able to ease his way around the bag on Lavarnway's ground single through the shortstop hole. He made it to third on Lars Anderson's single through the shortstop hole, but was left at third.
And in the fifth, he reached when his grounder off the fists to the shortstop hole was turned into a fielder's-choice out at second base. He didn't have to put any stress on his leg running the bases, though, because Lavarnway launched a titanic two-run homer to left, giving the PawSox a 3-1 lead and ending Crawford's night.
"It's all about the timing [at the plate]," said Crawford. "It was a little challenging facing the lefty, but I was able to make a few adjustments."
Defensively, Crawford was required to make only one catch. He ranged a few quick steps to his right and hauled in a liner hit by the Bulls'
J.J. Furmaniak
.
Overall Crawford looked smooth and pain-free running the bases, and, while his timing naturally was off a little at the plate, he still was able to get the bat on the ball and did not seem to be jumping at it, another good sign. Five innings was enough, he said.
"We're trying to get my legs back under me. As long as I was able to do a few things I do in the big leagues, that's all I needed to do," said Crawford, who is batting .243 in 67 games for Boston, including a .316 mark in the 21 games prior to his injury.
So Saturday night, Crawford's plan is simple. He wants to be able to have another satisfying game and then rejoin his Boston teammates.
"I want to try to get back in the lineup and try to contribute as much as I can, get back in the flow of playing baseball games," said Crawford.
Friday night provided him with his first step back to the big leagues.