Edes talks Sox on ESPN Boston Radio
May, 6, 2011
5/06/11
4:02
PM ET
ESPN Boston Radio with Adam Jones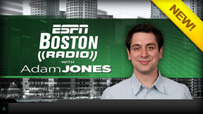 Listen to our ESPN Boston Radio show weekdays from noon-2 p.m.
Listen live

Podcasts

More »
ESPNBoston.com Red Sox beat writer Gordon Edes was on ESPN Boston Radio with Adam Jones on Friday afternoon to talk about John Lackey's struggles, Carl Crawford's place in the lineup and much more.
* On Lackey's poor performance Thursday:
"I think what we're seeing is that he no longer has any margin of error when he's missing spots. Particularly where his fastball doesn't have the giddeyup it had in past years. You have to separate yesterday's game from the previous three. He actually pitched pretty well in his last three starts. … but when his velocity is down and he's not locating and he's leaving the ball over the plate, it ends up being 'Whac-A-Mole', which is what it was yesterday."
Click HERE to listen to the interview.
ABOUT THIS BLOG

Gordon Edes
Gordon Edes, who joined ESPNBoston.com in Nov. 2009, has covered MLB for more than 25 years. He spent 12 years covering the Sox for the Globe. Ask a question for his next mailbag. Follow him on Twitter here.

Joe McDonald
Joe McDonald, a native Rhode Islander, joined ESPNBoston.com as a Bruins and Red Sox reporter in February 2010. He worked at the Providence Journal for 18 years and covered the Red Sox, Bruins, Patriots, PawSox and Providence Bruins. He's a three-time winner of the National Sportscasters and Sportswriters Association's state Sportswriter of the Year for Rhode Island. Follow him on Twitter here.
2016 AMERICAN LEAGUE EAST STANDINGS
UPCOMING GAMES
| | W-L | HM | AW | STK | L10 |
| --- | --- | --- | --- | --- | --- |
| BOS | 15-11 | 8-7 | 7-4 | L1 | |
| CHW | 19-8 | 7-3 | 12-5 | W3 | |
| | W-L | HM | AW | STK | L10 |
| --- | --- | --- | --- | --- | --- |
| BOS | 15-11 | 8-7 | 7-4 | L1 | |
| CHW | 19-8 | 7-3 | 12-5 | W3 | |
| | W-L | HM | AW | STK | L10 |
| --- | --- | --- | --- | --- | --- |
| BOS | 15-11 | 8-7 | 7-4 | L1 | |
| CHW | 19-8 | 7-3 | 12-5 | W3 | |
BLOG ARCHIVE:
CATEGORIES:
MAY 2016
JUNE 2016
JULY 2016
Sun
Mon
Tue
Wed
Thu
Fri
Sat

1

NYY
W 8 - 7

2

3

@CHW
L 1 - 4

4

@CHW
8:00 PM ET

5

@CHW
8:10 PM ET

6

@NYY
7:05 PM ET

7

@NYY
1:05 PM ET

8

@NYY
8:00 PM ET

9

OAK
7:10 PM ET

10

OAK
7:10 PM ET

11

OAK
7:10 PM ET

12

HOU
7:10 PM ET

13

HOU
7:10 PM ET

14

HOU
1:05 PM ET

15

HOU
1:35 PM ET

16

@KC
7:00 PM ET

17

@KC
8:15 PM ET

18

@KC
2:15 PM ET

19

20

CLE
7:10 PM ET

21

CLE
4:05 PM ET

22

CLE
1:35 PM ET

23

24

COL
7:10 PM ET

25

COL
7:10 PM ET

26

COL
7:10 PM ET

27

@TOR
7:07 PM ET

28

@TOR
1:07 PM ET

29

@TOR
1:07 PM ET

30

@BAL
1:35 PM ET

31

@BAL
7:05 PM ET

Sun
Mon
Tue
Wed
Thu
Fri
Sat

1

@BAL
7:05 PM ET

2

@BAL
7:05 PM ET

3

TOR
7:10 PM ET

4

TOR
4:05 PM ET

5

TOR
1:35 PM ET

6

7

@SF
10:15 PM ET

8

@SF
10:15 PM ET

9

10

@MIN
8:10 PM ET

11

@MIN
2:10 PM ET

12

@MIN
2:10 PM ET

13

14

BAL
7:10 PM ET

15

BAL
7:10 PM ET

16

BAL
7:10 PM ET

17

SEA
7:10 PM ET

18

SEA
4:05 PM ET

19

SEA
1:35 PM ET

20

CHW
7:10 PM ET

21

CHW
7:10 PM ET

22

CHW
7:10 PM ET

23

CHW
1:35 PM ET

24

@TEX
8:05 PM ET

25

@TEX
9:20 PM ET

26

@TEX
3:05 PM ET

27

@TB
7:10 PM ET

28

@TB
7:10 PM ET

29

@TB
12:10 PM ET

30

Sun
Mon
Tue
Wed
Thu
Fri
Sat

1

LAA
7:10 PM ET

2

LAA
7:15 PM ET

3

LAA
1:35 PM ET

4

TEX
1:35 PM ET

5

TEX
7:10 PM ET

6

TEX
7:10 PM ET

7

8

TB
7:10 PM ET

9

TB
4:05 PM ET

10

TB
1:35 PM ET

11

12

13

14

15

@NYY
7:05 PM ET

16

@NYY
4:05 PM ET

17

@NYY
8:00 PM ET

18

19

SF
7:10 PM ET

20

SF
7:10 PM ET

21

MIN
7:10 PM ET

22

MIN
7:10 PM ET

23

MIN
7:10 PM ET

24

MIN
1:35 PM ET

25

DET
7:10 PM ET

26

DET
7:10 PM ET

27

DET
1:35 PM ET

28

@LAA
10:05 PM ET

29

@LAA
10:05 PM ET

30

@LAA
9:05 PM ET

31

@LAA
3:35 PM ET