September, 29, 2014
Sep 29
4:00
PM ET
PITTSBURGH -- It doesn't surprise me how much criticism is directed at a high-profile offensive coordinator, whether it is from the rich and famous (and profane) like Snoop Dogg or the average, fed-up
Pittsburgh Steelers
fan who thinks Todd Haley doesn't have the acumen to call plays in a Pop Warner game much less the NFL.
Still, I was a little taken aback at the vitriol spewed at Haley via social media after the Steelers' 27-24 loss to the
Tampa Bay Buccaneers
.
[+] Enlarge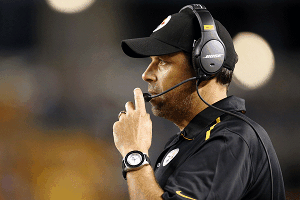 Charles LeClaire/USA TODAY SportsBehind offensive coordinator Todd Haley, the Steelers are averaging 412 yards per game in 2014.
The fans should be mad as heck after the Steelers lost to another opponent that had no business beating them. And I get that such frustration is often directed at the offensive coordinator. What is, after all, easier to second guess than a play call that doesn't work?
A significant portion of fans always seemed to want to fire Haley's predecessor when things didn't go well for the Steelers until the organization actually did part ways with Bruce Arians.
Since the Steelers "retired" Arians in 2012 he has parlayed an offensive coordinator job in Indianapolis into a head coaching gig in Arizona.
Arians led the Cardinals to 10 wins in 2013 in the NFL's most rugged division -- the NFC West -- and he has the Cardinals off to a 3-0 start this season.
As high of a standing as Arians enjoys in the desert he may be even more popular in Pittsburgh. That is how disenchanted Steelers fans seem to be with Haley.
I get that and have questions of my own after the galling loss to the Buccaneers. Some of the play calling left me scratching my head.
Even the first one.
After quarterback
Ben Roethlisberger
tossed a short lateral to fullback
Will Johnson
that netted zero yards I found myself asking, "They had all week to put together a game plan and they came up with that?"
The Steelers also seemed to go sideways too often against a defense that had the speed at linebacker to snuff out such plays.
But when I look at the offense's body of work against the Buccaneers I have to conclude that criticism of Haley after
this
loss is simply misguided.
The Steelers piled up 390 yards of total offense and put together touchdown drives of 60, 93 and 80 yards.
They would have scored a fourth touchdown -- and likely put away the Buccaneers -- had a perfectly thrown pass by Roethlisberger not clanged off
Antonio Brown
's hands early in the fourth quarter.
Brown flashed open after the Steelers ran a flea flicker and he would have scored a 68-yard touchdown had he caught the ball, something the two-time Pro Bowler probably does 99 out of 100 times.
Add those 68 lost yards to the Steelers' total and that puts them at 458 yards of total offense.
Indianapolis and Atlanta lead the NFL in total offense. They average 444 yards per game.
And people are calling for Haley's job after the Steelers should have exceeded that average and scored four touchdowns?
The Steelers are fifth in the NFL in total offense (412 yards per game) and this is the guy fans want to scapegoat after a disappointing 2-2 start?
Haley is an easy target because of his job and how it lends itself to second-guessing from the comfort of a bleacher seat or a couch.
But blaming him after the loss to the Buccaneers looks more like a function of habit for angry Steelers fans -- and something that is rooted in emotion more than it is in reality.