July, 29, 2015
Jul 29
2:53
PM ET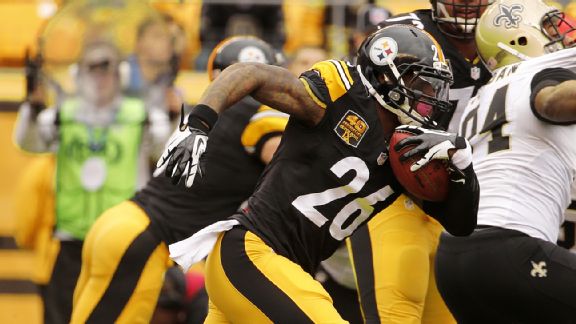 AP Photo/Gene J. PuskarThe Steelers are thrilled with the news Le'Veon Bell's suspension was reduced by a third.

Fantasy owners aren't the only ones rejoicing that Le'Veon Bell's suspension dropped from three games to two after a successful appeal of his marijuana case.
Teammates have a fun new toy for at least one extra game. Bell has looked noticeably explosive so far in camp, which makes a two-game suspension less of a tease than three.
"He's a guy who's worked his butt off and I think everybody sees the difference in him," Steelers guard Ramon Foster said. "He fought (the case) and won and it's beautiful."
Bell originally got three games because of his charge in August for driving while under the influence of marijuana, signaling a two-game suspension for the DUI and one game for marijuana use. Bell had a case that he shouldn't be penalized twice for one crime. He can participate in all preseason work but will sit two game weeks without pay.
Teammates say they weren't worried about playing without Bell, following the 'next man up' mantra. But as left tackle Kelvin Beachum says, "[Bell] is happy it's just over with and he can concentrate on football." Beachum added Bell's versatility (83 receptions to go with 1,361 rushing yards) is hard to replace. "He can line up in the backfield or you can line him up wide."
Quarterback Ben Roethlisberger said after Monday's practice that there are zero positives about playing without Bell, despite the team's confidence in free agent signing DeAngelo Williams.
tight end Heath Miller added: "We will take him when we can get him."
AFC NORTH SCOREBOARD
Thursday, 9/10
Sunday, 9/13