October, 19, 2014
Oct 19
8:26
PM ET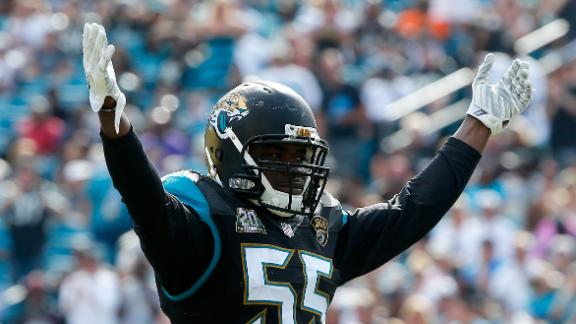 JACKSONVILLE, Fla. --
The Browns are for real.
Address Brian Hoyer's contract situation.
AFC North sleeper.
Maybe Cleveland didn't like those nifty storylines from earlier this week. The Browns opted instead to turn up the misery index once again with
a 24-6 loss
to the
Jacksonville Jaguars
at EverBank Field, sabotaging a perfectly good chance to go 4-2.
As if the Browns following their well-worn path of killing weeks of momentum with shoddy play on the road was not enough, the sheer comedic performance of one particular play Sunday in Jacksonville should suffice.
On fourth-and-5, Brian Hoyer ran an option play from midfield, pitching it to
Ben Tate
for a two-yard loss. That's not the Browns' game. Hoyer is not a runner. But the offense wasn't even supposed to snap the ball. It lined up to catch Jacksonville in a substitution timeout or offsides but center
John Greco
snapped it into Hoyer's hands.
"Everybody was shocked, but I was like, 'Oh my God, what am I supposed to do?'" said Tate in the locker room.
Questions plagued a Browns lineup that too easily unraveled. Its vaunted rush averaged 2.3 yards per carry. Its defense created three turnovers but saw an additional three points on the scoreboard as a result. The offense turned a prime first-half opportunity -- second-and-2 from Jacksonville's 33-yard line with 2:36 left and a 6-0 lead -- into seven points for the Jaguars.
The defense was serviceable, creating turnovers and holding Jacksonville to 10 points for most of the game. But it also allowed running back
Denard Robinson
to rush for 127 yards. That's four more than the team's previous leading rusher,
Toby Gerhart
, has all year.
All last week, coaches told players how good Jacksonville was despite its 0-6 start. All this week, the Browns will realize how good they made Jacksonville look.
"We knew they were good. They put it to us today," tight end
Jordan Cameron
said. "It's unacceptable."
Cameron had the inside track on the Browns' best chance for a touchdown, beating his man to the back of the end zone on a third-and-4 play in the second quarter, but Hoyer (16-of-41 passing, 215 yards) overthrew him.
Cleveland's entire day was one big overthrow to nobody in particular. Jacksonville was never an automatic springboard -- Pettine agreed the Jaguars had the best defensive front his team has faced -- but going 4-of-17 on third down wasn't the way to show them respect.
No third down was more costly than Hoyer's sack-fumble on the Browns' opening drive of the first half.
"It is frustrating to see us go out and take a step back like we did," Pettine said.
Perhaps this could have been the Browns' day had it avoided an ugly sequence late in the second half by either taking a field goal or running the ball on fourth-and-1.
Originally, the Browns needed two yards for a first down and had three plays to get it. But rookie running back
Terrance West
, who was inactive the previous week, got one yard off consecutive carries, one in which he danced around in the backfield unnecessarily.
On fourth-and-1 with a 6-0 lead, Hoyer rolled to his right and targeted Cameron, who ran an out toward the sideline but was covered all the way. The play was over before it started.
Pettine went for it because "to come away with just another field goal" would have been disappointing, he says. He didn't want to stall another drive. Plus he believed his defense could stop the Jaguars, who needed less than a minute to march 76 yards downfield for a momentum-stealing score.
"As it turns out it couldn't have gone worse for us," Pettine said.
As for the botched fourth-and-5 play, Browns players didn't throw each other under the bus, which is a good sign, but Hoyer clearly wasn't expecting the ball.
"We were trying to maybe catch them off guard," Greco said. "Just bad timing, a miscommunication. We were thinking one thing and Brian was telling us to do something else."
Despite a few missed tackles, the defense probably played well enough to win. But without its normal rushing prowess, the Browns were in third-and-long 10 times Sunday. Incredibly hard to win that way.
"Three turnovers [from the defense], you expect to win that football game," said
Andrew Hawkins
, who finished with 112 receiving yards. "It's unfortunate.
AFC NORTH SCOREBOARD
Sunday, 10/19
Monday, 10/20