January, 30, 2015
Jan 30
3:53
PM ET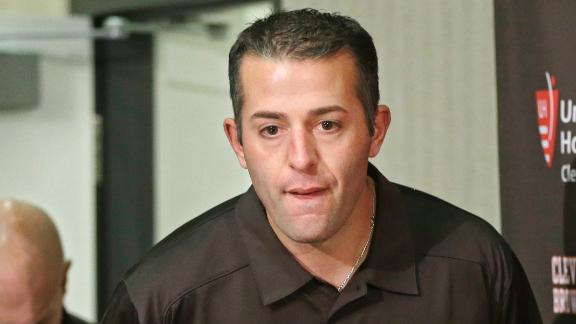 CLEVELAND -- I was in Mobile, Alabama, for the Senior Bowl when the
Cleveland Browns
hired John DeFilippo and held a news conference introducing him, so perhaps it's not too late to share a few thoughts on the hire and where the Browns' offense might go:
No retreads: In a game with coaching staffs more repackaged than Tupperware, I can respect the Browns taking a chance on an up-and-comer. DeFilippo is 36, open-minded to new ideas and did good work with Oakland's Derek Carr last season (3,200-plus yards, 21 TDs, 12 INTs as a rookie). DeFilippo will be less set in his ways than a coordinator that's been fired elsewhere.

That said, this better work: Make no mistake, this is classic risk-reward for the Browns and coach Mike Pettine, who seemed to lean heavily on past relationships in the interview process. The Browns had a good shot at Marc Trestman if they wanted him. They basically picked DeFilippo over Trestman. That's fine -- if it works.

Won't matter who's the OC without better QB/WR play: With the staff almost finalized, the Browns should focus on a five-point offseason plan -- 1) Hope Johnny Manziel develops in the next seven months, 2) explore potential quarterback trades for Sam Bradford or Nick Foles, 3) Look at Brian Hoyer, Mark Sanchez and Jake Locker in free agency. 4) Make at least one big-money push for a top receiver in a loaded class (Demaryius Thomas, Randall Cobb, Torrey Smith, etc.), 5) Get a playmaker with one of your first two picks.

Mixed messages on Manziel's role: The Browns will find a quarterback or die trying. That was basically the message last week, from DeFilippo to Jimmy Haslam. Searching for a quarterback suggests you don't have one. But the hiring of DeFilippo, coupled with the interview of former Manziel consultant Kevin O'Connell as quarterback coach, says maximizing Manziel's potential is a top priority for the Browns. Regardless of whether Cleveland signs a quarterback through free agency or the draft, Manziel will be in training camp to compete.

Expect more zone blocking: The Kyle Shanahan era ended poorly, but he leaves the Browns with something -- encouragement that the zone scheme will best suit a talented offensive line. The offense was humming with nearly 150 rushing yards in five games with a healthy Alex Mack. Isaiah Crowell and Terrance West should grow in their zone-running roles, though the Browns could add another back for insurance.