July, 29, 2016
Jul 29
7:00
AM ET
BEREA, Ohio -- Isaiah Crowell has continued his efforts to make clear that his brief and controversial social media post does not reflect who he truly is.
On Thursday, his coach supported the Cleveland Browns running back.
"We don't feel like that's Crow's character," Hue Jackson said. "I truly believe that he will continue to work at making this right."
Crowell continues to try to make amends for his post, which he put online for less than one minute in the aftermath of police killings of two young black men, but before five police officers in Dallas were killed July 9.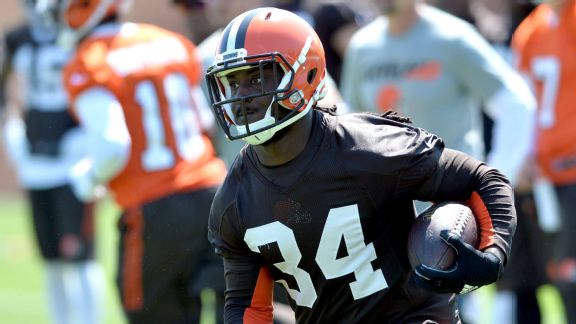 Ken Blaze/USA TODAY SportsAs the Browns gather for camp, running back Isaiah Crowell continues to work to mend fences after the summer's social media storm.
Speaking directly, Crowell reiterated his apology.
"That's not who I am," the 23-year-old said. "I'm just trying to get everybody to see that that's not who I am. I made a mistake by posting the picture and I'm sorry for it."
Crowell has promised his first game check to the Dallas Fallen Officer Foundation. He apologized on his Facebook page. He attended the funeral of one of the police officers killed in Dallas.
He said he has talked about the possibility of a ride-along in a Cleveland police car, though nothing has yet been set up.
Loomis and Demetrick Pennie, head of the Dallas Fallen Officer Foundation, both said they accepted Crowell's apology. Crowell and Pennie talked at length the night before and day of the funeral Crowell attended.
Browns vice president Sashi Brown said Crowell called him and Jackson on his own to say he was wrong and that he took the post down quickly. His goal going forward is to try to generate "an open dialogue between the community and the police," a significant step for a player who normally is reserved in public situations.
"I want to be a part of the solution and not the problem," Crowell said. "Posting that picture, I was part of the problem, and I don't want to be that."
Crowell said he has received significant backlash. Jackson said he understood that some might never forgive Crowell.
"And rightfully so," Jackson said.
Brown said the Browns organization felt "great disappointment" about the post, and said the team would not "skip past that." But he added that Crowell has at least initially taken proper steps.
Crowell said he understands any and all negative feelings.
"I understand it because I made the mistake by posting the picture," he said. "It's my fault, so I man up and say, 'I apologize to everyone and I'm sorry to all my fans and the whole Browns organization.' I'll do my best at trying to show people that's not who I am."