September, 1, 2015
Sep 1
5:05
PM ET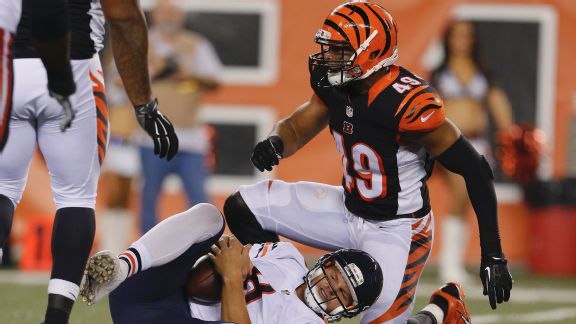 Gary Landers/APA Bengals pass rush in need of a boost has gotten one from free-agent pickup Chris Carter this preseason.

CINCINNATI -- The Cincinnati Bengals' Chris Carter looks nothing like the prototypical NFL edge-rusher.
At 6-foot-1 and roughly 240 pounds, he's shorter and leaner than the bulkier defensive ends who typically call the position home. But through three games this preseason, the outside linebacker has looked a lot like an end, playing a hybrid role that has him regularly putting his hand in the ground. While doing that, he has made a habit of stunning offensive tackles and tight ends with his mix of speed and power.
He has given the Bengals a new dynamic in a pass rush that was in need of some positive change. Last season, the Bengals had a league-low 20 sacks.
"With me having the disadvantage of size, I've got to be the fire-starter," Carter said. "That's just my mentality when I go into a pass rush. I'm just trying to come off fast and if you try and hit me, I'm going to try and hit you first."
That mentality has led to Carter's team-leading 2.5 preseason sacks, and a measure of comfort he hasn't had since he starred in Fresno State's pass rush in 2010.
When the Bengals visit Indianapolis for Thursday night's preseason finale, keep an eye on the backup linebacker who likely will be on the field for nearly the entire contest.
Back in the spring during organized team activities, the Bengals began experimenting with using Carter as a hand-in-the-ground rusher while end Margus Hunt, among others, healed from injuries.
"He started to have success right there and showing flashes right there," linebackers coach Matt Burke said. "So then we're like, well hey, maybe we can keep working with him like that in that capacity. And he was comfortable doing that. That just built his confidence up when we said we're going to keep you working here and trying to get you some looks."
The Bengals were doing something no other team had done for Carter in his four seasons in the league. They were trying to create a role specifically for him -- no one else.
It's actually the same role Cincinnati has tried to incorporate into its base 4-3 defense in recent years. But despite their best attempts, they haven't gotten the consistency from that position that they have wanted.
So why does Carter believe he could finally be what the Bengals have been looking for?
"Personally, it's because I've got supreme confidence in myself, regardless of who believes in me or doesn't believe in me," the reserve linebacker said. "But it also helps that the coaching staff is behind me and the team is behind me. Every day they motivate me verbally and coaching-wise, giving me different keys and different tips on how to get better, and I'm really taking heed to those."
Before arriving in the Queen City as a free agent last year, Carter had spent his entire NFL career playing as an outside linebacker in the 3-4 schemes at Indianapolis and Pittsburgh. He never felt the 3-4 suited him like the 4-3 system that allowed him to have 11 sacks in 13 games his senior year at Fresno State.
"This is the defense I'm used to," Carter said of the Bengals' base 4-3. "So I almost feel like I'm back at home again."
Head coach Marvin Lewis calls Carter a linebacker, but he can tell where the occasional snaps Carter has had with his hand in the ground has kept keep the player's mind at ease and his play fiery.
"He's trying to really earn an opportunity to stay and carve out his own niche," Lewis said. "He's done a good job."