January, 23, 2015
Jan 23
10:00
AM ET
CINCINNATI -- It's hard to pinpoint the exact reason, but in certain circles,
Cincinnati Bengals
president Mike Brown has earned the reputation of being an owner who abhors winning.
That couldn't be further from the truth.
Maybe it was all those years of abject mediocrity and abysmal play his team showcased for so long after he took command following the death of his father, NFL legend Paul Brown, in 1991. Or perhaps it was the Bengals' apparent penchant during most of the 1990s for missing out on draft picks and picking more duds than future stars.
Maybe it was a combination of both.
[+] Enlarge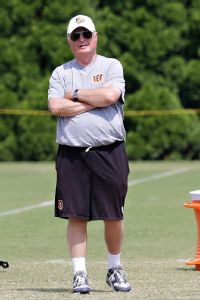 AP Photo/Al BehrmanBengals president Mike Brown is "pushing people to identify players that will make us a better football team in free agency," according to coach Marvin Lewis.
Whatever earned Mike Brown such a reputation, it's long past time for the myth to be put to rest. Coach Marvin Lewis' comments this week at the Senior Bowl in Mobile, Alabama, indicated as much. If you go by what Lewis said, Brown is as adamant as anyone around the Bengals about clearing this four-year, first-round playoff hurdle and getting them one step closer to their goal of getting back to the Super Bowl.
Lewis made it clear in a conversation with the Cincinnati Enquirer and Bengals.com that with respect to the Bengals' free-agency plans this year, don't expect the team to sit back and let the rest of the league wheel and deal around them. Look for them to be a little more aggressive. You can thank Brown for that.
"He doesn't want to hear, 'We will be better when we get these guys back,' " Lewis said in
the Enquirer
. "No, we need to get better. He knows we need to get better. He's pushing people to identify players that will make us a better football team in free agency."
Yes, pushing is the job of an owner or team president. And yes, the members of the Brown family who run the team have made similar charges to coaches and scouts in years past. In this instance, though, management is angered the team keeps hitting a wall.
Some reading this will question why the Bengals -- if they recognize the need for change -- didn't fire Lewis after a fourth straight early playoff exit?
Because for now, the organization values something else over making such rash moves: stability.
There is a belief around Paul Brown Stadium that the Bengals have a solid foundation for success right now. They believe that foundation is the reason they have won at least 10 games in each of the past three seasons. It's also the reason they aren't in favor of letting go of coaches or even
demoting slightly underperforming quarterbacks
. Between coaching, talent, development, and potential, the Bengals believe their window for making a third Super Bowl trip still is wide open, thanks to the base they have established the past four years.
Brown's insistence on more free-agency aggression seems a sign he's putting this latest wild-card loss on himself. If another early exit happens next season -- particularly after a second-straight season with a fully intact staff, and a year after making these philosophical changes to free agency -- then perhaps the foundation gets rocked as the blame can more easily be shifted to others -- like the head coach.
The pressure to build a 2015 contender is on.
"It's a different feel than where we have been," Lewis said. "It's not a status quo. There has not been a status quo conversation or, 'Oh, we'll be OK, we'll just get these guys back.' No, no, no, that's bull. We got to be better."