May, 29, 2015
May 29
8:15
AM ET
CINCINNATI -- How will the Cincinnati Bengals' rushing attack look this season?
That's one of the more intriguing offseason questions considering how well Jeremy Hill played as a rookie last year.
As 2014 wore on and the injuries mounted in the Bengals' pass-catching ranks, more and more responsibility was placed on Hill's shoulders. Giovani Bernard's health issues contributed to Hill's increased opportunities too. Hill responded well to the expanded role, pacing the NFL in yards gained on the ground the final nine weeks of the season.
In May, in the middle of his first true NFL offseason, Hill is optimistic he will perform even better this year. But with a fully healthy Bernard and a passing attack that's now significantly healthier, he may not be the workhorse back many in Who Dey Nation want him to be.
[+] Enlarge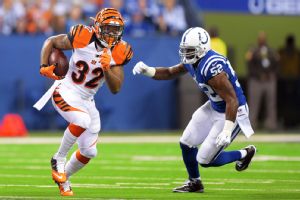 Kirby Lee/USA TODAY SportsThe Bengals leaned heavily on Jeremy Hill down the stretch last season, but that may not be the plan for 2015.
"Obviously there's going to be a balanced attack," Hill said, referencing what he thought offensive coordinator Hue Jackson's plans were for the running game. "I don't think he's got to wear either one of us out, so that way we can make it through all 16 games for a playoff push."
Jackson began last season placing a heavier emphasis on Bernard. Hill was still in his first couple of months on the job as an NFL player, and the coach wanted to bring him along slowly. As well as Hill might have played in training camp, Jackson knew he needed him in peak form by the middle of the season.
Before injuries sidelined Bernard for three games starting in Week 9, he got the bulk of the snaps, carries and passes out of the backfield. According to ESPN Stats & Information, he had 296 snaps through the first eight weeks compared to Hill's 135. Bernard also ran the ball 109 times compared to Hill's 50.
Bernard averaged 15.6 carries and 42.3 snaps per game before Week 9. Hill averaged 7.1 carries and 19.3 snaps. Starting in Week 9, that totally changed.
Hampered by a series of injuries, Bernard only appeared in six games during the last half of the regular season. Across the final nine weeks, Bernard's rushing and participation averages plummeted. He had only 9.8 carries and 30.8 snaps per game in the last half of the year. Hill, meanwhile, nearly tripled the number of times per game he carried the football, and doubled his average snap counts.
"As the year went on, [Jackson] learned our strengths and our weaknesses," Hill said.
Hill's strengths late last season involved breaking timely long runs for touchdowns. Bernard's included playing cleanly. While Hill had five fumbles last season, Bernard had none.
In the latter half of last season, three games best exemplified the balance Jackson may be seeking: Week 13 at Tampa Bay, Week 15 at Cleveland and Week 16 versus Denver.
During those games, Hill and Bernard combined for 5.06 yards per carry. In two of them, the Browns game and the Broncos game, Hill rushed for more than 140 yards. It was also in the 30-0 win over the Browns that Bernard had 79 yards on the ground.
When one running back struggled in those games, the other typically picked up the offense some other way. For example, in the 14-13 win at Tampa Bay, Hill barely hit the 40-yard rushing mark. He ultimately caught four passes to make up for it. In that same game, Bernard only had one catch but averaged 4.9 yards per carry.
"We want to lift ourselves to the next level and earn the respect of this league," Hill said. "We have the guys in the [running back] room to do that."
Almost three more months to see just how balanced that attack will be.
AFC NORTH SCOREBOARD
Thursday, 9/10
Sunday, 9/13