May, 6, 2015
May 6
8:30
AM ET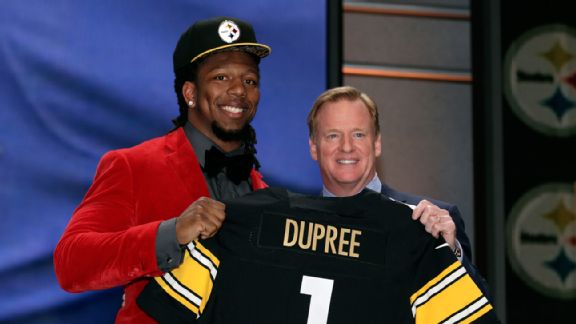 Jeff Haynes/AP Images for PaniniBud Dupree could have been a top-10 pick, but fell to the Steelers at No. 22.

The Pittsburgh Steelers and Baltimore Ravens have made a habit of drafting well, and this year is no different.
A poll of the AFC North writers in ESPN's NFL Nation said the Steelers had the best draft in the division, with the Ravens close behind.
Pittsburgh finished first, with two first-place votes and two seconds. The Ravens were close behind in second, with with two first-place votes but adding a fourth-place vote to go with a second.
The voting results, with one point for first place and four for fourth:
Pittsburgh (6 points)
Baltimore (8)
Cleveland Browns (12)
Cincinnati Bengals (14)
Here's the appropriate commentary:
Jeremy Fowler (Steelers): Every team in the division had a successful draft. No losers here. But as Jamison should know, Ozzie Newsome's the king. Receiver Breshad Perriman, tight end Maxx Williams and defensive tackle Carl Davis are perfect for what Baltimore wants to do, a collision of need satisfaction and best player available. Pittsburgh did much of the same. Bud Dupree could have gone as high as No. 8; the Steelers got him at 22. Rebuilding the secondary with shorter, playmaking cornerbacks is a calculated risk, to be sure, but it should pay off. The Bengals and Browns are a wash -- both were solid. Does Cincinnati really need two tackles in the first two rounds, Coley? I say yes. The team is placing the onus directly on Andy Dalton, getting him versatile Rutgers tight end Tyler Kroft, too. The Browns got several potential starters out of their 12 picks, led by impressive linemen Danny Shelton and Cam Erving, but Pat knows my beef here. Ignoring a loaded wideout pool and failing to take a playmaker of any kind in the first 75 picks could be a regrettable move.
Jamison Hensley (Ravens): How did the Ravens not get selected for the best draft this year? It feels like my AFC North colleagues are conspiring against Baltimore here. If nothing else, the Ravens should have been No. 1 based on trading up in the second round to steal the draft's best tight end away from the Steelers. The fact that the Ravens teamed up with Bruce Arians, who was forced out of Pittsburgh, to get Maxx Williams should give them extra bonus points. The Steelers didn't get a coveted cornerback in the first round and took Dupree, who could follow Jarvis Jones and Jason Worilds as underachieving pass-rushers. The Browns were still the Browns, failing to come out of the draft with a quarterback or a top-tier wide receiver. And the Bengals are still the Bengals, taking risks with players who have character issues (Paul Dawson and Josh Shaw). Coley, how could the Bengals ignore their needs at edge rusher and wide receiver?
Pat McManamon (Browns): Waah, waah, waah. Cry me a Chesapeake from the guy in Baltimore who would probably defend Art Modell in Cleveland. Go have some more crabby cakes, Mr. Hensley. Besides, I voted Baltimore second. Coley Harvey was the guy who had them last in the division. I gave Pittsburgh the top vote because they continue to approach the draft in ways other teams should emulate, combining need with talent and always seeming to come up with a solid, sound group. I was sitting next to Jeremy Fowler when receiver Sammie Coates' highlight reel came on TV during the draft. Without knowing who picked him, Fowler pointed out Coates would have been a good pick for the Browns. The tape showed a big, fluid guy who could catch the ball and make plays. "Who took him?" Fowler wondered, then a second later saw the team. "Pittsburgh," he said. "Figures." I love Ozzie Newsome and I credit Baltimore for the trade up for Williams, but do we give them too much credit for the no-brainer that was Perriman when he fell in their lap? Would the Ravens take Ken Dorsey if one of the Mannings was on the board? The Browns had a solid draft, but even as solid as it was, they still lag behind their three division rivals -- in draft and on-field results. As for Cincinnati, Coley, I see no issue with drafting two tackles when Andrew Whitworth is 33 and coming up on a contract decision. It's called planning. It's cold and heartless, but with this approach the Bengals have been to the playoffs four years in a row and five of the last six.
Coley Harvey (Bengals): Are we looking at this division's draft through the same lenses, guys? I'm not sure I'm ready to anoint the Ravens the winners of the AFC North draft derby. At least not yet. Here's the thing, like Jeremy said, there really were no losers in this draft. I'd certainly put the AFC North's draft class up against any of the others. Because I felt each team's draft classes were so close, I based any close calls upon who had the best first round. When you talked to scouts and personnel folks before the draft, many felt there were only about 15 players worthy of first-round grades. Players 15-50 were a mass of second-round options who could have been picked virtually anywhere in that range. So, using that logic, there were only 15 players who should be true immediate impact players. I have the same concern about Dupree long term, Jamison, but I really liked that pick for Pittsburgh, not to mention the Coates pick you and Jeremy liked, Pat. Similarly, Cleveland had a strong start taking Shelton and Erving in the first round. It was a sign the Browns are trying to beef up in the trenches. (What about at receiver, though?!) Perriman may fit the Ravens' needs better than some of the smaller receivers who were still on the board at 26, but he still seems a reach. People I talked to before the draft really liked his speed out of pads, but questioned his game quickness. As for the Bengals, yes, Pat, Whitworth needs to put on the big-boy pants he says he has. And he will. Sure, taking two offensive tackles in Rounds 1 and 2 seems crazy but this was all about gearing up for a future of trying to win the always physical AFC North. Jeremy's right, it's a good crazy. Speaking of, Pat, I'm not that loco, am I?
AFC NORTH SCOREBOARD
Thursday, 9/10
Sunday, 9/13