May, 25, 2016
May 25
8:45
AM ET
CINCINNATI -- Four road games, a night game and meetings with three 2015 AFC playoff teams. The Cincinnati Bengals face all of that within the first six weeks of the season, making it among the toughest stretches of the year.
And it has just gotten a whole lot tougher.
With news early Wednesday morning from Adam Schefter that tight end Tyler Eifert could miss the first couple of games this season after undergoing ankle surgery Wednesday, an already young, transitioning offense faces a stiffer challenge at the start of the year. The Bengals already had to replace two of their top pass-catchers from 2015. Now they must also figure out who will replace their most prolific pass-catching scorer early. Eifert had a team-high 13 touchdown receptions last season.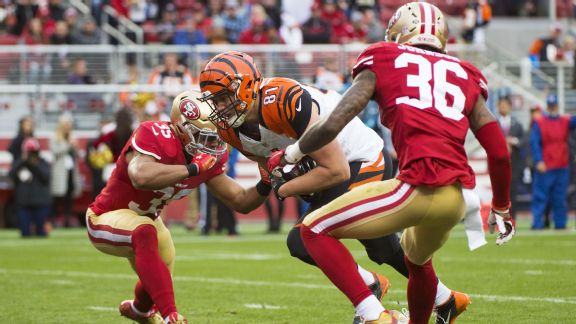 Kyle Terada/USA TODAY SportsTyler Kroft's production in the passing game ramped up toward the end of his rookie season.
While some of that burden will shift to Pro Bowler A.J. Green and running backs Jeremy Hill and Giovani Bernard, some of it will settle upon second-year standout Tyler Kroft too.
If Kroft didn't already know, his time in the limelight has arrived.
By the end of last season, Kroft had emerged as a legitimate backup to Eifert. Although he appeared in all 17 games (including the Bengals' playoff game against Pittsburgh), it wasn't until Week 12 that Kroft started popping up as an offensive playmaker on the stat sheet. His first career catch came that Sunday afternoon, when he hauled in a 4-yard pass as part of the Bengals' 31-7 win over the Rams.
Kroft worked his way up from one reception in the Week 13 win over the Browns to four in the Week 16 loss to the Broncos. In the Bengals' two final road games (at San Francisco in Week 15 and at Denver a week later), Kroft caught seven passes off nine targets. He also had 77 yards receiving and a touchdown in those two games.
Overall, Kroft had 11 catches for 129 yards and a touchdown last season.
Much of the late rise in Kroft's production was the result of more sideline time for Eifert. The veteran tight end dealt with a concussion and a stinger toward the end of the season.
Where did Kroft come from?
The first of two third-round Bengals picks in 2015, Kroft was a Rutgers standout who was forced into changing his playing style throughout college. Former Bengals receiver Mohamed Sanu, also a Rutgers product, vouched to coaches and scouts about Kroft's ability and his personality away from the field.
More of a pass-catching tight end as a sophomore (leading the team with 43 catches and 573 receiving yards), Kroft had to hone his blocking skills as a junior. That was when a new offensive coordinator with a run-heavy scheme took over. At the end of that season, Kroft entered the draft. Kroft received the 2014 Loyal Knight Award, an honor that goes to the Scarlet Knights player "who has displayed great character in sacrificing personal goals for the good of the team."
Kroft has adapted to change before, and he'll have to do it again this fall. Only this time, he shouldn't be sacrificing catches and yards.