January, 30, 2015
Jan 30
12:15
PM ET
CINCINNATI -- It's so easy to pin a team's failures squarely on the shoulders of the man who has the football in his hands more often than anyone else.
If he's the highest-paid player on his team, the finger-pointing seems even more fitting.
Combine that with a quarterback who has been as inconsistent as
Andy Dalton
is, and it becomes that much easier to target such a signal-caller for complaints about the Bengals' recently poor postseason play.
[+] Enlarge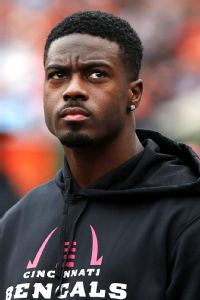 Aaron Doster/USA TODAY Sports"He's not a one-man team," A.J. Green said of teammate Andy Dalton. "... He can't beat the team by himself."
But the truth is, as two prominent members of the team pointed out this week, the Bengals' problems go much deeper than Dalton. This is a teamwide issue; one that won't be ameliorated until each player at Paul Brown Stadium looks in the mirror and comes to such a realization.
It appears some already have.
"We really know that we have to all get to the next level. We have to do better," coach Marvin Lewis said Thursday during an appearance on ESPN's "NFL Insiders." "That includes our quarterback, Andy Dalton. He's got to continue to raise the level around him, and he's got to raise his own level to bring everybody to his level all the time."
To get Dalton to step his game up, Lewis wants the quarterback's receivers, running backs, offensive linemen and defensive and special-teams teammates to do the same.
Apparently
A.J. Green
has been listening.
Like Lewis, Green spent the week in Arizona participating in Super Bowl week interviews. Green spoke with NFL Network's Michael Irvin about the Bengals' playoff troubles. Cincinnati has been to four-straight postseasons, but lost in the opening round in each. The franchise hasn't won a playoff game since January 1991, most recently losing at Indianapolis 26-10 in a wild-card round game earlier this month.
Green, who was drafted four years ago with Dalton, explained how bothered he gets when the bulk of blame settles onto his quarterback.
"He's not a one-man team," Green said. "When you look at those games ... we don't play well as a whole. We don't protect him well, we're not running the ball good and we're not playing defense. He can't beat the team by himself.
"We're all the supporting cast of our team and we have to step up our game to help him."
Green was unavailable in this year's playoff game after suffering a concussion in the regular-season finale. Regardless, he hasn't been very good in the postseason, catching only 13 passes for 162 yards and no touchdowns off 32 targets in three games.
Dalton, who had one of his worst regular seasons statistically, actually had one of his better playoff performances against the Colts. He only threw for 155 yards, but had his second-highest passer rating of the four playoff games, and he didn't throw an interception. Through the first three playoff games, he threw six.
Consistency and stability are among the reasons Lewis believes the Bengals will eventually clear this postseason hurdle.
"The thing we need to do is we've got to keep putting physical people out there, and people who understand that each play is so critical to our success," Lewis said. "We've got to raise our level. We've been at this spot for four seasons now and it's not good enough.
"What I've told our coaches is that we've got to start again. We've got to start from scratch."