November, 26, 2014
Nov 26
6:15
PM ET
CINCINNATI -- There are few phrases coaches utter that drive offensive tackles as crazy as the one they hear each practice and in every one-on-one rep they take against defensive ends.
"Get their hands down!"
Atlanta, Tampa Bay, Green Bay, Cincinnati, San Francisco. It doesn't matter which city a tackle calls home or which team he plays for, he's going to hear those four words quite regularly.
The Bengals' edge pocket protectors certainly have heard them this week and the last, because by the end of this stretch, they will have faced two of the NFL's best ends at getting their hands up and disrupting a quarterbacks' passing lanes. When going against such ends, it's an offensive lineman's mission to prevent their opponent from disengaging, leaving their feet and raising their arms up high.
[+] Enlarge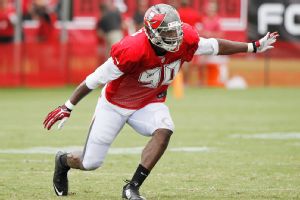 Kim Klement/USA TODAY SportsFormer Bengals defensive end Michael Johnson is one of the best at deflecting passes at the line of scrimmage, although he has none this season for Tampa Bay.
Last week's challenge came from
J.J. Watt
, who has been so good at breaking up passes at the line of scrimmage throughout his career that some have started calling him "J.J. Swatt." During the 2011 playoffs, Watt didn't just swat a Bengals pass just before halftime, he picked it off. Cincinnati's wild-card round loss at Houston came after Watt broke free from a guard and plucked from the air an
Andy Dalton
pass that he returned 29 yards for a touchdown. The Texans didn't look back and routed the Bengals from there, 31-10.
It can be argued that it was then that Watt's legend began.
When the Bengals travel to Tampa this Sunday, they will be facing another defensive end with long, pass-batting arms. Former Bengals defensive end
Michael Johnson
, signed in the offseason by the Buccaneers, will be looking for his first pass deflection when he gets paired with veteran Bengals tackle
Andrew Whitworth
. That's right, first. Johnson doesn't have any pass deflections this season, according to ESPN Stats & Information, but he was tied for the league lead with eight last year.
"Like I said [last week] about J.J., it's one of those qualities you can't teach and all of a sudden, this guy knows how to do it," Whitworth said. "If good football players can read a quarterback and feel like he stopped his feet and is releasing the football, they jump. Nothing you can do about it. Outside of if you run a play where everybody is cutting everybody in that kind of play ... there's nothing you can do about a guy that jumps."
Sometimes, Bengals right tackle
Marshall Newhouse
added, a tackle just has to tip his cap to an end.
"As much as people would like to believe, sometimes guys get their hands up regardless," said Newhouse, the Bengals' new starter on the right edge following
Andre Smith
's season-ending injury. "But you can do things to combat it. You can be aggressive in your sets to a certain degree. A lot of it has to do with how hard you come off in the run game. There's some things where you can kind -- I don't want to say dive at them -- but be more physical at the point of attack.
"At the end of the day, there's certain times when it's avoidable, and there's certain times when it's unavoidable. We do our best to make sure it's avoidable. Those are rough plays to see, especially when a guy's wide open and the ball gets batted down at the line."
Watt leads the NFL in batted passes since 2011 with 33. Johnson has 11.
Johnson's most memorable deflection in Cincinnati came last October against the Green Bay Packers, when he knocked down a fourth-down pass that helped ice an early-season Bengals win.
November, 26, 2014
Nov 26
5:15
PM ET
OWINGS MILLS, Md. -- The
Baltimore Ravens
overcame the odds to hand the
New Orleans Saints
their first prime-time loss at home in five seasons. But recovering from a road "Monday Night Football" game presents a new set of challenges.
Flying 2 1/2 hours back from New Orleans immediately after the game, the Ravens landed in Baltimore at 4 a.m. Tuesday. The coaches slept an hour at the team facility before starting their all-day preparation for the Chargers, so they could get the game plan to the players on Wednesday morning.
How difficult is it to win after a road Monday night game? This season, teams are 2-5 the following week after playing in a different time zone Monday.
"A lot of times in a short week, when you're playing on Thursday, both teams are in the same boat. They're not [in this situation]," coach John Harbaugh said. "[The Chargers] have a full week. So, we have to make up for a lot of ground."
The Chargers last played Sunday afternoon at home, which means their game ended 25 hours before the Ravens' Monday night game began.
"By the time you get around the end of the week, you feel pretty good," quarterback
Joe Flacco
said about the shortened week. "It probably has some kind of effect that you don't necessarily feel."
Last year, the Ravens lost to the
New England Patriots
, 41-7, after playing a Monday night game in Detroit. They are 2-4 after Monday night road games under Harbaugh.
"You've got to be professional and take care of your body," linebacker
Terrell Suggs
said. "What we're trying to do is bigger than how we feel right now."
The Chargers have their own set of travel issues. They're flying cross country for a 1 p.m. ET Sunday kickoff, which will feel like 10 a.m. for the West Coast players.
San Diego is 1-1 this season when playing at 1 p.m. in the Eastern time zone. The Chargers won at Buffalo, 22-10, in Week 3, and they were shut out 37-0 in Miami in Week 9.
"I think more is made of it than it really is," Chargers quarterback
Philip Rivers
said of the start time. "Shoot, when they kick it off, no one cares what time it is."
November, 26, 2014
Nov 26
4:50
PM ET
OWINGS MILLS, Md. --
Baltimore Ravens
outside linebacker
Terrell Suggs
missed Wednesday's practice with a foot injury.
Suggs
Suggs had been limited in recent weeks with a neck injury, so this is a new injury. He played 84 percent of the snaps Monday night, which is his normal workload.
It would be surprising to see Suggs miss Sunday's game after seeing him sprint to his media session with reporters. Suggs has also only missed 10 games to injury in his 12-year career.
Slot receiver
Michael Campanaro
practiced for the first time since injuring his hamstring Oct. 26 at Cincinnati. He was limited along with linebacker
Pernell McPhee
(shoulder).
Reserve offensive lineman
Jah Reid
had full participation, less than a month after breaking his hand.
November, 26, 2014
Nov 26
4:30
PM ET
CINCINNATI -- Two
Cincinnati Bengals
were feeling ill Wednesday and another had a tooth ailment, according to the injury report issued by the team.
Each of the three missed the practice, the Bengals' first of the week ahead of Sunday's road game at Tampa Bay.
Receiver
Mohamed Sanu
and long snapper
Clark Harris
were the ill players, and cornerback
Adam Jones
was sidelined with a tooth problem. All three were listed on the injury report with non-injury related issues.
In addition to their absences, the Bengals also were without
Margus Hunt
,
Tyler Eifert
and
Andre Smith
. Hunt has an ankle injury that ran him from the Bengals' win at New Orleans two weeks ago. He isn't expected back all that soon. Eifert still hasn't been cleared to practice from a dislocated elbow, despite having practice eligibility all this month following a stint on the short-term injured reserve. Smith was added to the season-ending IR on Tuesday, following a triceps tear suffered in Sunday's win at Houston.
Linebacker
Vontaze Burfict
also missed the workout, although coach Marvin Lewis indicated he might be back to work later in the week.
"He continues to get closer to being able to practice, and we'll see if we can get some practice out of him at some point later in this week," Lewis said.
If Burfict misses this week's game, it'll be the fourth he's been out since undergoing arthroscopic knee surgery Nov. 3. It can be common for athletes to return fully from that type of knee surgery within three weeks of the procedure being done. In Burfict's case, the Bengals have been taking his recovery slowly. Since last Wednesday, he has spent the practice sessions working out on the side rehabbing and trying to maintain conditioning.
OUT
OT Andre Smith (triceps)
DID NOT PRACTICE
DE
Robert Geathers
OL
Mike Pollak
(knee)
LB Vontaze Burfict (knee)
CB Adam Jones
LIMITED PRACTICE PARTICIPATION

George Iloka
(groin)
November, 26, 2014
Nov 26
3:29
PM ET
BEREA, Ohio -- There are no sacred cows with Mike Pettine.
On Wednesday the Browns coach acknowledged the immense talent of
Josh Gordon
, but challenged him on one front.
Gordon
Pettine wants Gordon to be more aggressive in going after the ball on some throws. He referred to the throws on ESPN Radio's "Mike & Mike" as "50-50 balls," when making a catch or not sometimes comes down to effort.
"As good as Josh is, and he knows this, just the competitive part down the field," Pettine said. "To be able to go up and get a ball."
Pettine made it clear he was not talking about the interception in the back of the end zone against Atlanta. Gordon said he was pushed on the play, and Pettine said Gordon probably never saw the ball.
But there were times Gordon might have been more aggressive in attacking the ball. Pettine didn't specify when, but on one fade pattern in the second quarter, Gordon didn't seem to fight through the coverage, and on
Brian Hoyer
's last interception, Gordon made no effort for the ball.
"Just having been with Josh through the spring and the training camp ... if you have to look for a weakness -- and there aren't many -- but this is one," Pettine said. "Of just that aggressive part of it. Kind of being that power forward when the ball's up in the air and going up and attacking it."
Pettine also admitted that Hoyer might have forced some throws to Gordon in the excitement about having the Pro Bowl wide receiver on the field.
The coach even said he expected that to happen.
"I think that will settle over time," Petine said. "We had a feeling that there would be some of that. We just felt that the positive would outweigh it, and as it turned out, it did."
Pettine's remarks on Gordon and 50-50 plays should not be taken as excessive criticism. He was simply discussing a way Gordon can improve, something he's already discussed with Gordon.
The coach made no secret what he thinks of having Gordon back.
"We don't want to force [the ball to Gordon], but we also know that his guy is a Pro Bowl-caliber receiver," Pettine said. "He's a heck of a weapon. We think he helps the run game from the standpoint of, how do you take away an elite receiver and take away the run at the same time? That is a dilemma, and I know it firsthand from being in this league as long as I have.
"He's a playmaker. He's a guy who's shown that even something as simple as a pass from two yards behind the line of scrimmage, that he can navigate his way on a wide receiver screen for 15 or 20 yards."
November, 26, 2014
Nov 26
3:12
PM ET
Any time I'm talking
Cleveland Browns
with people and preseason team expectations come up, the answer is usually the same.

Pettine
The Browns were destined for about three to five wins. A losing precedent had been set since 2008. Mike Pettine seemed the only coach to actually want the Browns' job in early 2014. The quarterback position was a wreck in the preseason.
Josh Gordon
was missing most of the season. The defense had talent, but cohesion was far from a guarantee. All that was before the avalanche of injuries during the season.
Flipping that perceived mess into an attractive 7-4 record and creating a tangible late-season buzz in Cleveland gives Pettine an authentic case for Coach of the Year candidacy.
Let's be clear: This award belongs to the
Arizona Cardinals
' Bruce Arians if the season ended today. But if for some reason the 9-2 Cardinals flounder, Pettine should be on the short list. Philly's Chip Kelly deserves some run here. His Eagles are 8-3, but the roster doesn't scream 8-3. He's won with
Nick Foles
and
Mark Sanchez
. And the Jason Garrett let's-not-go-8-8 tour is still rolling in Dallas. Among the 10 NFL teams clustered at seven wins, one entered the season without reasonable playoff expectations nationally.
The Browns defense has lost three key defensive linemen, the league's leader in interceptions (safety
Tashaun Gipson
) and its most versatile linebacker (
Karlos Dansby
) to injury. Still winning. The offense lost
Alex Mack
for the season and has been without
Jordan Cameron
for a month. Still winning.
Pettine has made clear the NFL is a weekly audition. "I could go from
Coach of the Year candidate to village idiot in a span of three hours
," he said in October.
But if Browns sniff 10 wins for the first time since 2007, he'll be more former than latter.
November, 26, 2014
Nov 26
2:30
PM ET
Baltimore Ravens
running back
Justin Forsett
is the frontrunner for NFL Comeback Player of the Year, and he is the most valuable player on the team.
Here is something else to consider: Forsett for the Pro Bowl.
[+] Enlarge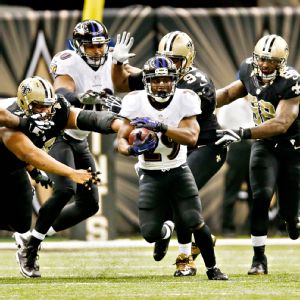 Derick E. Hingle/USA TODAY SportsEclipsing 95 yards or more rushing in four games this season, Ravens RB Justin Forsett has at least earned his way into Pro Bowl consideration.
As strange as this might have sounded at the start of the season, the long-time journeyman deserves to be mentioned with the likes of
DeMarco Murray
,
Marshawn Lynch
,
LeSean McCoy
and
Jamaal Charles
. Only six total running backs (there is no AFC/NFC distinction anymore), and it would be a mistake not to include Forsett.
Here are a few reasons why:
Forsett leads all NFL running backs in yards per carry with 5.8. To put this in perspective, the league average per rush this season is 4.1.

He is the league's third-leading rusher with 903 yards. Only Murray and Le'Veon Bell have gained more, but each has at least 40 more carries than Forsett this season.

Forsett is one of the NFL's top playmakers with a league-high 12 runs over 20 yards. No one else has more than 10.

To emphasize the point of being valuable, Forsett has averaged 125 yards rushing in the Ravens' last four wins. In beating Tampa Bay, Atlanta, Tennessee and New Orleans, Forsett has produced 111, 95, 112 and 182 yards rushing.
The Pro Bowl has long become a popularity contest (one-third of the voting comes from fans), and Forsett is hurt by the fact he isn't a household name and doesn't have a national commercial. If you're selecting on importance as well as numbers, he should be a slam dunk to hear his name called when Pro Bowl players are announced on Dec. 23.
Simply put, the Ravens wouldn't be a serious playoff contender without Forsett. Ray Rice is gone.
Bernard Pierce
is too injury prone to be trusted. And rookie
Lorenzo Taliaferro
doesn't have the confidence of the coaching staff after fumbling in Pittsburgh. It's difficult to believe the Ravens would be a half game out of first place in the AFC North without Forsett breaking long runs and scoring critical touchdowns in the red zone.
The argument against Forsett is he's a product of the system. You'll hear that even Olandis Gary, Reuben Droughns and Steve Slaton all gained over 1,000 yards rushing in Gary Kubiak's offense. That's valid, but you can't discount Forsett's vision, power and explosiveness. Pierce is averaging 3.6 yards per carry in the same offense and behind the same offensive line.
Forsett is starting to gain recognition after being named AFC Offensive Player of the Week in his past two games. The football world got a glimpse of what he's been doing all season when he produced a career-high 182 yards rushing on "Monday Night Football."
Whether that gains enough national respect for a Pro Bowl invitation remains to be seen. But Forsett has done everything he can to earn one.
November, 26, 2014
Nov 26
2:00
PM ET
PITTSBURGH -- The
Pittsburgh Steelers
play at home Sunday for the first time in almost a month, and that fact elicited a smile from
Antonio Brown
Wednesday morning.
"It's at Heinz Field, man," Brown said. "I'm excited to get back out there and play in front of our fans."
Lewis
Brown
He should be excited to return to Heinz Field considering how Brown has turned the stadium into his personal playground at the expense of opposing defensive backs.
The fifth-year veteran is averaging 123 receiving yards in games at Heinz Field this season compared to 91.2 receiving yards in six road games. Brown has also caught six of his nine touchdown passes at home and even thrown a touchdown pass at Heinz Field.
The NFL's second-leading receiver will look to extend his home success -- four of Brown's five 100-yard games this season have also come at Heinz Field -- against a familiar foe.
Keenan Lewis
, who played his first four NFL seasons with the Steelers, returns to Pittsburgh when the
New Orleans Saints
visit Sunday for a 1 p.m. ET game.
Lewis has emerged as a Pro Bowl-caliber cornerback since signing with the Saints in March 2013. Adding to the intrigue of his first game against his old team is that the Steelers expect Lewis to shadow Brown -- something he did often from 2010-12 in practice.
"I'm looking forward to seeing him again and getting the opportunity to compete against him," said Brown, who has studied tape of Lewis even though he already knows him well from their time together in Pittsburgh. "He's playing on the line and has been really good down the field, combative with his hands."
Lewis has been one of the few bright spots on a Saints defense that has struggled this season, even though he is still working his way back from a knee injury.
"Keenan Lewis is a cornerstone of their cornerback position," Steelers coach Mike Tomlin said. "His play has been highlighted by his ability to travel with top receivers. I am sure he and Antonio Brown look forward to a big-time battle this week."
November, 26, 2014
Nov 26
12:00
PM ET
PITTSBURGH –
Ike Taylor
spoke in glowing terms about one of the few players who can actually call the
Pittsburgh Steelers
cornerback a youngster.
"
Charles Woodson
's an inspiration to me," Taylor said of the
Oakland Raiders
safety. "I always say there's a few guys on a team that you can't (count) as far as age factor and I truly believe that about Charles Woodson. He's still playing at a high level."
That Taylor called the 38-year-old Woodson an "inspiration" confirmed that retirement is anything but on Taylor's mind even though he is in his 12
th
NFL season and in the final year of his contract with the Steelers.
[+] Enlarge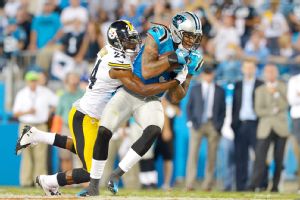 Grant Halverson/Getty ImagesIke Taylor's contract will be up after this sesaon, but the veteran Steelers cornerback might be asked back.
The bigger question with Taylor, who turned 34 in May, is whether the Steelers should bring him back in 2015.
It is something they at least have to consider.
Cortez Allen
, the supposed successor to Taylor as the Steelers' No. 1 cornerback, has been a disaster and turned into a reclamation project.
Antwon Blake
has emerged as a young cornerback with promise after replacing Allen as the Steelers' nickel back.
But beyond that the Steelers don't have a lot of young talent at cornerback unless they found something in
B.W. Webb
, who they claimed off waivers in early September but has only played special teams in the limited snaps he has received.
Taylor is set to return from a broken forearm he sustained in late September, and the injury cost the 6-2, 195-pounder eight games.
But it also saved some tread on his legs while also proving again that Taylor is the consummate professional.
His injury was so gruesome that it initially looked like a season-ending one. That Taylor will make it back this week, barring a setback, with five games left in the season is a testament to his work ethic.
And the work he puts in year-round makes it completely plausible that Taylor might be able to slow down the aging process when it comes to his football career.
Plus, a the Steelers had couple of 36-year-olds return this season in defensive end
Brett Keisel
and outside linebacker
James Harrison
, and both have been critical additions to a defense ravaged by injuries.
Why can't Taylor play at a level similar to what Keisel and Harrison have given the Steelers as a 35-year-old next season?
"Ike and I have had a running joke a number of years but there's a lot of truth to it," Steelers coach Mike Tomlin said. "In our football game, particularly at this level, I tell him every day that he's got to fight to prove his love for this game and his capability. He's been doing it for a long time and he doesn't run away from it."
Far from it. Taylor, who has played 16 games in nine of his 12 seasons with the Steelers, embraces the challenge -- just as Woodson, an eight-time Pro Bowler, has done throughout his decorated career.
"I try to compare myself not to what he's done in the NFL because he's a Hall of Famer," Taylor said, "but just similarities as far as being healthy, making plays and proving every year his love for the game."
November, 26, 2014
Nov 26
10:40
AM ET
Justin Forsett
has gone from seven-year journeyman running back to one of the top players this month.
Forsett was named AFC Offensive Player of the Week for the second time this season after gaining a career-high 182 yards rushing and scoring two touchdowns in the
Baltimore Ravens
' 34-27 win over the
New Orleans Saints
on Monday night. He rushed for more yards than anyone else in the NFL in Week 12 and was one of five running backs to score multiple touchdowns.
This is the latest honor in what has become
an unlikely career year
for Forsett. He has earned AFC Offensive Player of the Week honors for the second consecutive game (he gained 112 yards and two touchdowns in Week 10 against Tennessee) that he has played after going 96 career games without winning such an award.
Forsett is the first Ravens player to win this award multiple times in one season since Ray Rice in 2011. It wouldn't be surprising to see if Forsett was named AFC Offensive Player of the Month in November next week.
Other Ravens recognized this season are:
Justin Tucker
(Week 3 against Cleveland), quarterback
Joe Flacco
(Week 6 against Tampa Bay) and linebacker
C.J. Mosley
(NFL defensive rookie of the month in October).
November, 25, 2014
Nov 25
4:00
PM ET
Every team in the AFC North is at least three games over .500, and every team has playoff hopes.
The situation will sort itself out the next five games, but studying the schedules of the Browns, Bengals, Ravens and Steelers shows that Baltimore has a clear advantage, and the toughest roads belong to the Bengals and Browns.
Not all agree it's that tough for the Bengals, though. The website numberfire.com lists the Ravens with the best chance of making the playoffs, though the Bengals are not far behind. Numberfire lists the Ravens with a 59-percent chance, the Bengals at 56 percent, the Steelers at 50 percent and the Browns at just 23 percent.
None of the four has an easy finish, though at this point of the season nothing is easy.
Here's a look:

The Baltimore Ravens
play San Diego, at Miami, Jacksonville, at Houston and finish at home against Cleveland. Those teams are a combined 26-29 (.472). ... Three games are at home, three against winning teams. ... Baltimore is the only North team whose remaining opponents are below .500. ... After winning on the road impressively in New Orleans, the Ravens have to feel they control their fate if they keep winning. ... The flip side: The opponent won-lost is skewed by one-win Jacksonville. But Baltimore plays just two teams that have won at least seven games, fewest of the North teams, and it has three of their last five at home.
The Cincinnati Bengals
play at Tampa Bay, Pittsburgh, at Cleveland, at Denver and end against Pittsburgh. ... Yes, it's as tough as it sounds. ... The combined record of those teams: 31-24 (.564). ... Three of five are at home, four of five against winning teams. ... How about that final four for a gantlet? Pittsburgh, Cleveland, Denver and Pittsburgh again. ... Splitting those four game might mean the Bengals miss the playoffs. ... Three are within the division, and Denver is among the AFC's best. ... This finish is the most difficult in the division.
The Cleveland Browns
play at Buffalo, Indianapolis, Cincinnati, at Carolina and at Baltimore. ... That combined record is 30-24-1. ... The Browns also play four winning teams, with three of the final five on the road. ... That the Browns are even in the discussion is good news for Cleveland, but now the Browns would like to finish the task they've started. ...It's not easy, especially since the Colts are one of the non-division games. That's an exceptionally tough late draw. ... The Browns would love to be alive for the season finale in Baltimore, but to do so they have to take care of business in three of the next four games. Buffalo is close to a must win.
The Pittsburgh Steelers
play New Orleans, at Cincinnati, at Atlanta and finish at home against Kansas City and Cincinnati. ... The combined record: 29-24-2. ... Three are at home, three against winning teams. ... Finishing at home the final two weeks helps, but Pittsburgh's hopes might come down to how they fare against Cincinnati. ... Do the Bengals split, or does one team escape with two wins? If the Steelers can sweep, that might propel them. ... The negative about the final two home games: They figure to be against two teams fighting for their playoff lives as well.
November, 25, 2014
Nov 25
3:00
PM ET
PITTSBURGH --
Pittsburgh Steelers
coach Mike Tomlin pointed out a fact about what has to be the youngest backfield in the NFL.
Le'Veon Bell
, who is second in the NFL with 951 rushing yards, is actually younger than his two understudies.
Bell is 22 while rookies
Dri Archer
and
Josh Harris
are each 23 years old.
"We've got a young position group but you look around football and young backs impact games in a significant way and a positive way week in and week out," Tomlin said Tuesday at his weekly news conference.
That trend is why Tomlin said he is "not reluctant at all" to lean more on Archer, who has eight NFL carries, and Harris, who has yet to play in an NFL game, as the Steelers move forward without
LeGarrette Blount
.
"Just because Dri has a limited number of carries and Josh has none doesn't mean they can't be significant contributors to our efforts not only this week but moving forward. And I know both guys work with that in mind and I don't think either guy is lacking confidence," Tomlin said. "I don't think the group that works with them is lacking confidence in either guy."
Bell certainly isn't, even though the 5-foot-8, 173-pound Archer has yet to make a significant impact despite possessing world-class speed. Archer has rushed for 41 yards on eight carries and caught five passes for 4 yards.
"A lot of smaller guys just want to depend on their speed all of the time and run outside; he's a guy that likes running in between the tackles," Bell said of Archer. "I won't say he's a guy who will get 30 carries a game -- his frame won't hold that -- but he's definitely a running back. He's a slasher, a one-cut go guy and uses his speed when he needs to."
Bell also offered a scouting report on Harris, whom the Steelers promoted from the practice squad last Tuesday after waiving Blount.
"Josh is going to surprise a lot of people because he's a thicker-type of guy and a lot of people don't really understand how fast he is and he's a guy that's still learning," Bell said. "He's going to be ready when his time [comes]."
November, 25, 2014
Nov 25
1:00
PM ET
A quick observation of quarterback Ben Roethlisberger and how he must improve in the
Pittsburgh Steelers
' Week 13 game against New Orleans:
Roethlisberger
Drew Brees
, who will lead the
New Orleans Saints
against the Steelers on Sunday, may be one of the most prolific passers in NFL history.
But Roethlisberger ranks ahead of Brees, as well as Denver's
Peyton Manning
-- the only active NFL quarterback with more passing yards than Brees -- in one key category.
Roethlisberger is averaging 7.85 yards per passing attempt for his career, fourth among active quarterbacks and ahead of Brees (7.50) and Manning (7.71).
Roethlisberger is averaging 7.92 yards per pass attempt this season and the 11th-year veteran is among the most successful quarterbacks in pushing the ball downfield.
Roethlisberger is tied with Manning and Indianapolis'
Andrew Luck
for most passing plays that have covered at least 25 yards.
He is 2-1 lifetime against Brees and 16-3 against NFC teams at Heinz Field, though one those losses came earlier this season against the
Tampa Bay Buccaneers
. Roethlisberger threw for 314 yards and three touchdowns in that game but the Steelers couldn't protect a seven-point fourth-quarter lead in a 27-24 loss to the then-winless Buccaneers.
November, 25, 2014
Nov 25
1:00
PM ET
A quick observation of quarterback
Andy Dalton
and how he played in the
Cincinnati Bengals
' 22-13 win in Week 12:
Dalton
Remove Dalton's pick-six Sunday -- one ESPN's Kevin Seifert notes should have been
negated because of an uncalled neutral-zone infraction
on Houston's
Jadeveon Clowney
-- and he had yet another impressive performance behind center.
Interception included, Dalton posted a 68.6 completion percentage, the third-highest mark he has had this season. Much of his success throwing the football stemmed from his ability to get the ball out quickly and into the hands of his receivers, who primarily ran shorter routes. Of the 35 overall passes attempted, 29 traveled 15 yards or less in the air, according to ESPN Stats & Information. All but 20 of Dalton's 233 yards also came when he threw passes that traveled 15 yards or less in the air. Stats & Information added that Dalton took an average of just 1.88 seconds before throwing passes, the quickest release in the league this week.
Dalton faces a Tampa Bay defense that is 22nd against the pass, allowing 252 yards per game.