November, 24, 2015
Nov 24
6:29
PM ET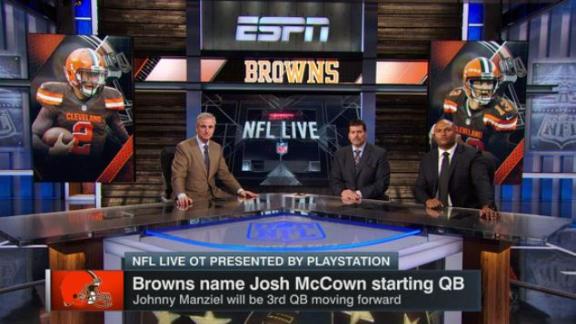 Mike Pettine's decision to take the Cleveland Browns starting quarterback job from Johnny Manziel came because of a series of off-field missteps by the second-year quarterback, culminated by the most recent video of him holding what appears to be a pink champagne bottle at a club in Austin, Texas. Here's a look at Manziel's time with the Browns, going back to the draft:
Feb. 14, 2014 -- Before the draft, Manziel said many things about Johnny Football being gone and taking his job seriously.
May 9 -- Manziel texted the Browns during the draft and urged the team to take him so they could "wreck this league" together. After being taken 22nd overall, Manziel did his money sign as he walked on stage.
May 10 -- After the draft, Manziel partied the night away with magnums of champagne and celebrities.
May 26 -- Manziel appeared in several online photos in Vegas during a down time in the team's offseason work.
June 10 -- The infamous photo was taken of him on the floating swan with a bottle of champagne.
June 16 -- The "money phone" video appeared.
June 27 -- At the rookie symposium, Manziel spoke with the media and said he would not change his life for anybody.
July 4 -- A photo of Manziel rolling money into a small tube in a Vegas bathroom appeared.
July 25 -- The Browns admit they were "alarmed" by some of Manziel's behavior.
July 26 -- The Browns called Manziel in the day before training camp and spoke pointedly to him about his off-field habits. Owner Jimmy Haslam said the team "expects better from him."
Aug. 14 -- Manziel was late for a training camp meeting, saying he "misread the schedule."
Aug. 18 -- Manziel extended his middle finger to the Redskins' bench in a nationally televised game, for which he was fined $12,500.
Aug. 20 -- Brian Hoyer was named the starter and Manziel admitted to not being ready.
Nov. 22 -- There was a lobby incident/fight between Manziel, a friend and a fan Manziel described as aggressive and intoxicated. The Browns expressed disappointment at the timing of the incident, at 2:36 a.m. the morning the team was flying to Atlanta for a game.
Dec. 1 -- Manziel replaces Hoyer in Buffalo and runs for a touchdown to end his first drive.
Dec. 12 -- Yahoo! posts a story detailing the crazed lifestyle Manziel had in college, and how he went from being a college player "to Elvis."
Dec. 14 -- Manziel started his first game against Cincinnati and threw for 80 yards as the Browns lost 30-0.
Dec. 21 -- Manziel pulls his hamstring and leaves the game just before halftime in Carolina.
Dec. 23 -- Manziel says he intends to take his job more seriously, that "it's a job for me now."
Dec. 27 -- Manziel did not show up for a team walk-through and treatment, with Browns security going to his home to find him. He later admitted to being out the night before.
Dec. 29 -- Manziel says he can't say anything more to prove himself, that he has to put his words into action. The team agrees.
Dec. 30 -- The Instagram video appeared with Manziel wishing LeBron James happy birthday.
Jan. 16, 2015 — Manziel and Josh Gordon spend time in Aspen, Colo.
Jan. 23 — ESPN.com story appears chronicling Manziel's rocky rookie season.
Jan. 28 — Manziel enters treatment at the Caron Center outside Reading, Pa.
April 11 — Manziel leaves treatment after an extended 10-week stay.
June 1 -- Manziel throws a water bottle at a badgering fan at the AT&T Byron Nelson golf tournament in an incident that was dismissed as "fairly straightforward" by a police spokesman in Irving, Texas.
June 17 — Manziel meets media for the first time, promises to junk the signature "money sign" and says he will do all he can to tamp down the off-field hype.
Aug. 13, 20 -- Manziel has a running and passing TD in each of the first two preseasons games.
Aug. 23 — Manziel leaves practice with elbow soreness. He would miss the final two preseason games.
Sept. 13 — Manziel takes over after Josh McCown leaves the opener with a concussion and has poor results.
Sept. 20 — With McCown out, Manziel throws two long TD passes to Travis Benjamin in the Browns' first win of the season.
Sept. 27 — McCown returns to the starting lineup against Oakland.
Oct. 12 — Manziel is questioned by police after witnesses called reporting he had been driving dangerously on the shoulder. He parks his car in Avon, where his girlfriend tells a witness he had been beating her. Manziel admits to drinking downtown during the day. No charges were filed and the couple was allowed to leave together.
Nov. 5 — Manziel starts for an injured McCown in Cincinnati and struggles in a 31-10 loss.
Nov. 7 — Manziel is honorary captain at Texas A&M and parties that night in College Station. Photos appear on social media early the following week.
Nov. 15 — Manziel starts in Pittsburgh and plays well, throwing for 372 yards in a 30-9 loss.
Nov. 17 — Mike Pettine names Manziel the starter for the rest of the season. In doing so, he tells Manziel he has to live up to the responsibility. Manziel promises he will do nothing the bye week to embarrass the team or the organization. Later that day, the NFL announces Manziel will not be disciplined for the Oct. 12 incident under the league's Personal Conduct Policy.
Nov. 23 — A video appears online on bustedcoverage.com and TMZ.com showing Manziel singing a hip hop song while holding a bottle that appears to be pink champagne at an Austin, Texas, club. Other photos appear from his Thursday and Friday evenings in Austin.
Nov. 24 — Pettine expresses his disappointment and frustration with Manziel's actions, then announces he has lost the starting job. Pettine says McCown will start Monday night against Baltimore. Manziel is made the team's third quarterback.